Azziad Nasenya is a strikingly beautiful Kenyan actress, upcoming journalist and a content creator who quickly rose to fame after she posted a Tik-tok video of jamming to Mejja and Femi One's latest club banger known as 'utawezana'.
In the video, you can notice her infectious smile, her uniquely colored hair and her very flexible waist, leave alone her almost non- existent tummy. Her pertinent acting skills also came out to play.
Azziad Nasenya Age and Home County

Azziad Nasenya is a 20-year-old as of the year 2021. She is a Luhya by tribe. She was born in Mumias, the western part of Kenya.
Azziad Nasenya Education Background
She attended Misikhu Girls High School for her secondary education. She is in her second year currently pursuing Broadcast Journalism at Kenya Institute of  Mass Communication.
Azziad Nasenya Trending
Moments after posting her video, it got so much love and support online, with many people sharing it all over the common social media platforms. This came at a time when most people are active social media users, thanks to the ongoing Corona virus pandemic.
Read: Rue Baby Biography – Age, Education, Boyfriend, Net Worth
She ended up trending at number one on Twitter, Facebook, Tik-tok, Instagram and even WhatsApp. This prompted more and more people to come up with their own versions of the video. Her Instagram account went upon flames and she currently has over 100,000 followers on Instagram.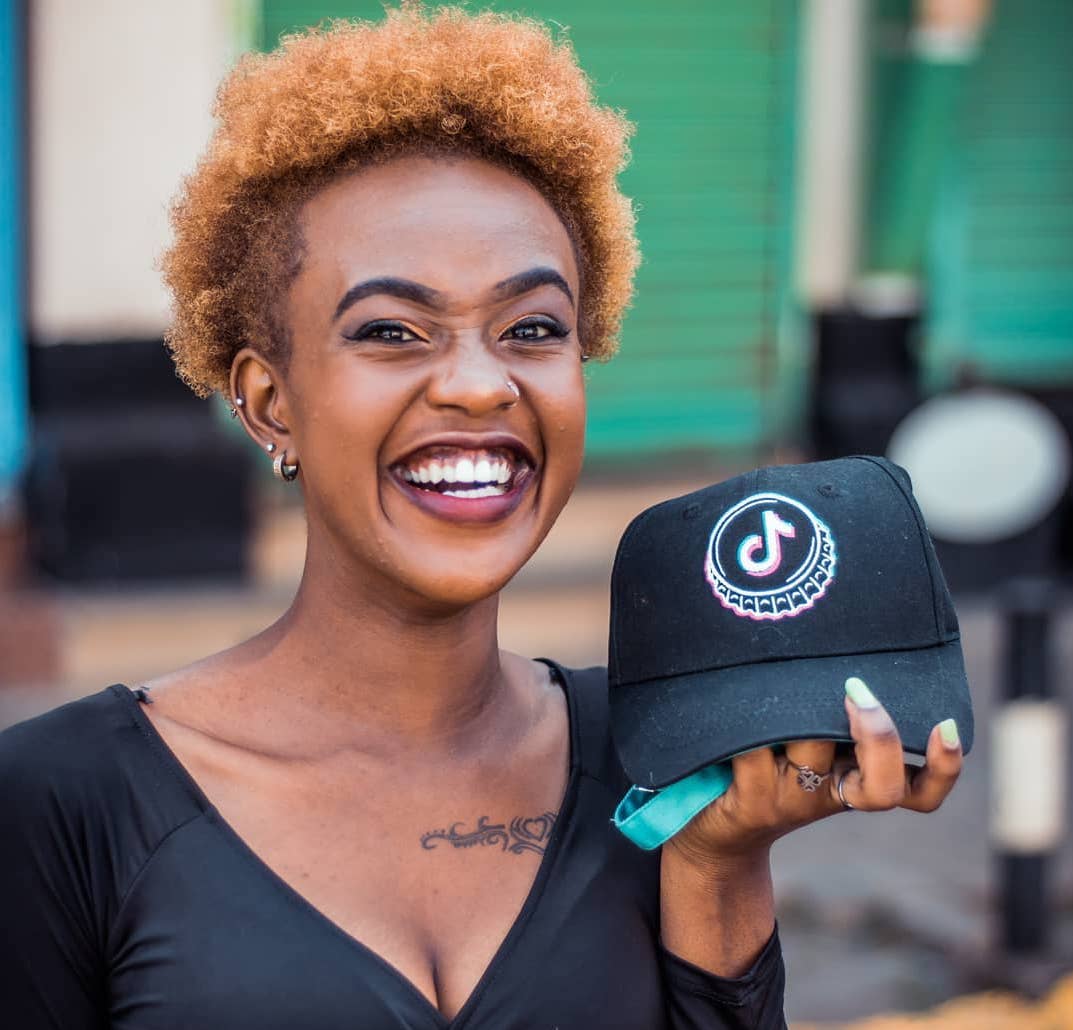 People ended up sharing her number online and this ended up messy on her side since she had over 400 phone calls and 13,000 messages on WhatsApp in less than 24 hours. She made a video telling people to stop giving her number to strangers.
Netizens took advantage of it and ended up trolling her, using her old photos and saying that she uses too much make up and filters to look pretty. She brushed this off saying everyone looks different in different photos.
Azziad Nasenya Utawezana
It is with no doubt that Azziad is currently the Kenyan Tik-tok queen. There are claims that she is the reason why more and more people are listening to the Utawezana song by Mejja and Femi One. Many people claim that she should have been the video vixen in the song since the role fits her so well.
Azziad Nasenya on TV
With all the publicity going on, she ended up landing a lead role in Maisha Magic East's Selina TV telenovela. On Citizen  Television interview, Azziad said that she has passion in radio and television broadcasting. Besides that, she is an actress in both theater and film and also hosts various TV shows.
Azziad Nasenya Boyfriend
The Tik-tok Queen is currently in a committed relationship but the details about the lucky man are still under wraps. She is also a secretive kind of a lady who keeps her personal life matters under wraps.
Azziad Nasenya Net Worth and Assets

Azziad has never been a celeb or neither has she signed for brand endorsements. Azziad has just been a Tiktok Qeeen with huge following due to her earth-breaking dancing skills. She has just entered the hall of fame in which big brands are craving for her.
Her net worth is estimated to be over Kshs 1.2 Million as of 2021. She is recently received the YouTube creator award for attaining 100,000 subscribers. Her YouTube channel garners tons of views on her show 'Shoe game with Azziad' where she hosts various celebrities and make stories about their shoes.
She also plays a major role in the Maisha Magic East's Selina, a role which she got immediately when she stepped to fame. Azziad also hosts some TV shows which generates to her handsome revenues.
Azziad Nasenya Contacts and Social Media Handles

She can be reached on her official social media handles though she is mostly active on Tik-tok and Instagram. Azziad has been an ardent Tik-tok user and recently she won an award as a fastest growing user. Her Tik-tok following grew up to 70,000 just in a few months. Her phone number trended on social media several days ago making thousands of men to reach her up on WhatsApp.
| | |
| --- | --- |
| Real Name | Azziad Nasenya |
| Nationality | Kenyan |
| Place of Birth | Mumias, Kenya |
| Age | 20 years old |
| Date of Birth | 16th June, 2000 |
| Tribe | Luhya |
| Boyfriend/Spouse | Unknown |
| Profession | Tiktoker, Actress, TV Host |
| Net Worth | Kshs. 1.3 Million |
| Children | Unknown |