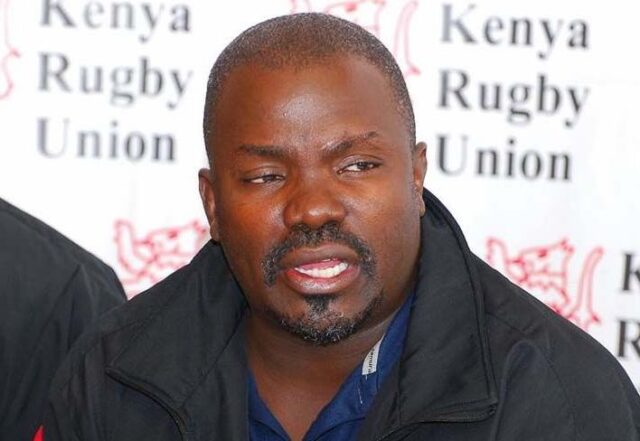 Benjamin Ayimba Otieno was a Kenyan renown rugby coach and old player. He succeeded his club coach Bill Githinji as the Kenya Sevens head in 2006, making him the youngest coach on the IRB circuit and in Kenya's history. This article looks into his biography, career, family and more information that you may need to know.
Benjamin Ayimba Age, Place of Birth, Cause of Death

Benjamin Ayimba died at 44 years in the year 2021. He was born on August 27, 1976 in Nairobi Kenya. More information about his parents is not yet in the public eye. Ayimba who was battling Cerebral Malaria passed away on Friday evening, May 21 while receiving treatment at a Nairobi Hospital.
Benjamin Ayimba Education and Career Journey
Ayimba was an alumnus of Maseno school. He sat his KCSE at Maseno School and emerged best among top students in Kisumu County. When started playing rugby in 1993 in Maseno School, he became famous for excellent sporting results, in Kisumu County. He was first introduced to the rugby game while in Form 3.
Benjamin joined Impala RFC as a rookie in 1995 and went on to play for the Red Shirts till 2001 winning a couple of Kenya Cups, Enterprise Cups and Floodlit tournaments along the way. He joined Nondies RFC in 2002 where he went on to spend three seasons. At Red Lion, he was not as successful as he was while at Impala.
Benjamin was later appointed as the Kenya Sevens captain in 2000 where he led the team to two Word Cups (Argentina '01 and Hong Kong '05).
He succeeded his club coach Bill Githinji as the Kenya Sevens head in 2006, making him the youngest coach on the IRB circuit and in Kenya's history as he was only 30 years old at the time of succession.
Read: A List of Top 7 Best African Football Coaches of All Time
On 5th April 2009, he led Kenya to the first ever Main Cup finals in Sydney, Australia on the then IRB World Series where they lost 7-26 against South Africa.
In December 2010, Ayimba was decorated by President Mwai Kibaki with the Order of the Grand Warrior (OGW) award to recognize his sterling achievement. He was sacked in 2011 after opposing the fielding of Kenya's main players at the Safaricom Sevens in November that year.
On March 2013 Ayimba lost in his bid to become a director of the Kenya Rugby Union (KRU) during the Annual General Meeting. Ayimba lost to Paula Lanco, Godwin Karuga and Kadieda Oguta who secured the three available chances.
He returned for a second stint in 2015 and a year later pulled off Kenya's first tournament win in a world series event when Shujaa thrashed then defending world series champions Fiji 30-7.
Benjamin Ayimba Family, Divorce, Wife and Children
Benjamin was married to Frabrica Awuor as his first wife, and they had three sons namely; Brian, Gabriel and Ochieng. He later married Caroline Waswa as his second wife. Ayimba later added the third and fourth wife named Gloria Moraa. All the four wives lived in the same house.
Awuor stated that tension heightened so much owing to the arrival of the fourth wife, forcing Ayimba to relocate her to Donholm and later to Athi River where he later abandoned them.
Abandoning Awuor made her to move to the Children's Court on December 23 and filed a civil case under the Children's Act (2001) accompanied by an affidavit of neglect by Ayimba before Resident Magistrate Maureen Wanjiru Kibe. The case was given a hearing on February 5, 2019.
"It is hereby ordered that the defendant carter for the minors school fees and school related expenses pending hearing of this application. Parties to agree mutually on school where minors will attend," read court papers signed by magistrate.
Ahead of the hearing, Awuor was seeking Kshs.150,000 from Ayimba, being one-month rent (Kshs.50,000) and two-month deposit (Kshs.100,000) to end their homelessness having been kicked out of their Kshs.30,000-a-month house at Sunset Boulevard Estate in Athi River.
"My husband Ayimba Benjamin Otieno without reason stopped providing shelter for the minors subjecting them to auctioneers in December 2018 with six months arrears amounting to Kshs.150,000 plus auctioneers fees of Kshs.30,000 thus rendering them homeless," said Awuor.
Benjamin Ayimba Sick, President Uhuru Medical Bill
Several days ago, it was reported that Ayimba was ill in hospital, battling cerebral malaria. Ayimba's eldest son, Brian, told The Standard Sports the hospital has asked the family to settle a Kshs.2.2 millon bill before they can move him to Kenyatta National Hospital (KNH) for specialized treatment.
"The family thought it was not going to be this serious. So, we didn't want to cause alarm but where we have reached now, we call upon the rest of the country to come to our help," Brian appealed.
This made Kenya's fourth president Uhuru Mwigai Kenyatta to raise Kshs. 1 million towards Ayimba's medical bill. Uhuru's act has left many Kenyans happy as they perceived it as the act of utmost kindness.
Benjamin Ayimba Net Worth
As a renown rugby player, captain and coach who had won many titles for himself and the country, he had amassed a good amount of finances. Benjamin's sickness has made his family exhaust all their resources towards the hospital bill. As of 2021, Ayimba's net worth has not yet been established at the time of this article's publication.
| | |
| --- | --- |
| Real Name | Benjamin Ayimba Otieno |
| Age | Died at 44 in 2021 |
| Nationality | Kenyan |
| Tribe | Luo |
| Education Level | Unknown |
| Place of Birth | Nairobi, Kenya |
| Year of Birth | 27th August in 1976 |
| Religion | Christian |
| Spouse/Wife | Frabrica Awuor |
| Children | 3 children |
| Career/Profession | Rugby Coach/Captain |
| Net Worth | Unknown |
Thanks for reading our article. Got comments or opinions about our journalism? Please send us a WhatsApp message on
+254 733 290 656