Eko Dydda is a Kenyan gospel musician who sings gospel in the hip hop style. His official name is Eko Dydda. The singer dropped his tribal birth names in 2009 during post-election violence is his efforts to fight tribalism. Dydda also decided to give his sons names that are not affiliated to tribal ties.
Eko Dydda age and place of birth
Eko's real age is not in the public domain, however we are researching to update it as soon as possible.The award-winning singer was brought and grew up in Nairobi's Eastlands in a staunch Christian upbringing. Her parents had lived in Mathare with him before moving to Mathare north where he was raised.
He comes from a family of four children that is two other brothers and one sister. His father used to be a carpenter and the mother used to sell vegetables. Eko Dydda gave his life to Christ while in class four. Due to tough life, Dydda used to work as a garbage collector and also would perform songs to people and get paid the money that he used to pay school fees.
Education Background
Eko Dydda Went to Riverside academy in Kariobangi for his primary education. He then joined East Leigh high school where he at one point dropped school in form three for two years due to lack of school fees.
A well-wisher who was a teacher in Riverside Girls' High school decided to sponsor his education and admitted him to the girl's school. The high school had just changed from a mixed school to an only girls' school. As the only boy in the school, he at first found life hard but later he adjusted to it and was used to it.
 READ:  Femi One Biography – Age, Education, Boyfriend, Songs and Net Worth
After he completed his high school education at Riverside Girls' High school, he never joined college. He decided to venture into music career as he believed that is what God chose him to do.
Eko Dydda Music career journey
The singer used to love football but he discovered music while he was in form three. Before discovering music, he had never written any song or rhythm. He followed his interest in music and started to perform in Eastleigh. After high school, Dydda's friends introduced him to Holy Dave whom they collaborated in 2007 and came up with a song Niko na Reason. The song became a hit song and brought Eko Dydda to limelight.
Eko Dyda Family, wife and children
The singer was engaged to a beautiful wife known as Cynthia Ayugi also known as Galia back in the year 2009. Together, they brought forth two sons; Wisdom Dydda popularly known as AmBlessed and Favour Dydda popularly known as KeepItReal. His elder son Wisdom is 8 years old while Favour is 6 years old.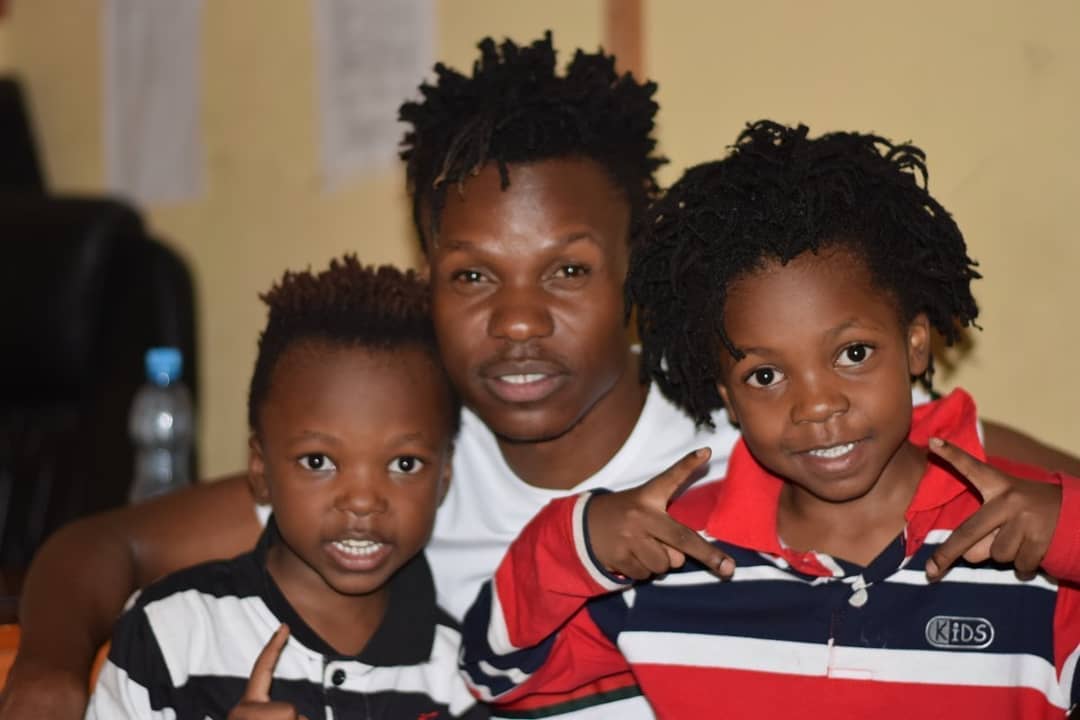 His sons are gospel musicians too and have done collaborations with renowned gospel musicians too. Galia and Eko Dydda decided to home-school their children because they wanted to be present in their kids' lives and they did not want other people to raise their kids.
During an interview with the Standard's Eve Digital, the gospel star added that they did not want their kids to be brought up in the current education system which turns children to nothing but robots.
"We believe that how school is structured these days turns children into robots who cannot do anything without asking the teacher or even simply reason.
We want our kids to be independent thinkers, to be able to reason and to know that they can chart their own destiny that they do not have to follow what everyone else is doing. We hope to home-school them until Campus if possible!" He said.
Eko Dydda dumped by wife over cheating
In mid 2019, there were allegations that Eko had been dumped by his wife Cynthia due to cheating allegations. The two took their drama on social media and left many netizens in agape.
"Breaking someone's marriage is not GODLY, I invited you as a friend, today unasema ambia Eko Dydda not to bring me home because love yenu haita grow.
"It's not a battle,@ekodydda you don't have to hide it any more your 'DOPE' is free to love you, sometimes it's healthy to walk away. Na leo ndio ile siku, I will not hide it for fame, money, I will stand with the truth and will never ever lie to people." Cynthia posted on her Instagram handle and immediately pulled the post down.
Later on after the saga,  Eko Dydda came out clear and said that his wife and children are still with him and they are living happily.
Eko Dydda Net Worth
The singer currently lives in a prestigious bungalow in Karen and his estimated net worth is approximately over Kshs. 13 Million. He earns most of is incomes from sale of albums and stage performances.
Eko Dydda Songs
A 4 Apple
Ako Na Form
Amen (2018)
Apana Tambua Ukabila (2016)
Baba Yuko
Beautiful People
Bow (2017)
Checki Vile (2017)
Dad An Yours
Ghetto
Habari Gani
Holy Ghost Fire (2020)
Life In Abundance
Lion Of Judah Reigns (2016)
Love Gone Bananas (2014)
Nina One (2016)
No Stopping U
Ooooh Yah (2019)
Psalms 23
Sir (2014)
Staight Outta
Straight Outta (2016)
Tawala (2020)
To God Be The Glory
Top To Di Top
Vampire
Vidole
Yuhai
Eko Dydda Arrested and forced to Quarantine for Corona Virus (Covid-19)
On 19th of April 2020 at 7:10PM, Eko Dydda was arrested at Coptic Hospital on Ngong road for breaking the 7:00 pm curfew rule. The gospel singer had gone to purchase medicine for his wife Cynthia Ayugi who reportedly suffers from high blood pressure.
After his wife Cynthia recorded a statement at Kilimani Police station, the singer was taken into quarantine at the Kenya Medical Training College (KMTC) in Mbagathi with 200 others and he is set to be tested for Covid-19.
Thanks for reading our article. Got comments or opinions about our journalism? Please send us a WhatsApp message on
+254 733 290 656