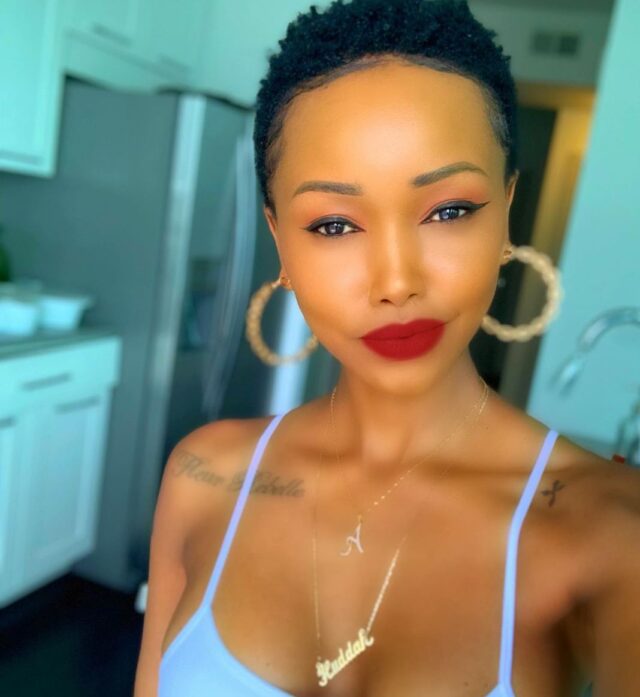 Huddah Monroe (born Alhuda Sonie Njoroge) alias The Boss Lady is quite the character. Her larger than life lifestyle and impeccable entrepreneurial success reaching out to various countries is the the subject of this article. We look into the story behind the lady that captures as much attention from strangers and admirers all over the world.
She suffered a tough background and decided to go for it and change her life and that she has done to the utmost levels. The Chief Executive Officer of Huddah Cosmetics and Body by Huddah is a key figure in popular culture and has had tremendous influence on ladies in Africa and more specifically, Kenya in embracing own make up brands.
Huddah Monroe Age and Place of Birth.
The 25-year-old has defied the narrative that it's only old or aged people who are successful. Born on the 10th of October in 1995, Huddah was named Alhuda Sonie Njoroge to a mixed family.
Her mother is Kikuyu while her late father was Somali who sadly passed on when she was young. She was born in Nairobi's Eastleigh in a humble place living in Huruma Estate.
Huddah Monroe Education Background
Huddah attended Kajiado Hills Girls Academy and information on where she attended primary school remain undisclosed. Information on her post high school further studies are also undisclosed. Her business smartness could be all street smart or she might have taken up additional courses to boost her book smartness in addressing business needs.
READ: Zari Hassan Bio – Age, Education, Children, Current Boyfriend, Net Worth
Huddah Monroe Career Journey
Huddah is primarily an entrepreneur, socialite, farmer and investor. She however began the climb up as a freelance model back in the day. She has since then been known to share pictures of her body especially on her Instagram account.
Some of her photographs, those of her nude, were in the public for a long time to which she received much criticism for. She defended herself stating that the photos were meant for pure commercial use.
She came into the public limelight for being cast on the Big Brother Africa season 8 and she gained notice and garnered a following and fan base from there on.
As an apt farmer, Huddah Monroe owns large tracts of land in Kenya where she grows several crops which she sells in the Kenyan market and is among the Kenyan crop exporters. She earns a decent income from this given the reliability of all people on food.
She is also an investor in various ventures including the oil industry which has proven heavily lucrative among the wealthy investors of the world. She also invests in real estate which keep her the boss chick she says she is.
Huddah Monroe Personal Life, Dating and Boyfriend
Huddah is said to be in a serious and stable relationship with an undisclosed individual. She dismisses claims that she is an immoral woman despite in the past confessing to be addicted to one-night stands. She keeps this part of her life very secretive and leaves it away from the public. Monroe says they works out their relationship issues that could arise from her ventures amicably.
She has recently bagged a role as a brand ambassador and representative of a company called BrightenMi.
Huddah Monroe Net worth and Assets.
The Boss Lady lives up to her name and has proven herself to be one of the wealthiest entrepreneurs in the country and even in the world. She earns a decent income from her cosmetic line that has grown to be very popular among the women in the country. She personally markets most of her products including make-up, lingerie and accessories.
The business is lucrative and has even attracted fraudsters who use a fabricated name to attract Huddah consumers. She also owns sleek and luxurious vehicles and posh house in Nairobi's prime land and in other countries.
Her net worth stands at an estimated $3.5 million as at the publication of this article.
Huddah Monroe Instagram and Contacts
View this post on Instagram
Thanks for reading our article. Got comments or opinions about our journalism? Please send us a WhatsApp message on
+254 733 290 656