Mpenzi Chokuu (born Sammy Owiya Otieno) is a widely known social media personality who came into the limelight for his bold acknowledgement of being gay and a proud member of the LGBTQ community. The Kenyan gay man has proclaimed himself the sexiest gay man. In this article we will be looking at the life of this bold character and the steps that led to his current situation in life. This is the biography of one Mpenzi Chokuu.
Mpenzi Chokuu Age and Place of Birth
Mpenzi Chokuu was born in Kisumu, Kenya where he grew up as a last born in a family of five children. His exact date of birth has not been identified and he is assumed to be in his late 20s or early 30s. He moved to live with his uncle after his mother passed on and this is where his story began to take the current shape.
He was born as Sammy Owiya Otieno and uses Mpenzi Chokuu as his stage name and social media name.
Mpenzi Chokuu Education Background
Information on the educational background of Sammy Owiya remain unavailable and were not present at the time of this article's publication.
Mpenzi Chokuu Career Journey
Sammy Owiya Otieno is a fitness enthusiast. He spends much of his time doing workouts and social media activities. It is unclear as to what else he does on a day to day basis that puts the food on his table but his work has brought him a lot of online attention with women even getting jealous of his body.
Mpenzi Chokuu Personal Life, Is he gay, spouse

Mpenzi Chokuu is a proud gay man who does not hide the fact from his followers online. He says that after he moved to his uncle's house, his uncle molested him and kicked him out of his house. He later got disowned by all his family after his gay tendencies began to show publicly.
READ: Dayon Monson Biography, Age, Career, Boyfriend, Net Worth
He dated a man whom he claims threw him out of his house with nowhere to go and has used this incident as a teaching aid for his women followers. Chokuu teaches them to be vigilant against men who are disrespectful and who don't spend money on them.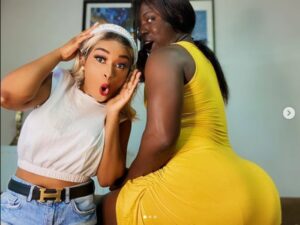 He says he was not always as he currently is and that as a younger person, he used to be a member of an Anglican Church Choir.
Chokuu currently lives in Cologne in Germany where he is able to live freely as a gay man and have no one judge him as harshly as he was in the country, Kenya.
Mpenzi Chokuu Net worth and Assets
Sammy Owiya's net worth as at the time of this article's publication had not yet been established. Information on the assets under his name remain unknown as at the time of this article's publication even though he flaunts houses, flashy cars and expensive clothing in his social media platforms.
Mpenzi Chokuu Contacts and Instagram

He has a following of more than 100,000 people and keeps gaining more. This would provide him further platforms and opportunities to carry out other income earning activities like affiliate marketing and brand marketing.