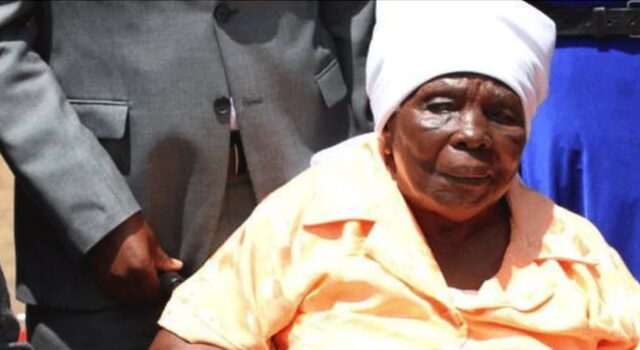 Mukami Kimathi was the wife of Dedan Kimathi, the revolutionary leader who fought for Kenya's independence from British colonial rule. Though much of her life has been shrouded in mystery, her contributions to the freedom struggle and her unwavering support of her husband cannot be overstated.
In this article, we'll explore Mukami Kimathi's life and legacy, and how she played a crucial role in shaping the course of Kenyan history.
Mukami Kimathi's Early Life
Mukami Kimathi was born in the 1920s in Nyeri, Kenya, to a family of farmers. She received her education at a local school, but her studies were cut short when she was forced to drop out due to financial difficulties.
Despite this setback, Mukami was determined to make a difference in the world, and she soon found herself drawn to the anti-colonial movement that was sweeping Kenya at the time.
Mukami Kimathi Meeting Dedan Kimathi
Mukami first met Dedan Kimathi in the early 1950s, when she was working as a housemaid in Nairobi. Kimathi was already a prominent figure in the Mau Mau movement, which was fighting for Kenya's independence from British rule.
Read: Mackenzie's Wife Rhoda Maweu Biography, Family Background
Despite the danger that came with associating with Kimathi, Mukami was drawn to his charisma and his unwavering commitment to the cause.
Mukami Kimathi Supporting the Struggle
As Kimathi's wife, Mukami played a crucial role in supporting the freedom struggle. She provided food, shelter, and medical care to Mau Mau fighters, often at great risk to her own safety. She also acted as a courier, passing messages and information between Kimathi and other members of the movement.
Mukami's dedication to the cause never wavered, even after her husband was captured and executed by the British in 1957.
Mukami Kimathi's Life After Kimathi
After Kimathi's death, Mukami continued to fight for Kenya's independence. She was arrested and detained for several years, but she never lost her passion for the cause. Eventually, Kenya gained its independence in 1963, and Mukami was able to return to a country that was finally free from colonial rule.
Mukami Kimathi's Legacy
Mukami Kimathi's contributions to the freedom struggle may have been overshadowed by those of her husband, but they were no less important. Her bravery and dedication to the cause of Kenyan independence inspired countless others to join the fight. Today, Mukami's legacy lives on in the hearts and minds of all those who continue to work for a better, more just Kenya.
Mukami Kimathi's Death
The passing of Mukami Kimathi, wife to Field Marshal Dedan Kimathi, has brought forth an outpouring of tributes from Kenyans who recognized her role in the country's struggle for independence. Mukami Kimathi was among the Mau Mau freedom fighters detained at the Kamiti Maximum Prison during the fight for independence.
She died at the age of 101 while receiving treatment at a Nairobi hospital after experiencing difficulties in breathing. Her daughter Everlyne Kimathis revealed that her mother's wish was to have her husband's body released from Kamiti Maximum Prison and buried at a different location by the State.
Many Kenyans took to social media to pay their respects to the fallen heroine, who remained a symbol of the country's liberation struggle. 
| | |
| --- | --- |
| Name | Mukami Kimathi |
| Birth date | 1920s |
| Birth place | Nyeri, Kenya |
| Education | Attended local school |
| Occupation | Freedom fighter |
| Spouse | Dedan Kimathi |
| Contributions | Provided food, shelter, and medical care to Mau Mau fighters; acted as a courier; continued to fight for Kenya's independence after Kimathi's death |
| Legacy | Inspirational figure in the struggle for Kenyan independence |
| Date of Death | Thursday, May 5, 2023 |
| Cause of Death | Breathing complications |
| Place of Death | Nairobi, Kenya |
Thanks for reading our article. Got comments or opinions about our journalism? Please send us a WhatsApp message on
+254 733 290 656