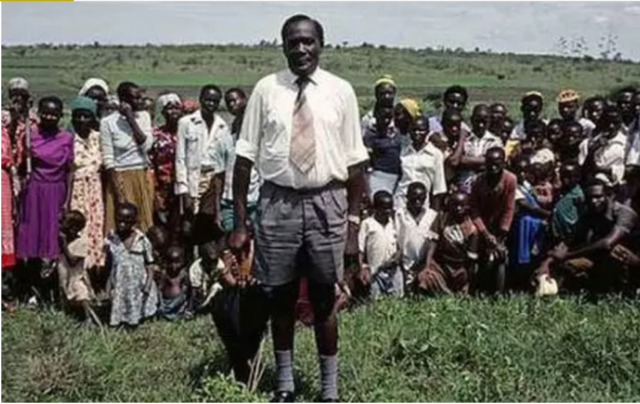 Acentus Akuku 'Danger' was a man who will always be remembered as the king of polygamy in Kenya and even in Africa. He was known to have married more than 100 women and sired more than 200 children. This article looks into Akuku Danger's biography highlighting his background, career journey, and how we managed to live with more than 100 wives with little to no chaos.
Akuku Danger Age and Place of Birth
He was born in 1918 and named Acentus Ogwella Akuku. Acentus would go on to grow up in the Nyanza region where he would build his family and businesses as an adult.
Akuku Danger Education Background
There is little information on his academic training but he would grow to be a successful businessman in his adulthood.
Akuku Danger Career Journey
Akuku Danger's career was primarily in business as he developed avenues to make money to cater for his wives and children. Some of his wives that would later be interviewed asking about the man who was able to build his own community mentioned that they never lacked anything. He had farms that the wives would till and sell the produce, using some to feed their families. Akuku Danger was an avid farmer that owned acres of land that he would regularly visit on inspections. 
Later on, he established two elementary schools intended to educate his children. He would then be in management ensuring that his children would receive a good education. Not only did his huge family require its own school, but also a place of worship. He built a church for his family, which was now its own community to attend weekly. 
Read: List of Men that Diana Marua Dated before Bahati Exposed
In the town center, the man also owned several taxis that would be in town service. Cutting costs, Akuku Danger had his sons drive his cars in the town. This was a steady income stream for the family that established its own economy. His children would later walk in his footsteps and establish small businesses such as Akuku Danger Plaza, Akuku Tailoring shop, Akuku Shop, P Akuku Complex in the Aoro Ochuodho market. 
In his late years, the man Akuku Danger knew he had become a money-making entity just by his polygamous lifestyle as he attracted journalists and reporters from all over the world. He would charge a fee to be interviewed.
Akuku Danger Personal Life 
At the age of twenty-one, he married his first wife, and that marked the beginning of several years of the making of a polygamist. When he was twenty-two, he already had five wives and at thirty-five he was heading towards fifty women. One might wonder how we would all these women to which he replied in a past interview, "I'm called Danger because I overshadowed many men when it came to women. I was very handsome. I dressed well and I knew how to charm women with sweet talk. No woman could decline my advances. I was a magnet,"
He would also have very high requirements for the women he brought into his household. A wife of the late Akuku Danger highlighted this fact saying, "Mzee did not like lazy, proud and arrogant women. He would warn a woman over a misdemeanor and, if she repeated the same mistake, chase her away. All her children sired by Akuku would remain in the family."
His Akuku empire was strategically run as he had his family in clusters that were based in different regions across the Nyanza region including Homa Bay, Migori, and Ndhiwa. Ndhiwa was his main operational base – where he had his 'State House' in Rachuodho. All his wives would take turns in cooking for their husband in periodic shifts.
During the period when one was in charge of cooking for him, he would spend time in that wife's house. The man who has some resemblance to Fela Kuti maintained a roster on which house to spend in. That way, all his wives would have some time with their husband who impressively knew all his children by name.  Akuku Danger married his last wife in 1992 as a seventy-nine-year-old man.
In October 2010, he collapsed in his Ndhiwa home aged ninety-two and upon arrival at the Nyanza Provincial Hospital was pronounced dead. Akuku had been diagnosed with diabetes a few years earlier although throughout his life enjoyed good health credited to eating well-prepared traditional foods and eating fruits after every meal.
In a statement by Tom Akuku, the family spokesman, he said that "Mzee sired 210 children–104 daughters and 106 sons, some of whom have since died," The family maintains close relations as much as they can holding periodic get-togethers at their father's Ndhiwa-based 'State House'. Moreover, they recently started a Facebook group bringing together Akuku's descendants from all over the world. They maintain a common kitty to collect funds that are used to take care of orphaned children and schooling the younger ones.
| | |
| --- | --- |
| Real Name | Asentus Ogwella Akuku |
| Age | 92 (At the time of his death) |
| Nationality  | Kenyan |
| Education Level | N/A |
| Place of Birth | Nyanza |
| Birth Sign | N/A |
| Year of Birth | 1918 |
| Religion  | Christianity |
| Spouse  | More than 100 wives (40 legally married) |
| Children  | 210 |
| Profession/Career | Businessman |
| Net Worth | N/A |
Thanks for reading our article. Got comments or opinions about our journalism? Please send us a WhatsApp message on
+254 733 290 656