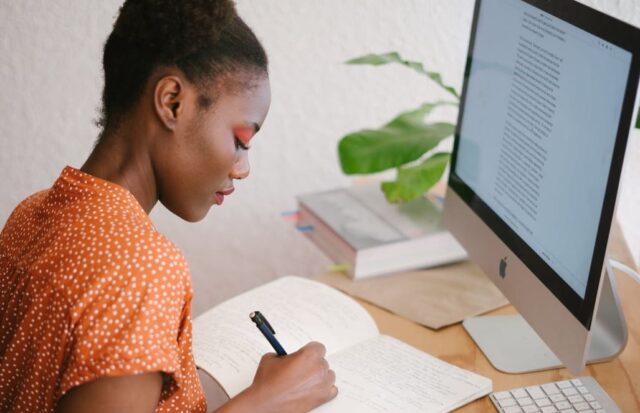 Academic writing is one of the best online side hustles one can take up and with time even make it a full-time engagement that can cater for one's daily needs. Online writing was an opportunity that came about with the increased access to the internet and availability of common ground between writers and those offering the jobs.
There are two types of accounts that one can write for in order to make money. These are Take Accounts and Bid Accounts. Take Accounts are those that post their available writing jobs on the website dashboard open to all who can access it. The writers take the jobs listed and work on them for submission.
This is based on a first come, first serve basis. Bid Accounts on the other hand require writers to bid for writing jobs listed as available. The account owner then takes up the bids raised and based on criteria such as the lowest bid, the most qualified or trusted writer is picked for the job.
In terms of pay, this is based on the level of the writer with beginners or entry level individuals earning less than experts. The pay can also vary depending on the account or website overall performance among their clients. Those which have had a longer time in the business and over time proven to be exceptionally good at their job charge more and thus pay their writers more than new accounts. Below are the top fifteen accounts one can consider when looking for an online job.
1. Uvocorp
Established in 2004, Uvocorp is the oldest writing account and is considered the best in terms of quality performance and subsequently pay-wise. the account receives an average of a quarter million visits annually and offers the lucky writes a lucrative $27 for every page done. Needless to say, getting an account with Uvocorp is close to impossible.
2. Writerbay
Writerbay follows closely offering top notch academic writing services to their clients in terms of quality standards and unique work. It is much easier to open an account with Writerbay and access several writing opportunities. The eleven-year-old account as at 2021 is one of the best paying as well in the industry.
3. UnemployedProfessors.com
UnemployedProfessors is one of the outstanding accounts there is online and this is based on its humor appeal. The account produces high quality work and offers writers a decent earning from every page done given the high number of clients averaged at 180,000 annually. It is a long shot to access an account with the UnemployedProfessors.
Read: 200+ Scam-free Academic Writing and Online Job Websites 2023
4. Nerdify
Nerdify is another top writing account there is. It offers clients top quality writing services in various categories and subjects. Its portfolio is well diversified to ensure that there are writers available for each work type posted.
5. Michaelsoft WritersHub
Michaelsoft WritersHub is an online account based in the United Kingdom offering their writing services across the world. The account is among the top paying avenues online and requires their writers to be highly skilled and efficient in their work. Deadlines and set standards must be adhered to at all times.
6. 4writers.net
This account is among the best accounts to write for and offers academic writing services. During peak seasons, work is usually well paid for some times exceeding $5 per page done.
7. Essaypro
Essaypro offers high standard writing services to their clients and requires that its writers offer top quality work, free of plagiarism and offered at the set deadline. Essaypro is committed to ensuring that clients are offered the best services.
8. Proficientwriters.com
Proficientwriters is a top account in the writing industry and from its name you can be certain that it is a site committed to proficiency and gives nothing short of that. Creating an account with proficientwriters is a worthwhile shot at making an extra income online.
9. Grade miners
Grade miners is an account committed to academic writing and making top notch writing services available to their clients. Client reviews rate their experience with grade miners as highly satisfying.
10. Essaywriter.net
This account is one aimed at providing the best services to all types of writing work and academic proficient works for their clients. It offers their clients quality and top graded material.
11. Edusson
Edusson is a bidding site that allows writers to post their bids for clients to select them for their services. The account is a worthwhile shot in looking for an online job.
12. Essay shark
Essay shark is a top bidding account in the writing industry and requires that writers are experts in what subjects they choose to work on as quality is a priority along with meeting deadlines and producing quality work.
13. Simpletense
Simpletense is a writing account that offers a win-win for clients and the writers. The site has been managed to ensure that work done is always of high quality and attains top grades for the clients. The clients receive good quality work and the writers are paid well as well.
14. Edubirdie
Edubirdie is a top writing account that is aimed at offering top and reliable writing work for their clients. It is committed to high standards and paying their writers well for jobs done.
15. Writers web
Writers web is also a top-ranking writing account that offers a variety of subjects in their writing services and does not disappoint clients for the jobs offered. Obtaining an account with Writers web is a smart move with the aims of making an earning from one's writing proficiency.
If you want to advance in your studies and sharpen your skills, you can now conveniently undertake online examinations and pass easily. Amazon aws certification gives you everything you need to prepare, learn & pass your certification exam.
Thanks for reading our article. Got comments or opinions about our journalism? Please send us a WhatsApp message on
+254 733 290 656