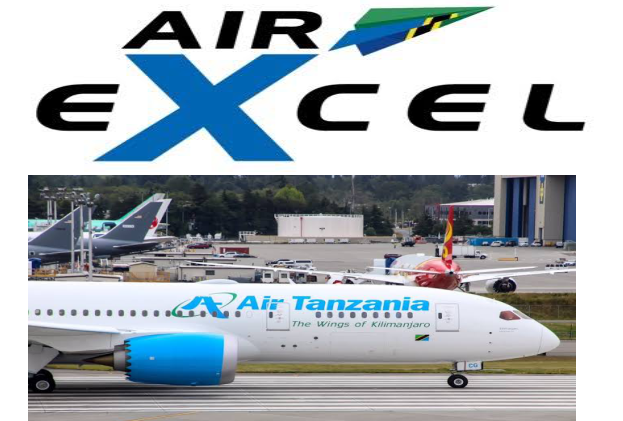 Tanzania is amongst the best countries known globally in regards to the provision of top-notch airline airline services. The country has a wide range of such services which include but not limited to the following; Air Excel, Air Tanzania, Air Zara International, As Salaam Air, Auric Air, Coastal Aviation, Fastjet Tanzania. The above listed flight services are unique and offer a wide-range of services as follows;
1. Air Excel
This is an airline situated in Arusha, Tanzania offering both schedule and air charter services. The schedule flights are designated to the following destinations; Hub, Future and Terminated route. The Air Excel fleet consist of two main aircrafts; Cessna 208B and Let L-410 Turbolet.
2. Air Tanzania
The airline is based in Dar es Salaam with its hub at Julius Nyerere International Airport offering schedule services. The service offered is comprises the following seven International destinations; Comoro, Burundi, Uganda, Zimbabwe, Zambia, South Africa and India.
Read: Best Ten Hotels in Moshi to Consider visiting this Holiday
There are five main Tanzania fleet which include; Airbus A220-300, Boeing 787-8, De Havilland Canada Dash 8- 300, Da Havilland Canada Dash 8-400 and Fokker 50. Book a flight today using this link.
3. As Salaam Air
The airline is based in Zanzibar, Tanzania. It offers both private charters and schedule operations in Tanzania. It is the leading airline flying company flying between two spice Islands Pemba and Unguja. The flights operate to the following destinations within Tanzania; Arusha, Dar es Salaam, Pemba and Zanzibar. Book a flight now.
4. Auric Air
It is a small privately-owned airline in Tanzania operating from Julius Nyerere International Airport, Arusha airport and Mwanza Airport. It also offers schedule flight services to the following destinations; Hub, Future and on inducement basis. It comprises seventeen aircraft as at August 2019; Cessna 208B, which are five; and Cessna 208-EX which are twelve.
5. Coastal Aviation
The flight is a charter airline that operates in East African flying Safaris out of Dar es Salaam, Tanzania since 1987. The company offers both schedule and charter services. There are both domestic and International schedules destinations which operate as follows; the domestic services operate in;
Arusha,
Dar es Salaam,
Kilimanjaro,
Kilwa,
Mafia,
Manyara region,
Moshi,
Mwanza region,
Pangani District,
Pemba Island,
Ruaha,
Iringa,
Robondo Island National Park
Saadani National Park.
The International destinations are mainly in Kigali, Rwanda and Nairobi, Kenya.
6. Fastjet Tanzania
The Fastjet Airlines Limited is a low -cost airline that was founded in 2011 as Fly540 Tanzania. The company is known to offer schedule and cargo services. There are three main destinations which include Base, Future and suspended route.
The company also has five fleets that enables its smooth operations; ATR 72-600, which are three and Embracer 190 which are two.
In conclusion, the five best flight services as outlined earlier are Air Tanzania, As Salaam Air, Auric Air, Coastal Aviation and Fastjet Tanzania. Other flight services that also play critical flight services include; Fight link, Precision Air, Regional Air, Safari Plus, Fly Safari Link Ltd, Tanzania Government Flight Agency, Topical Air and Zan Air.
Thanks for reading our article. Got comments or opinions about our journalism? Please send us a WhatsApp message on
+254 733 290 656