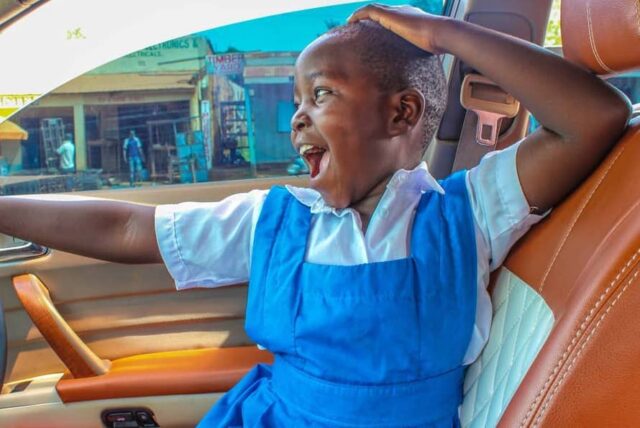 Bridget Bema Biography
Comedy in Kenya has evolved over time and social media has opened up unlimited opportunities for comedians. Young comedians in Kenya use the internet to share their content and reach as many fans as possible. Nothing is out of reach as long as one is strategically placed to make winning moves.
Bridget Bema takes the internet by a storm across the country and continent in a comical video gone viral. She acts out a school assembly scene portraying the character of a rebellious student with several misdemeanors. This article looks at the youngstar's biography.
Age and Place of Birth and Real Name

Her real name is Bridget Aluoch. She was born in 2011 on the tenth of November. She is currently 9 years old as of the year 2021. Bridget hails from Oyugis – the Nyanza part of Kenya Kenya.
Bridget Bema Education Background
The young comedian who has become a favorite for many is still in primary school.
Bridget Bema Comedy Journey

Bridget has proven to be a very talented actress and comedian in the making. She has stunned several online users eliciting several reactions. She rose to internet fame in the past few days after shooting a script with her elder brother, Otieno Oliver, and other students.
In the production, the plot is a school assembly address by a teacher punishing pupils found with misdemeanors. Bridget acts as a girl found in about all the mistakes and in all the lists the teacher is calling out names from.
Read: A List of Top 10 Richest YouTube Personalities In Africa 2020/2021
She is on the list of students who failed to carry out their routine duties, were found bullying other pupils, speaking in her mother tongue at school, noise making and being late for school. The skit presented a relatable scenario which took people back to their days in primary school.
The throwback video has gotten thousands of views in about two days and continues to crack up several people. On a different note, Bridget's video shows content creators that the key to getting numbers is in exploring content that most people would relate to and find a personal connection with.
Online users have come up with interesting conversations over the topic, some asking, "Who was the Bridget Bena of your school?" and "You're bad but are you Bridget Bema?". She comically represents the character of the student teachers have a hard time dealing with. We can attribute her skill to innate ability and to the mentorship by her brother, a stand-up comedian, YY.
YY whose real name is Otieno Oliver is a comedian and Chief Executive Officer at Access Light Media. He is one of the Kenyan comedians who have used Instagram and other social media platforms to propel their careers and ended up successful. His following of 470 thousand have supported his content over time and in some of his videos features Bridget Bema. Could she be the Kenyan Emmanuella? Time can only tell where the young comedian will be doing with her skills in the future.
Bridget Bema Personal Life
Bridget is a bubbly girl, and enjoys creating comedy with her elder brother, YY.
Bridget Bema Instagram
View this post on Instagram
Thanks for reading our article. Got comments or opinions about our journalism? Please send us a WhatsApp message on
+254 733 290 656