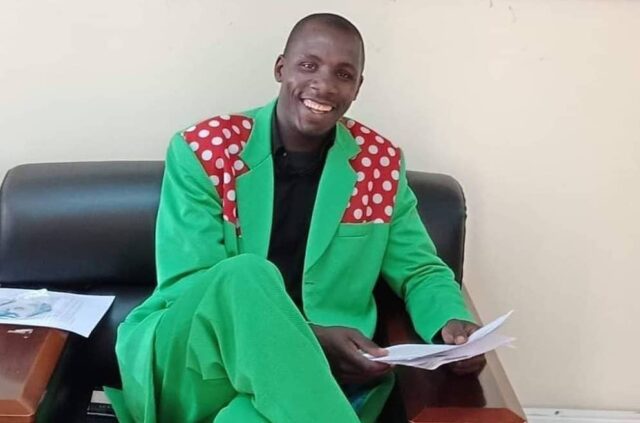 Chris Embarambamba (born Christopher Nyangwara Mosioma) is a Gusii gospel music and internet sensation. His unique style of videography and public stunts has made him come to the limelight, to the level of making lots of appearances on TV interviews. Embarambamba's most recent interview was on NTV's trend show hosted by Amina Abdi Rabar. This article looks deeply into Embarambamba's biography, career, education, songs, net worth, family any everything you ought to know about him.
Chris Embarambamba Age, Family and Place of Birth
Chris is 33 years old as of the year 2021. He was born as Christopher Nyangwara Mosioma on 1st February 1988 in Keroka, Nyamira county. More details about his parents and siblings are not yet in the public domain.
Chris Embarambamba Education and Career Journey
Chris began his education at Kierira Dok Primary School near St Augustus Academy located at Kitutu Masaba. The singer disclosed on NTV's Trend with Amina Abdi that he never finished school because one of his parents died, and the remaining one did not have funds to get him through school.
On the interview with one of the Kenya's media houses, Chris discovered his career in music right after completing her primary school education. He added that he would even sneak from school and perform at the late president Daniel Toroitich Arap Moi's functions when he used to visit Kisii and Nyamira Counties.
The first songs he recorded did not actually do well. Many other artists were also a major challenge to him because they were pirating and redistributing his music, which made him make meager income from his original work. He then ventured in to the boda boda business of which he quit immediately after knocking a pregnant dog to death.
After quitting his source of livelihood, he started to associate with established artistes so as to learn more about them. He worked under the Gusii music mogul Mr. Ong'eng'o. Ong'eng'o had requested Chris to perform with him in an event which was to be attended by the late Nyachae. Chris used to an expert in playing the drums. He found the name "Embarambamba" while he was playing the drums.
Read: Simba Arati Biography, Age, Real Name, Career, Family, Net Worth
Ong'eng'o advised Embarambamba to release his first song "Ensanako Tebwati Masikani" in the year 2007 which to Chris was a big achievement. Chris later worked with Man Pepe Sagero from 2009 to early 2016 when he released "Amatindogoro". He later quit the secular world for gospel, which left his fans who had loved his secular music disappointed as to why he made such a decision.
As per Chris, he quick the secular music because it was "a call'. He explained that he had a dream where God told him to go and sing, because he was alive and God was alive also. He then released the first gospel song "Yesu Moyale".
His style of singing and dancing is rolling in the muddy waters, running in maize plantations, banana plantations, rolling over the cows, jumping over the fences among very many other gymnastics. He does this while dressed sharply in unique suits that he makes at his specific tailor.
Many fans have perceived these as gymnastics that can only be done by a mad man. As per Chris, that is his style of praising and winning many souls to Christ.
In the recent feature on NTV's Trend live interview, he started off the show jumping from one table to another in an empty newsroom towards the main live studio. He later on the interview confessed that he does these dangerous stunts so as to provide for his family. He then shared his career journey by explaining how he introduced himself to gospel the world.
"The first day I went to the studio, I never carried any book, I just found myself spitting lyrics and it formed a song," he told the presenter.
Chris Embarambamba to get Help from Ezekiel Mutua
On watching Chris on various interviews, the Kenya Film Classification Board (KFCB) CEO Ezekiel Mutua offered to help Chris Embarambamba. The CEO announced this through a tweet in which he said that his attention had been drawn to the artiste's theatrics which he described as embarrassing.
"Come let's find a way out. You sound ok, but ur theatrics are embarrassing & must be moderated!" said Ezekiel in his tweet.
Chris Embarambamba Songs
Chris has recorded various songs of secular genre before he completely switched to gospel music.
Amasomo
Amatindogoro
Boda Boda
Chichoke
Chisimi
Cllr Steve Arika
Dr Masese
E Weekend
Engiti
George Morara
Kwarikumbeire
Nabo Ereigo
Naki Kiare
Tibwechandera
Transline Classic
He has however released top hits in the gospel and secular music genre in which he has featured other artists for collaborations. His top bangers include the following:
Amatindogoro
Embarambamba na wanadada wa gospel
Namoonchire Yeso- Bro Dennis Onyamo
Embarambamba na Mwaniki Nayaeteire
Obongo nabwo omonto by Embarambamba
Sanitize-Chris Embarambamba ft Bro Dennis Onyamo
Ninchwo Mbaorokie
Siara Ebuse-Embarambamba
Omwana Onyasae Akong'ita Obote
I was Confused – (Official Audio)
Chris Embarambamba Family, wife and Children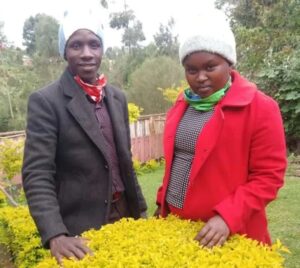 Chris is married to a beautiful wife whom they have been blessed with five children. To him he thanks his wife very much for always standing with him throughout his drama. As per what Chris said on NTV's interview, his wife always washes his muddy suits and has really persevered – a feature that is not common with the modern women who would have left long time ago. More information about his family is not currently available. This article will be updated once the information is available.
| | |
| --- | --- |
| Real Name | Christopher Nyangwara Mosioma |
| Nickname | Chris Embarambamba |
| Age | 33 years as of 2021 |
| Nationality | Kenyan |
| Real Father | Unknown |
| Mother | Unknown |
| Tribe | Gusii |
| Education Level | Primary School Education |
| Place of Birth | Keroka, Nyamira County |
| Birth Sign | Unknown |
| Year of Birth | 1st February 1988 |
| Religion | Christian |
| Spouse/Wife Name | Unknown |
| Children | 5 Children |
| Career/Profession | Dancer, Singer, Songwriter |
| Genre | Secular/Gospel Music |
| Years Active | 2007 to date |
| Net Worth | Unknown |
Thanks for reading our article. Got comments or opinions about our journalism? Please send us a WhatsApp message on
+254 733 290 656