Francis Atwoli is one of Kenya's most vocal personalities, famous and popular among millions. Always one to adorn in designer clothes, expensive accessories, and a touch of unabashed confidence to speak his mind, Atwoli has in one way or another become one of Kenya's greatest content creators.
His interviews are always filled with vigor, life, and you can be sure to get a hashtag such as "In whose hands will we be safe?", "Shenzi Sana", and "Alaaa!" Not only is he the longest-serving COTU Secretary-General, but also a heavily influential personality. Moreover, he is one of Kenya's wealthiest men valued at close to Ksh 1 billion.
Francis Atwoli Age and Place of Birth
He was born on 6th June 1949 in Kakamega county where he spent most of his life before his career had him relocate to Kajiado and later on move around the world as his profession required of him. 
Francis Atwoli Career Journey
In a past interview, Atwoli revealed that he began working in June 1967 and is best known for his efforts in revolutionizing trade unionism and improving workers' welfare in their workplaces. With his work, he has been referred to as the voice of the common working mwananchi.
In his tenure, he has introduced paternity leaves and keen observance of labor laws. Serving the Central Organization of Trade Unions for about twenty years, he has become synonymous with the union spearheading Labor Day celebrations adorning in the characteristic purple shirt. 
Apart from COTU, Atwoli is also a member of other organizations and unions such as the Governing Body at International Labor Organization, president of Trade Union Federation of Eastern Africa and Organization of African Trade Union Unity, Vice President of the International Labor Conference and International Trade Union Confederation, and Secretary-General at Kenya Plantation & Agricultural Workers Union and the Central Organization of Trade Unions.
Francis Atwoli Personal Life, Wives, Family

The COTU Sec-Gen is a teetotaler and of the Catholic faith. He is a staunch member of the church known for his commitment to attending all masses. Atwoli is polygamous and has three wives as of 2021. His first wife's name is Jenifer Khainza Atwoli whom he describes as a respectful wife unlike his second wife Roselinder Simiyu.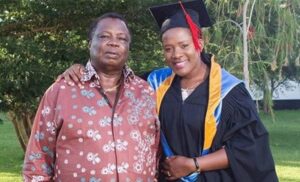 Atwoli's third wife is former KTN news anchor Mary Kilobi. His marriage to Mary was sharply critiqued given their wide age gap of thirty-five years, something that he dismissed since the two have had a happy marriage since 2018.
Read: Jalang'o Net Worth, his source of Wealth – A list of things he Owns
Francis Atwoli salary Net Worth and Property 2021

Atwoli is a very wealthy man and is unafraid to show it. His clothes are always designer or tailor-made and worth millions. He adorns fancy accessories including the world's most expensive watch, a Franck Muller, gold rings, and the latest phone models in the market. These he flaunts on national TV, in one occasion on JKLive throwing a brand new phone as someone tried to call him while he was being interviewed.
The COTU Sec-Gen also owns a fleet of luxury vehicles including a Mercedes Benz S300 Model and Mercedes Maybach 6 Cabriolet worth Ksh 600,000,000.  In a comment on his wealth and possessions, he said: "Kila kitu yangu ni mzuri. Huwezi kwenda kwa matajiri na koti imeraruka". 
Atwoli's mansion in Kumpa, Kajiado can only be described as a palace. The mansion has a 100-car capacity parking lot, 300-person capacity restaurant, numerous guest rooms, a helipad, and well-maintained lawns. With a monthly salary not less than Ksh 5,000,000 from COTU, Atwoli additionally receives allowances from the numerous boards he serves on. Not only does he depend on his salary, but also runs businesses including an expansive flower farm and residential houses in Nakuru and Nairobi.
In a statement of his wealth, Atwoli once lent Cyrus Jirongo Ksh 110,000,000 with no collateral required to be repaid in fifty days. The debt was however not repaid and the matter was escalated to court. 
How influential must one be to have a road named after them? Francis Atwoli's contributions to championing the rights of workers for fifty-four years earned him exactly this. Mandera Road was renamed Francis Atwoli Road in recognition of his efforts.
Francis Atwoli Biography
| | |
| --- | --- |
| Real Name | Francis Atwoli |
| Age | 72 (As of 2021) |
| Nationality  | Kenyan |
| Education Level | N/A |
| Place of Birth | Kakamega County |
| Birth Sign | Gemini |
| Year of Birth | 1949 |
| Spouse  | Mary Kilobi |
| Children  | 17 |
| Profession/Career | COTU Secretary-General |
| Net Worth | Ksh700 Million |