Grand Mullah Biography
Ahmednasir Abdullahi commonly known as Grand Mullah is one of Kenya's wealthiest vocal lawyers. He is always quick to comment and air his opinions on matters justice and national issues. Apart from being a renowned lawyer, Ahmednasir is also a writer, a publisher, a columnist and a businessperson.
Grand Mullah Nickname meaning by Chief Justice Dr. Willy Mutunga
Many people are always asking where the name Grand Mullah came from. According to Ahmednasir, CJ Dr.Willy Mutunga christened him the name Grand Mullah during the Judicial Service Commission (JSC) in 2014 because of how knowledgeable he is on matters Islamic and Constitutional Law.
However, people always thought that the name was linked to his wealthy lifestyle since he is always arriving in flashy cars. Others even linked the name to him being a 'Godfather'. Ahmednasir was quick to state that the name had nothing to do with his wealth.
Grand Mullah Age, Birthday, Place of Birth, Tribe, Nationality and Religion
Ahmednasir Abdullahi is a Kenyan renowned lawyer and columnist that was born in Mandera, Kenya. Grand Mullah is a very Staunch Muslim from the Kenyan Somali community.
Grand Mullah Family, wife, children

Ahmednasir is married to his beautiful wife and together they are blessed with four children, with a set of them, the last two, being twins. His eldest child is 22 years old.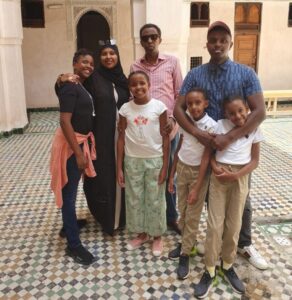 Grand Mullah Education Background
Ahmednasir went to Mandera Primary School for his primary education. He then proceeded to Nairobi School for his secondary education after which he went to the University of Nairobi to study law. Grand Mullah graduated from the University of Nairobi in 1990 after which he went in Cornell University to do Masters in Law. He also graduated from the same university with a Master's Degree in Law in 1992.
Grand Mullah Career Background and Businesses
Ahmednasir has always been so passionate about making it in life. As a little boy in the small dusty town of Mandera, he spent much of his time selling in his dad's shop that was situated at Mandera town. Slowly but surely, he found his way out of Mandera and into the big city of Nairobi to venture into media and law.
Read: Otiende Amollo Biography – Net Worth, Age, Education, Family, Contacts
In 1993, Ahmednasir had ventured into the law firm business with just Kshs. 7,000. In 2017, Grand Mullah partnered informing First Community Bank. He has also consulted and appeared for the World Bank, UNHCR, various Corporations as well as the Government of Kenya on certain issues. This clearly shows that Ahmednasir is a Jack of All Trades.
He became a publisher of the Nairobi Law Monthly, which is a magazine that gives highly opinionated law and political voices a new place to sound off. It is barely six months later and the magazine currently has 4 issues out.
The magazine attracts so many readers who are interested in delving deeper into political issues and the current state of affairs. It also gets to showcase advertisements from the national government, something that keeps it growing by the day. Ahmednasir Abdullahi also works as a columnist on the Sunday Nation newspaper.
Grand Mullah Lawyer
Ahmednasir Abdullahi is undeniably one of the most controversial lawyers that Kenya has ever had. He stands by his word and makes no apologies. According to him, people think that he is an arrogant and aggressive person who is always utterly objective. He, however says that, he is very open about what he says and does and has never wanted to be anyone but himself.
Ahmednasir has been hated by some people in power for being very vocal. He claims that money has never been and will never be his box to tick when it comes to inspiration behind his career. Ahmednasir likes cases where he gets to show the rich and powerful people involved that justice will triumph.
He has previously differed by Murkomen on political matters. 'Murkomen is my friend. He is a baby. He is a good guy with great ideas. You know people thought that I fought Shollei as well but I never did. The system did,' said Ahmednasir. He also had recent wounding comments to the Interior Cabinet Secretary, Joseph ole Lenku.
Grand Mullah Money
Ahmednasir is currently one of the richest lawyers in Kenya. He is always quick to state that the late Mutula Kilonzo taught him in the early 90s while in School of Law that the more you charge a client, the more they love you. Judging from how he flaunts his riches, you can tell that Grand Mullah lives by these words.
Grand Mullah Law Firm
Ahmednasir Abdullahi co-owns the Ahmednasir, Abdikadir & Company Advocates, which represents clients in all facets of law. The company has strategic litigation, experienced attorneys, multidimensional complex challenges, experience, contact and influence, trial capacity and practical insight as well as skill set and breadth of experience. The company has tackled a number of big cases in the country.
Grand Mullah Suits and Clothes
If you claim that people can hardly dress well, then you are yet to meet Ahmednasir. He always makes sure that he shows up looking spick and span, almost always suited up in designer suits. His greatest extravagance is clothes, which are his suits, shirts, shoes and ties. When he travels around the world, his shops. He collects clothes as souvenirs, always reminding him of where he has been.
He clearly is into labels where most of his jeans and suits are by Brioni. According to Grand Mullah, clothes maketh a man, hence he treats people based on how they dress. For him though, he dresses for himself and he becomes more confident when he is well suited up.
Grand Mullah Donald Kipkorir
The bromance between Ahmednasir Abdullahi and Donald Kipkorir became shaky once Donald accused Ahmednasir of betraying him by siding with Tom Ojienda. Donald went ahead and penned an open letter to Ahmednasir, stating his disbelief. He posted it on facebook, demanding for answers from his 'friend'.
Grand Mullah Cars
The flamboyant lawyer owns a fleet of flashy cars such as Bentley Bentyaga, Toyota Landcruiser, Porsche Cayenne, G Wagon and Land Rover Discovery. He recently spent about ksh.20million on his new ride, the Mercedes Benz AMG G63.
Grand Mullah Quotes
'The President does not have people who support him and implement his agenda. He is a one man army; a general without soldiers.' He said this during his live interview on Jeff Koinange Live.
'Raila is the most consequential leader in Kenya in the last 2 decades. He creates the narrative, the chaos and the peace. He is more consequential than the last 2 presidents we had in terms of him making history either for the right or wrong reasons' He also said this on JKL live.
'If Uhuru wanted to leave a proper legacy, he would have added law and order.' –JKL .
Grand Mullah Net worth
Ahmednasir is one controversial person who lives a very flashy lifestyle. Apart from the fleet of flashy cars he owns, he wears a watch that costs about Kshs. 1 million and writes with a Montblanc pen that is worth about Kshs.42,000. Grand Mullah's current net worth is over Ksh 900 million.
| | |
| --- | --- |
| Real Name | Ahmednasir Abdullahi |
| Popularly Known as | Grand Mullah |
| Age | Unknown |
| Date of Birth | Unknown |
| Tribe | Somali |
| Nationality | Kenyan |
| Education Level | Master's Degree |
| Place of Birth | Mandera, Kenya |
| Wife | Unknown |
| Children | 4 children |
| Net worth | Ksh 900 Million |
| Profession | Law Maker, Businessman |
Thanks for reading our article. Got comments or opinions about our journalism? Please send us a WhatsApp message on
+254 733 290 656