It is now easier to do Western Union tracking. Western Union is an American Financial company which was founded back in the year 1851. The company offers services which have proved to be of great importance when it comes to remitting money worldwide.
Services offers by the western union company include; receiving funds, paying bills among others. The services offered by the company are so convenient, reliable and fast. In Case you sent money to someone and wondering whether they received the funds or not, you can easily track the transfer and know whether they received the money.
On the other hand, the receiver of the money can also be able to know whether the money was sent or not using the tracking service offered by western union. All you need to achieve this is the Money Transfer Control Number commonly abbreviated as MTCN.
In case you lost the MTCN Number, you don't have to worry because in this article, we are going to highlight how you can track the transaction without the number.
How to Track Your Western Union Transfer Using MTCN
In this method, you may need the Money Transfer Control Number (MTCN). It is a unique number generated for every Western Union money transfer. It helps in identifying the rightful owner of the money involved in the transaction. It is also important for tracking transactions and reference purposes.
To track your Western Union transfer using MTCN, do the following:
On the Track a Transfer page, select whether you're the sender or receiver.
Inside the text field provided, enter your MTCN.
Click on the Continue Button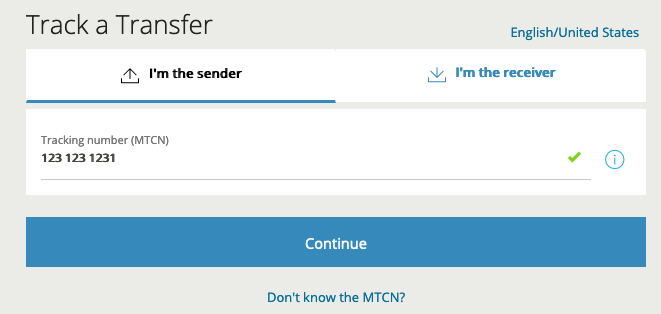 If you provided the right information, you'll be able to see the progress of your transaction as shown below.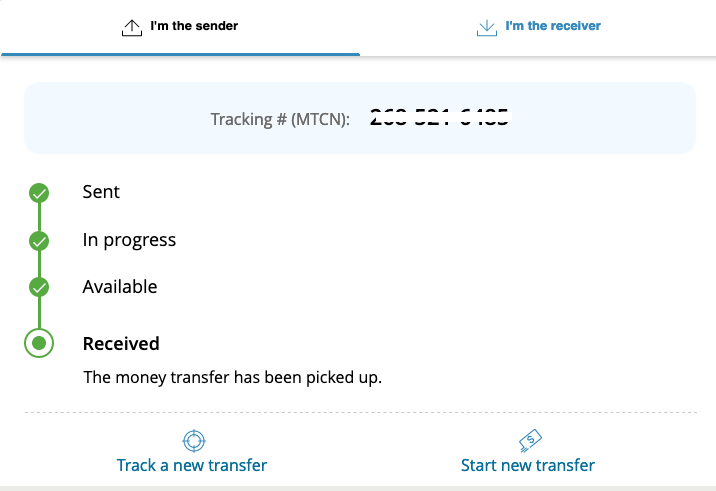 How to Track Your Western Union Transfer Without MTCN
In case you lost or cannot remember your MTCN, you may still be able to track your money transfer transaction provided that you have the following requirements:
Sender's Phone Number,
Receiver's Country
Send/Receive Amount.
You may also be required to supply the following details as the second option if you do not have the above details:
The Sender's
Receiver's
Names,
Receiver's Country,
Send/Receive Amount.
To track your Western Union transfer without a MTCN, follow the following steps:
After the page has fully loaded, click on the "Don't know the MTCN?" Button as shown below.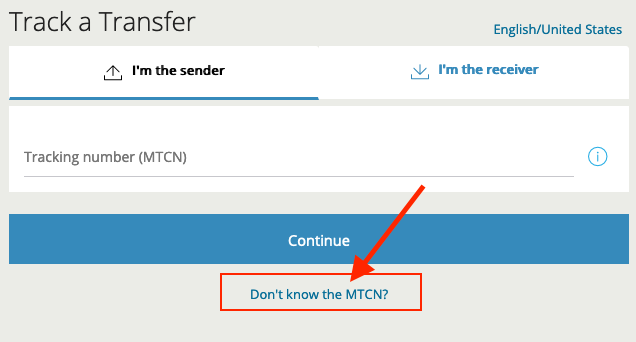 On the next screen, select which option you'd like to use – whether to supply the sender's phone number or sender and receiver names.
Supply the appropriate information in the fields.
You may also key in transfer date (optional)
Click on the Continue button as shown below and you should be able to see to track your transfer: