Senator Isaac Mwaura is a well-known political leader and People with Disabilities champion. Isaac is the first albino to serve in parliament. He has a broad and extensive experience in standing up to secure the well-being of those like himself in a world and society that has long disregarded them.
Isaac Mwaura Age and Place of Birth
Currently aged thirty-eight, the senator was born and raised in Kiambu by his mum herself. His father became the first to show Isaac of the world's cruelty against albinos. He deserted them and never returned.
Isaac Mwaura Education Background
Mwaura Isaac is an educated individual who has amassed a wealth of knowledge and expertise in various fields. He attained primary and secondary education at Thika (High) School for the Blind performing very well and secured a spot at Kenyatta University.
To date, he holds qualifications in Special Education, French Studies and Japanese, Theology, PR Management, Development Studies and Philosophy in Humanities. All these he acquired both locally and from overseas institutions.
His time on campus was dedicated to reading and activism. He stood up for the disabled in accessing university education, for just and legal leadership and constitutionally turned things around to make campus life a wholesome and better experience for all learners.
Read: John Mbadi Biography – Age, Career, Education, Family and Net Worth
Isaac Mwaura Career Journey
He has led since high school days as the head boy. While in university, he joined several local and international organizations and bodies set up to address the needs of disadvantaged groups. These included Voluntary Services Overseas. He then got into a special advisory seat in Raila Odinga's office in matters relating to special groups.
In 2006 he teamed up with other individuals and established The Albinism Society of Kenya to address the cry of albinos in the country facing prejudice, torture, murder and unjust treatment due to their appearance. This development has since borne milestones and several accomplishments for albinos showcasing themselves as equals and just as capable as the rest of the population. These include an East African albino beauty pageant, Mumbi Ngugi's Judge of the High Court appointment, Goldalyn Kakuya's admirable 455/500 top score in the 2017 national primary school examination among more.
The society continues to secure opportunities for albinos and championing for their inclusion in normal life through provision of eye-care, sunscreen supplies and skin cancer support. More of his work in standing up for albinos are expressed in his authorship titled, 'A Discourse of Human Rights, Disability and Development in Kenya.' Dr. Mwaura also participated in Lupita's, 'In My Genes' a production that aimed to tell the albinism story in educating and informing viewers. Dr. Mwaura now serves in government representing People with Disabilities.
Isaac Mwaura Personal Life, Wife

Senator Dr. Isaac married Mukami Nelius with whom they have a son, named Mwaura Njiru. With albinism, he has shared of his frustrations living among people who discriminate against those like him and the constant high-alertness in fear of their safety. Some countries engage in such acts of ritual killings and backward cultural myths and misconceptions.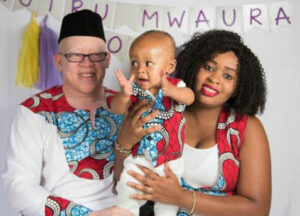 Isaac Mwaura Net Worth and Assets
Senator Mwaura's net worth is not yet established, nor are the details on his asset portfolio.
| | |
| --- | --- |
| Real Name | Mwaura Isaac Maigua |
| Age | 38 Years (As at 2021) |
| Nationality | Kenyan |
| Place of Birth | Githunguri, Kiambu |
| Tribe | Gikuyu |
| Wife | Nelius Mukami Mwaura |
| Net worth | N/A |