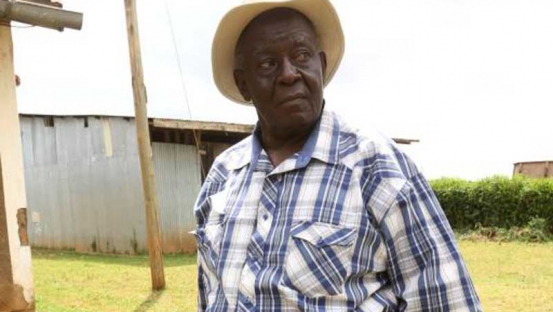 Ebrahim Ambwere is an old man living in Kitale living in riches having well-attained billionaire status. He is the man who will always be remembered for taking his own money to bail out the government from its financial woes. How mind-blowing is that? This article seeks to understand the billionaire as a person whose grass to grace story must be told. 
Ebrahim Ambwere Age and Place of Birth
Ebrahim was born in 1936 in Chavakali, Maragoli. His was a polygamous family and thus he had numerous siblings some of whom he now says he cannot recall their whereabouts as he is well advanced in his years. Ambwere was born to his parents Sagina Rwoero and Francis Aura. 
Francis Aura fought in World War II between 1939 and 1945 but he did not come back home. Ambwere was only to see his father more than two decades later in a chance meeting. After he lost his mother, he had to take up adult responsibilities to be there for himself and his baby sister Rhoda who is two years younger than he is. This led to his first work experience farming for people around Maragoli. 
Ebrahim Ambwere Education Background
Ambwere did not receive any formal education throughout his life but would later find that his business required him to be able to at least read and write. He hired a tutor who helped him gain these proficiencies. As a reward, the billionaire gifted his tutor Kisame Lawrence a house for the four years he taught him in the 1970s.
Ebrahim Ambwere Career Journey
After working around Maragoli farms, he took up his next venture as a herdsboy. This morphed into a relocation to Molo by a man named Vuluku where he took care of chickens reared in a white man's farm. 
Read: Top 10 Christmas 2021 Ideas in Kenya 
Ambwere says that he however disliked the job and when an opportunity for a change came by, he did not hesitate. On the farm, he met Mr. Karam Singh, a mason. Ebrahim asked him for a job. Here was a twelve-year-old child who did not possess any masonry skills and was yet seeking employment. Singh however took him in offering a Ksh3 monthly salary, accommodation, and food. The years went by with Ambwere honing his masonry skills and quickly after went into Carpentry.  This brought him more work as in 1963, he was contracted to produce beds for Kaimosi Hospital. They paid him with an old ambulance van that he would then use for his transportations. 
With skill, effort, and time, he was able to set up his own shop and build his own home. Ebrahim Ambwere had also begun working in the Construction sector and worked as a contractor. This was the string that would later bring him to meet his father after some colleagues introduced them to each other oblivious of the relation between the two.
His businesses grew to expand in different parts of the country including Kisumu, Nairobi, Kitale, and Kakamega investing in land, real estate, and businesses. 
Ebrahim Ambwere Personal Life 
His first wife was a Kamba lady named Zipporah with whom he had four children. He divorced her and remarried but this marriage also ended in a similar fashion. Ebrahim says that his ex-wives would collude with their children to swindle his money. It was only until he met Ingado Ebby, his current wife, that he became peaceful. 
He describes entrepreneurship as a tough journey that requires a lot of involvement and commitment. In light of this, he once shared in an interview how being hospitalized for three years due to diabetes had catastrophic effects on his business requiring him to start over anew. 
However, he has also had his share of well-deserved successes and befriended Kenya's former heads of state. In the early 1980s, Ebrahim bailed the government from its financial woes by giving Ksh 48 million to be used to pay off delayed teacher salaries. This led to the government prodding heavily into his personal life, an experience he says still anguishes him. Ebrahim met the late Hon. Daniel Moi and former president Hon. Mwai Kibaki through his businesses. 
With a vast wealth empire, he is adapting to the changing times by learning from his children including his son named Francisco how to incorporate technology in his businesses.
| | |
| --- | --- |
| Real Name | Ebrahim Ambwere |
| Age | 85(As of 2021) |
| Nationality  | Kenyan |
| Education Level | N/A |
| Place of Birth | Chavakali, Maragoli |
| Birth Sign | N/A |
| Year of Birth | 1936 |
| Religion  | Christianity |
| Spouse  | Ebby Ingado  |
| Children  | Several |
| Profession/Career | Entrepreneur  |
| Net Worth | Ksh 10 billion |
Thanks for reading our article. Got comments or opinions about our journalism? Please send us a WhatsApp message on
+254 733 290 656