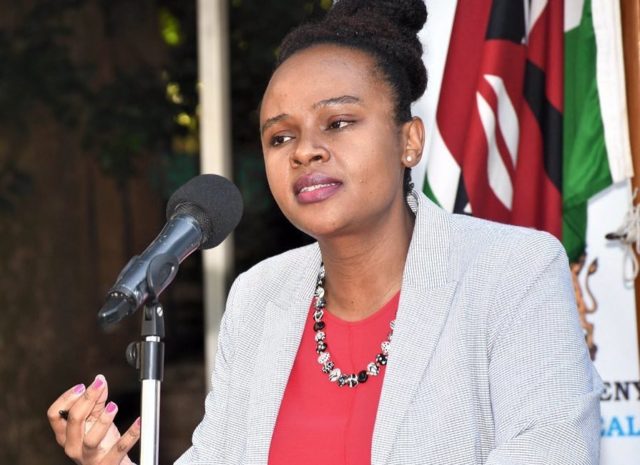 Dr. Mercy Mwangangi is the current Chief Administrative Secretary of the Ministry of Health, Kenya. She has been the one helping Mutahi Kagwe, the Health Cabinet Secretary, in updating Kenyans on the state of the nation and the world on the ongoing Corona virus pandemic.
Mercy Mwangangi Age and Family Background

Mercy is 33 years old as of the year 2020. Speaking to KTN News on Saturday 25 of April, Mercy said that her mother is a lawyer and her father is a businessman who have played a great role in her life; they always support her.
"At age 33, most young women of my age would be bothered with questions from aunties and grandmothers about settling down with a man. With me, my father is my greatest cheerleader and if you ask him now he will probably tell you he is planning for my next job," she said.
The CAS further said that she has a younger brother, Mike 23 (2020), who is also so supportive to her and calls frequently after press briefs to correct her and tell her what to emphasize on or what she should do better.
Mercy Mwangangi Education Background
Mercy went to Pangani High school. She later went to pursue Medicine at the University of Nairobi (UoN) and obtained her first degree.  She graduated from the University of Adelaide in Australia in 2015 with a Master's degree in Health Economics and Policy. When she opens her mouth to speak, you can clearly tell that she is an intelligent intellectual.
Mercy Mwangangi Career Background

Mercy Mwangangi currently works as the Chief Administrative Secretary of the Ministry of Health in Kenya. This came into place after she was appointed by President Uhuru Kenyatta to take the position.
Read: Mutahi Kagwe Biography – Career, Education, Family and Net Worth
The night before she was nominated by the president as the health CAS, she had received three other job offers but she decided to hearken to the president's request. Before this, she worked as the Head of Health Financing and Health Economics at the Ministry of Health in Kenya.
Apart from being the CAS of the Kenyan Ministry of Health, Mercy works as a joint secretary in the task-force on Universal Health Coverage. This is one of the pillars of the Big four Agenda by Jubilee party. Mercy is also a member of the African Women in Leadership Network (AWLN).
While pursuing her degree, she served as an intern at Machakos level 5 Hospital where she was later moved to Tharaka Nithi in Meru South District to serve in the public health as an officer.
In Meru at the age of 23, she became the District medical officer of health serving about 30 health facilities. Several years after serving in the public air space, she decided to apply for scholarships where she got listed on two opportunities; one within the country and another one in Australia.
Mercy decided to choose Australian scholarship because she believed that traveling the world is the best teacher and source of experience. She also applied for a leadership mentorship program and out of 10,000 applicants from Africa, she was among the lucky 8 to be selected.
Because of her aggressiveness and leadership skills, she became a team leader in Adelaide.  Working with various intellectuals in various areas, Mercy has a vast experience in management programs both in Kenya and abroad.
Mercy Mwangangi Corona virus (COVID-19)
During this difficult time of the ongoing Covid- 19 pandemic, Mercy Mwangangi's efforts on trying to ensure that every Kenyan is informed on matters Corona virus have borne fruits. As a matter of fact, more Kenyans enjoy seeing her on their local television, thanks to her striking beauty.
Read: Dr. Rashid Aman Bio – Age, Career, Education, Wife, Family, Net worth
Netizens were quick to state that her presence on TV was like a breath of fresh air. This was in comparison to Mutahi Kagwe, who is the Cabinet Secretary of Health in Kenya. This is evidently due to her gorgeousness that leaves many men's tongues wagging.
Mercy Mwangangi Awards:
She was able to receive the Australian Leadership Award for demonstrating leadership skills and the potential to influence development outcomes in her home country, which in this case happens to be Kenya.
Mercy Mwangangi Husband
More details about Mercy Mwangangi's personal life are yet to be shared to the public. In an interview with KTN, Mercy clearly said that she is married to her job despite being in her early 30's. The statement left many Kenyans disappointed of 'her partner'. She hardly mentioned her partner whom she said is also so supportive to her.
Mercy Mwangangi Net Worth
Her estimated net worth is approximately over Kshs. 50 Million. Mercy gets her incomes from her profession and investments.
Thanks for reading our article. Got comments or opinions about our journalism? Please send us a WhatsApp message on
+254 733 290 656