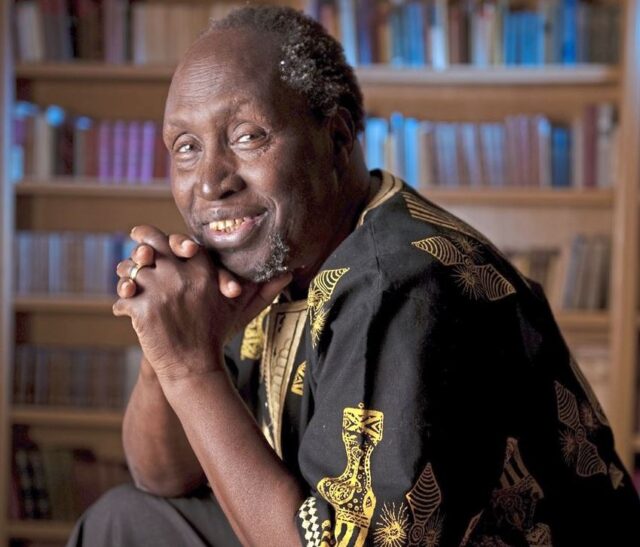 Ngugi wa Thiong'o is a Kenyan writer who is considered East Africa's leading novelist. He writes primarily in Gikuyu and has also written in English. His work mostly includes short stories, plays, novels, and essays.
Early Life
Ngugi Wa Thiong'o was born and baptized as James Ngugi. His birthplace is in Kamiriithu in Kiambu district near Limuru. Growing up, Ngugi's family was caught up in the Mau mau uprising. His half-brother Mwangi was actively involved in the Kenya Land and Freedom Army. His mother was also tortured at Kamiriithu home guard post.
Education
After attending Alliance High School for his secondary school education, Ngugi wa Thiong'o attended Makerere University College in Kampala, Uganda, and graduated with a B.A in English in 1963.
Career
While in University, Ngugi attended the African Writers Conference held at Makerere in June 1962. His play 'The Black Hermit' premiered as part of the event at the national theatre. He then published his debut novel, 'Weep not, Child' in May 1964. This was the first ever novel to be published by a writer from East Africa. In 1965, he published his second novel.
Ngugi wa Thiong'o has also taught institutions like the University of Nairobi as an English Literature professor.He guest-lectured at the Northwestern University in the department of English and African Studies for a year, and also served as a fellow in Creative Writing at the Makerere University.
Read: Daniel Mbolu Musyoka Biography, Death, Career, Family
Imprisonment
In 1977, Ngugi was arrested since his play 'Ngaahika Ndeenda' (I will marry when I want) had an uncensored political message that offended the then vice president Daniel Arap Moi. He was later released in December 1978, when he went to exile with his entire family to avoid the government.
Is Ngugi Wa Thiong'o Dead
No, while there is an alleged death rumor, Ngugi wa Thiong'o is not dead.
Net Worth
Ngugi wa Thiong'o's net worth is estimated to be at $60 million. He gets most of his money from his successful writing and teaching careers.
| | |
| --- | --- |
| Real Name | James Ngugi |
| Age | 84 years |
| Nationality | Kenyan |
| Place of Birth | Kamiriithu, Kiambu |
| Fiance/ Partner | Njeeri |
| Net Worth | $60 million |
Thanks for reading our article. Got comments or opinions about our journalism? Please send us a WhatsApp message on
+254 733 290 656