Reverend Lucy Natasha is the founder and overseer of Prophetic Latter Glory Ministries International. She is an extremely rich woman that does not shy from living large. She recently was conferred an Honorary Doctorate in Christian Leadership as well as a World Civility Ambassador Award. Apart from being a reverend, she is also an author who has penned down 12 books.
Rev. Lucy Natasha Age, Birthday, Place of Birth, Tribe, Nationality
The ever-stylish reverend was born on 23th July 1992 in Huruma, Eastlands estate, Nairobi, Kenya. She had a rather humble upbringing and the wealth she has today has nothing to do with where she is from. Some people say that Rev. Lucy is Rwandese but she came forward and cleared the air, affirming that she is indeed Kenyan.
Rev. Lucy Natasha Family
Rev. Lucy Natasha is a third born in a family of three. Her mother, Pastor Esther Wanjiru, is a senior pastor at Maximum Miracle Centre in Kawangware, Nairobi. She raised Lucy, her sister Shiphrah Murathe and her brother Joseph Shafique single-handedly after she parted ways with their father.
At a young age, Rev. Lucy had a speech disorder and she used to stammer a lot. However, this came to an end when a pastor pointed at her when she was 10 years old. She then got ordained in 2011 at Redeemed Gospel Church in Huruma, Nairobi.
Rev. Lucy Natasha Education Background
She went to a primary school at Umoja estate in Nairobi for her primary school education before going to South Africa where she furthered her studies. Rev. Lucy Natasha is a Public Relations and Theology graduate.
Read: Top 10 Richest Kenyan Pastors and their Net Worth 2021
Rev. Lucy Natasha Church
She is the founder and overseer of Prophetic Latter Glory Ministries International that has its space at her church, located at 680 Hotel, which is situated at the Kenyatta Avenue-Muindi Mbingu junction. The Miracle Monday Service usually happens every Monday from 5.30 p.m.
Rev. Lucy Natasha Contacts
If you would wish to contact the church for a prayer line or partnership, kindly text +254710842121. Her live sermons are usually posted on her YouTube channel @Lucy Natasha.
Rev. Lucy Natasha Bodyguards
Lucy walks around in company of neatly-dressed men that serve as her bodyguards. However, she claims that those are stewards and not bodyguards. According to her, they are her spiritual sons and daughters that happen to be part of a protocol team that maintains order.
Rev. Lucy Natasha Tatoo
While receiving a covid-19 jab, keen Kenyans on social media noticed something "weird" on Lucy's arm. Her oracle ministries tattoo on her arm sparked many reactions with some Kenyans having opinions that its not in order for men of God to have tattoos. On her social media picture with a tattoo, one of the fans quoted averse in the bible that is rebuking tattoos.
"Leviticus 19:28—"Ye shall not make any cuttings in your flesh for the dead, nor print any marks upon you"—so as to prohibit tattoos, and perhaps even makeup. This verse will judge you, the word of God is a two-edged sword," one fan noted.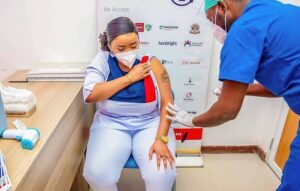 Other fans defended Rev Natasha, among them the KFCB Boss Ezekiel Mutua.
"Rev. Lucy Natasha, preach on and turn your back to the critics, sceptics and nay sayers. People will always talk tattoo or no tattoo. Shine on for the Lord and reach out to souls. There's nothing you can do to please everyone!" tweeted Mutua.
"One of the hardest struggles you'll encounter in life is finding the strength and courage to do what God is calling you to do.
Natasha came clear to defend herself through a long indirect tweet which also sparked debate among her fans.
"Don't let the critics, naysayers, or negative people discourage you from obedience. As much as we would love the complete approval, acceptance, and support of others, we may not always get it. Nevertheless, we must continue to be obedient.
"People ONLY affect your life when you allow them to. No one else is suppose to understand your calling like you. It wasn't a conference call! #WisdomOfLife." She wrote.
Rev. Lucy Natasha Cars
The curvy reverend owns a fleet of cars that cost more than Kshs. 15 million shillings. She has all her cars having a customized number plate, marked Oracle 1 to Oracle 7. Some of her flashy cars include a 3000cc Toyota Harrier, a Mercedes Benz E Class, a land rover discovery, a range rover, a Toyota Land Cruiser Prado and a Toyota Fortuner among others.
Rev. Lucy Natasha Author
Apart from serving the Lord, Rev. Lucy Natasha is also an author of 12 books. Some of her books include:
Before you say 'I do'.
Touching heaven through prayer
Characteristics of God's leading lady
Seven keys to success
Every problem has an expiry date
Rev. Lucy Natasha Single
She is a single woman. When asked why her status is so, she claims that she is waiting for God to show her the right man. Many men are always on her case, with at one time 25 men proposing to her online in a span of one month.
Rev. Lucy Natasha Mike Sonko
People had speculations that the two could be having a love affair after the 2 drove off to Governor Mike Sonko's home in Machakos for prayers after Sonko's father passed on. Remember that in July 2015, Sonko had admitted that he could not get enough of Rev. Lucy Natasha's sermon.
This made people to investigate on their relationship, trying to find how their closeness was linked to serving God. When asked, Rev. Lucy said that she only knows Sonko as a servant of Nairobians and in no other way. She claimed that she accompanied him to Machakos to mourn the death of his father and to offer condolences.
Rev. Lucy Natasha Private jet
In April 2019, the reverend shocked many after she purchased a private jet. However, many people speculated that Governor Mike Sonko funded it.
Rev. Lucy Natasha Tattoo and silver tooth
The reverend caused mixed reactions after she was spotted with an arm tattoo. On this fateful day, she wore a beautiful armless blue dress that showed off her tattoo on her left arm, something that the Bible is against.
According to the Bible, you are not supposed to put tattoo marks on your body. A while later, she was spotted rocking a silver tooth. People are wondering if she is indeed a true servant of God.
Rev. Lucy Natasha Net worth
When asked about her source of income, Rev. Lucy Natasha, Nairobi's hottest pastor was quick to state that she has multiple streams of income that fund her expensive lifestyle. Her current net worth is over Kshs. 120 Million.
| | |
| --- | --- |
| Real Name | Rev Lucy Natasha |
| Nickname | Natasha |
| Age | 28 years as of 2021 |
| Nationality | Kenyan |
| Spiritual Father | Prophet Jeremiah Omoto |
| Mother | Pastor Esther Wanjiru |
| Tribe | Rwandese/Gikuyu |
| Education Level | Master's Degree |
| Place of Birth | Eastlands, Nairobi |
| Birth Sign | Leo |
| Brother | Joseph Shafique |
| Sister | Shiphrah Murathe |
| Year of Birth | 23th July 1992 |
| Religion | Christian |
| Spouse/Husband Name | Unknown |
| Children | None |
| Marital status | Single |
| Career/Profession | Author/Spiritual leader |
| Years Active | 2011 to date |
| Net Worth | Kshs. 120 Million (Approx) |
Thanks for reading our article. Got comments or opinions about our journalism? Please send us a WhatsApp message on
+254 733 290 656