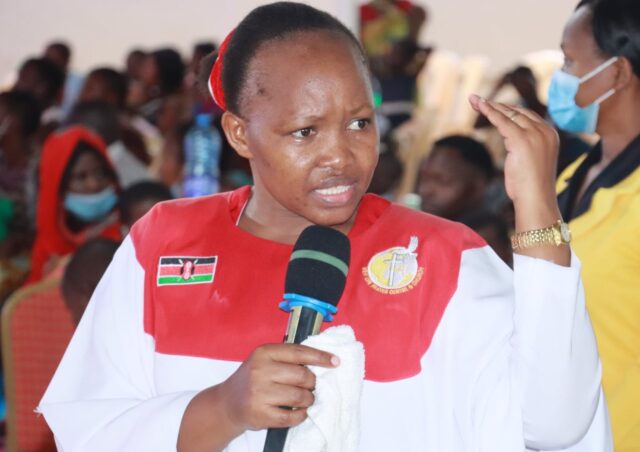 Sarah Odero, the wife of controversial New Life Church pastor, Ezekiel Odero, has recently gained public attention due to her husband's arrest and subsequent investigations into the church's activities.
As people on the internet became more curious about the family behind the headlines, this article delves into the personal life of Pastor Ezekiel and Sarah Odero. It covers their marriage, children, and net worth, providing readers with a complete picture of the family. Additionally, the article explores the reasons behind Pastor Ezekiel's arrest and the ongoing investigations into New Life Church.
Sarah Odero's Early Life
Sarah Odero is a Kenyan pastor who has become a symbol of hope and inspiration for many people. Born in a small village in rural Kenya, Sarah grew up in poverty and faced many challenges in her early life. Despite these hardships, she had a strong faith in God and a deep desire to serve Him.
Sarah Odero's Marriage to Evangelist Ezekiel Odero
In 2011, Sarah met Evangelist Ezekiel, a prominent Kenyan preacher. They fell in love and got married, but not everyone was happy about their union. Some of Ezekiel's family members were against the marriage, citing Sarah's lack of education and inability to speak English. However, Ezekiel stood by his wife and together they have built a successful ministry, New Life Church.
Sarah Odero's Ministry
Sarah is a dynamic pastor who is passionate about spreading the gospel and empowering others. She and her husband have been traveling around the world, preaching the word of God and winning souls to Christ. Sarah is also actively involved in community development projects, including supporting women's empowerment initiatives and providing aid to the less fortunate.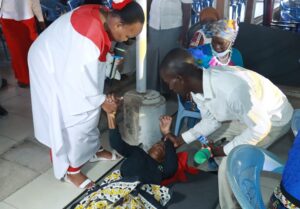 Sarah Odero's Overcoming Adversity
Sarah's journey has been one of overcoming adversity and inspiring others to do the same. Despite the challenges she faced growing up and the skepticism she encountered when she married Ezekiel, Sarah has risen above it all and become a beacon of hope for many. She has shown that one's background or level of education does not have to limit their potential and impact on the world.
Sarah Odero's Empowering Others with the Gospel
Sarah's ministry has been instrumental in empowering others with the gospel. Through her teachings and community development projects, she has helped many people find hope, purpose, and direction in their lives. Her focus on women's empowerment has also been particularly impactful, as she has provided a platform for women to be heard and valued in a society that often marginalizes them.
Family and Children of Pastor Ezekiel's Wife Sarah Odero
Sarah Odero, the wife of Pastor Ezekiel, is also a pastor and partner in their church ministry. They first met while working in Mombasa, and they have been married for several years. They have three children together, including one that they adopted after Pastor Ezekiel's brother's wife passed away during childbirth.
Net Worth of Pastor Ezekiel and Sarah Odero
While Pastor Ezekiel's net worth has not been publicly disclosed, recent reports suggest that he has purchased a 65-acre property worth millions in Mavueni, Kilfi County. This suggests that they are a wealthy couple.
On Pastor Ezekiel's arrest and death allegations
Following the recent arrest of her husband, Pastor Ezekiel Odero, Sarah Odero, his wife and partner in ministry, has finally broken her silence. In a video seen online, Sarah gave directions to the church in the absence of her husband, who is currently in police custody.
She expressed confidence that the New Life Prayer Centre and Church would resume operations soon, despite the ongoing investigations that have affected not just her husband's church, but several others as well. Sarah also downplayed the ongoing investigations into her husband's activities at the church, noting that it is nothing big.
Coast Regional Commissioner Rhodah Onyancha has revealed that several deaths had been reported at the controversial pastor's premises, with some recorded in morgues linked to the cleric.
Despite the controversies surrounding Pastor Ezekiel, his family, and his church, their ministry continues. The New Life Church is still operational, and Sarah Odero remains a partner in the ministry. The investigation into the bodies collected from the church is ongoing, and the truth will eventually come to light.
Sarah Odero's story is one of triumph over adversity and a testament to the power of faith and perseverance. Her commitment to spreading the gospel and empowering others has touched countless lives and continues to inspire many more. She is a true example of what can be accomplished with determination, hard work, and a heart for God.
Thanks for reading our article. Got comments or opinions about our journalism? Please send us a WhatsApp message on
+254 733 290 656