Smriti Vidyarthi is a Kenyan news anchor and reporter working for Nation Media Group's NTV.  She is from a family that has been in the media since before Kenya gained her independence. Her grandfather, the late Girdhari Lal Vidyardhi was a journalist and an early pioneer of the free press in Kenya.
Early Life
Smriti was born on January 2nd to a Kenyan-Punjabi family. Further details on her birthplace, year of birth, early life, as well primary and secondary education are not disclosed.
Education
The news anchor is a learned lady, who has attended some of the best universities in the world. She holds a Bachelor of Arts degree in Theater and Performance Studies from the University of Warwick in the United Kingdom. She also has a Masters Degree in International Broadcast Journalism from City University (UK).
Career
Smriti's journalism career kicked off when she joined K24 where she was a Business News Anchor. In 2008, she joined NTV and started as a prime-time news anchor. She also hosted the NTV Wild Talk, which is a program that focuses on Wildlife and Conservation.
In 2015, Smriti was the winner of Kenya's fourth Annual Journalism Excellence Awards (AJEA) in the News Bulletin category. She was nominated alongside Ali Khamis Manzu who was the first runner-up, and Annette Akisa Wandera who was the second runner-up.
Read: Joe Ageyo Biography; Age, Salary, Career, Family and Net Worth
The CNN journalist maintains a high level of professionalism which is recognized by the entire nation. She is among the panel selected to host the presidential debate which is set to happen on the 26th of July.
Family
Smriti is a family lady, married to Aman Mohindra. The two got married in 2009 and welcomed their first child in 2018.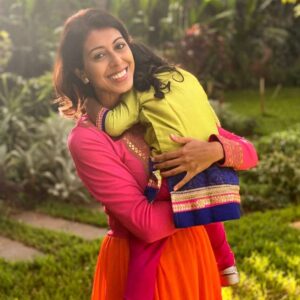 "I am proud of the woman I am today, and I am so grateful to be able to feel this way, and confidently share it.
I am this way, thanks to both the women and men who have played a role in shaping my life.
I am this way thanks to the opportunities given to me by both women and men.
I am this way thanks to both the women and men who believed in me and continue to do so.
I am this way because both women and men have empowered me.
I have seen and felt equality, and I can only hope and pray that all other women and young girls, men and young boys play a part in making this a more equal world when it comes to gender, so more and more people can feel the way I do.
On this #internationalwomensday and beyond, I will strive to play my part, for my little girl, all those around me and for myself." Smriti said in her Instagram post.
Net worth
Smriti's exact net worth is not known. However, she earns most of her wealth from her journalism career.
| | |
| --- | --- |
| Real Name | Smriti Vidyarthi |
| Age | Unknown |
| Nationality | Kenyan |
| Place of Birth | Unknown |
| Fiance/ Partner | Aman Mohindra |
| Net Worth | Unknown |