Tabitha Karanja Biography
She is a Kenyan renown entrepreneur and a hardworking business lady. Tabitha and her husband are the brains behind Keroche Breweries Limited. She is currently the CEO of the company while the husband Joseph Karanja is the chairman of the company.
Tabitha Karanja Age and Family Background
Tabitha Karanja is 56 years old as of the year 2020. She was born on 29th August 1964 near Kijabe, Nakuru County. She gets to celebrate her birthday every 26th of August each year.
Tabitha Karanja Education and Career Background
Tabitha pursued her degree in Business Administration from the University of Nairobi. After completing her education, she secured a chance to work in the Ministry of Tourism as an Accounting clerk for about two years.
Tabitha Karanja Source of Wealth
After she met Joseph Karanja, the couple closed down shut down their hardware business and ventured in wine-making. They began with Vienna Brand, producing 200 litres. The demand for liquor grew rapidly making the couple to introduce four additional drinks.
Tabitha and her husband began to make Gin and Vodka under Keroche Industries company. This happened after the government policy to highly tax liquors in 2007. Keroche industries grew more and more; in the year 2008, they introduced one of the today's most popular beer known as Summit. The Keroche produced more than 500,000 bottles a day.
 READ:  Wairimu Njonjo Biography – Age, Career, Education, Husband, Net Worth
The couple later renamed Keroche industries as Keroche Breweries in the year 2015. More capital was injected in to the plant making it to produce up to 110 Million liters of liquor. The renaming of the plant called for commissioning by Adan Mohammed, the then Cabinet secretary for industrialization on 31st March 2015.
Tabitha Karanja Husband, Family and Children
She got engaged to Joseph Karanja years back. Tabitha met her husband Joseph Karanja who used to work in a hardware in Naivasha by then. The two brought forth four children; James Karanja, Anerlisa Muigai, Edward Muigai and Tecra Muigai.
Tabitha Karanja Daughter Tecra dies
On the 2nd of April 2020, the nation woke up to sad news on the demise of Tecra Muigai- the second-born in Karanja's family. Tecra passed on in a crispy road accident.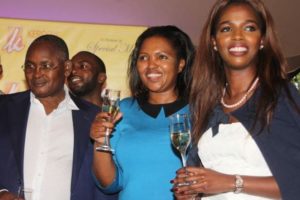 In a statement the family released a statement that read, "Tecra Muigai Karanja passed away on Saturday afternoon following a tragic accident,"
"Tecra's brilliance, passion and energy were the source of important innovations that have enriched the company's product range, including the development of new brands that were scheduled to be launched this year," the statement added.
Tabitha Karanja Achievements and Recognition
Tabitha was honoured with a Moran of order of the burning spear by the former president Mwai Kibaki. She was also honored with an AABLA award and her brand gained more popularity both locally and globally. The beer from Keroche Breweries is among the mostly consumed beer brands in Kenya contributing up to 20% of the consumption.
Tabitha Karanja Scandals and Tax Evasion
Months after Commissioning by Adan Mohammed, the area Member of Parliament Kihagi threatened to break in to the Keroche company and inspect for second generation brews. This was also followed tax evasion scandal that occurred recently. Tabitha was accused by the Kenya Revenue authority that her company had evaded tax payment of up to a tune of Kshs. 14 Billion. Her arrest warrant was issued by the Kenyan director of public prosecution Noordin Haji.
Tabitha tried to rubbish the claims by connecting with unfair competitors of her company but luck was finally not on her side. The Kenya Revenue Authority won the case in court, making Tabitha to come up with arrangements on settling the arrears.
Tabitha Karanja Net worth
As a hardworking business woman, Tabitha Karanja is the CEO of a multi-million Keroche Breweries making her to have a net worth of more than Kshs. 10 Billion.
Thanks for reading our article. Got comments or opinions about our journalism? Please send us a WhatsApp message on
+254 733 290 656