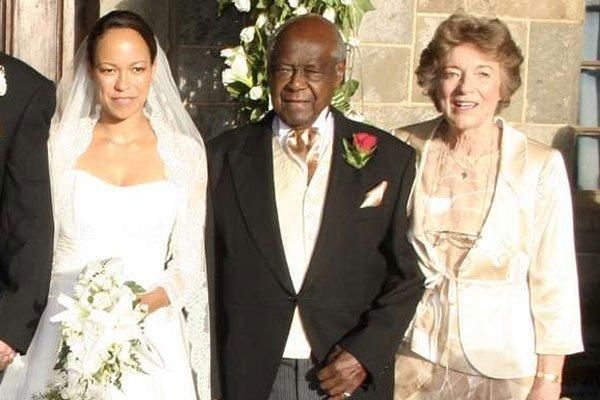 Wairimu Njonjo Biography

Wairimu Njonjo is Charles Njonjo's firstborn daughter who ditched law to pursue marine conservationism. She had a master's degree in Law and was practicing Criminal Law when she decided to ditch her career. Charles Njonjo is Kenya's veteran politician and the first Attorney General of Kenya.
Wairimu Njonjo Birthday, Age, Place of Birth, Tribe, Nationality
Details of Wairimu Njonjo's age and date of birth are currently hidden from the public eye. She is from the Kenyan Kikuyu community, even though her mother is White.
Wairimu Njonjo Parents & Family
Wairimu Njonjo was born to Charles Njonjo and Margaret Njonjo. Charles Njonjo, the former Kenyan Attorney General shocked many when he decided to settle down at the age of 57. While interviewed by the Business Daily in 2016, Charles stated that he settled down in his 50s because he could not find a girl he could live with.
Charles married Margaret Bryson in 1972 in a lavish wedding at All Saints Cathedral that was attended by Kenya's top leaders such as President Jomo Kenyatta. Charles Njonjo, her dad, is the son to Paramount Chief Josiah Njonjo, who is one of the foremost collaborators of the British Rule in Kenya.
Wairimu Njonjo Siblings
Wairimu Njonjo is the firstborn daughter to Charles and Margaret Njonjo. They are 3 children in the family. She has one sister (Mary Wambui) and one brother (Josiah David). Wairimu is the only one who pursued law just like her father whereas the other 2 siblings chose careers in sciences.
Read: Salome Wairimu Biography – Age, Songs, Family, Home, Endorsements
Wairimu Njonjo Charles Njonjo
Wairimu is the firstborn daughter to Charles Njonjo, who is a veteran politician, Kenya's first Attorney General as well as the only surviving member of Kenya's first cabinet. She is the only child of his that followed his footsteps and studied law. However, she did quit law to pursue her interest in being a marine conservationist, especially working towards saving the endangered whale shark.
Wairimu Njonjo Education Background
Wairimu went to the United Kingdom where he pursued a Master's Degree in Law. He even got to practice as a Criminal Lawyer. However, he did quit law so as to pursue her interest in being a marine conservationist, with key focus on saving the endangered whale shark.
Wairimu Njonjo Law Career
After practicing criminal law at the London bar for 5 good years, Nimo, as she is referred by her close family members and friends decided to quit her law career in 2004. She then relocated back in Kenya to take up marine conservation.
Wairimu Njonjo Marine Conversation
After relocating to Kenya to pursue marine conservation, Wairimu then took a performance- based diver training program that saw her being a fully qualified Professional Association of Diving Instructor (PADI). Wairimu is part of the East African Whale Shark Trust in Diani, which is an organization founded by her husband Volker.
When she is not providing diving consultation or running her dive base, Wairimu spends time serving as a Trustee of Tumaini Children's Home, which is a home established to provide treatment and homage to children suffering from HIV/ AIDS.
Wairimu Njonjo Husband
Wairimu Njonjo is married to Bassen Volker. The two wedded on 10th October, 2009 at a closed- door event in Nairobi's All- Saints Cathedral. The event was attended by just 30 people, including ODM leader Raila Odinga and his beloved wife Ida Odinga. Wairimu and her husband Volker met when Wairimu was almost drowning from a boat accident and Volker came to his rescue.
Read: Judy Anyango Biography – Age, Education, Career, Boyfriend, Net Worth
Bassen Volker became widely known in late 2019 after a car plunged into the Indian Ocean at the Likoni ferry cross-way, killing a woman and her daughter that were on board. Mr. Volker made headlines after he addressed the media, claiming that he could trace the sunken car in just 15 minutes. After being given a chance to do so, his claims failed to fruit.
He ended up disappointing so many Kenyans who were looking up to him to save the situation. He later apologized, stating that he had earlier on underestimated the conditions. Mr. Volker then left the rescue task to the Kenya Navy. The car plus the bodies of the two were not retrieved till the 13th day post the accident.
Bassen Volker is a Swedish entrepreneur and philanthropist who is particularly obsessive about environmental conservation projects. He is the founder of the East African Whale Shark Trust based in Diani, Mombasa, Kenya.
Wairimu Njonjo Net worth
Wairimu hails from a very affluent family. Charles Njonjo, her father, has a current net worth of over Ksh.7.5 billion. At 100 years old and counting, the father of 3 has shocked many by how strong and healthy he still looks at 100. He owns a good number of property and investments, much of which he has divided to his 3 children, including Wairimu. Some of his property include shares at CFC Holdings, a mall in Runda and Sankara Hotel. It is quite hard to pinpoint Wairimu's net worth but it is definitely over Kshs. 900 million.
Thanks for reading our article. Got comments or opinions about our journalism? Please send us a WhatsApp message on
+254 733 290 656