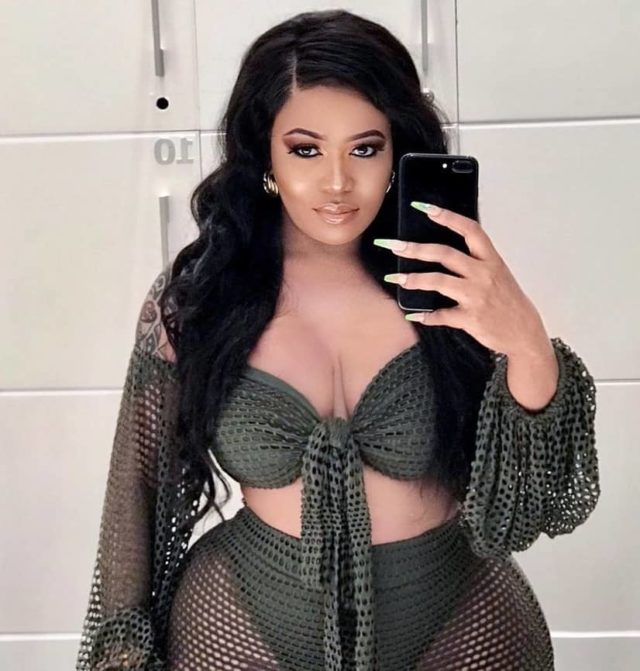 Vera Sidika Mung'asia is a big-bootied Kenyan social media bigwig, socialite, celebrity, video vixen and businesswoman. She has amassed an enormous social media following mostly by posting raunchy photos of her in places that cost an arm and a leg. The ever-controversial voluptuous lady rose to fame after being a video vixen in P Unit's song You Guy that was dropped in the year 2012.
Vera Sidika Real Name
After bloggers and other influencers quickly ran away with rumors concerning her real name, the curvaceous lass quickly came forward to state that her name is not Veronika Shikuku Shikwekwe. This came in after social media users kept referring to her as Shikwekwe or simply Shikweks. She then cleared the air by telling her fans that she actually uses her real name on social media, which is Vera Sidika.
Vera Sidika Age, Birthday, Place of Birth, Family, Tribe, Nationality
Vera was born on 30th September 1989 in Mombasa town, Kenya. She is the firstborn child and the only girl in a family of 3, meaning that she has 2 younger brothers. The thick lass spent a good part of her life in Mombasa and this explains her enviable command in the Swahili language. In addition, the socialite can throw down really good as depicted by her cooking videos, especially the pilau recipe she posted on her YouTube channel some time back. The lass is currently 30 years old and will turn 31 years old in 2020.
Vera Sidika Education Background
Claims have it that the lass went to Nairobi's Kenyatta University where she was pursuing a Degree course in Interior Design. However, she failed to complete her studies since fame and money came in. She recently stated that plans are underway for her to go back to school and get that degree.
Vera Sidika Socialite
The well-endowed high-maintenance lass had her rise to fame in 2012 after she got a chance to become a video vixen in P Unit's single dubbed You Guy. In the video, she was acting all sexy, showing us all the juice that her mama gave her. She then took the fame to her social media platforms such as Facebook, Instagram and Twitter where she made it a habit to post raunchy photos of her in expensive hotels, beaches and cities. She would post twerking videos and naked photos and this caused more and more people, both men and women, to follow her so as not to miss an update.
 READ:  Judy Anyango Biography – Age, Career, Education, Boyfriend, Net Worth
The photos she takes are also high quality which definitely made more people to follow her. The weird bit is that she never posted her boyfriend and kept people guessing on whether or not someone was warming her bed. This made some of her followers to start guessing that the lady was doing high-class sex-trafficking. When asked, she denied the claims and stated that she is an independent woman with class.
Her social media presence and celebrity status has enabled her to work as an emcee and event host in paid events. She has also been able to make club appearances where she would be paid just to show up in a club or an event. The mass would then go mad trying to catch a glimpse of her or worse off trying to get a selfie or photo with her since everyone else in attendance would be struggling for that.
Vera Sidika Nairobi Diaries
Shikwekwe became a TV personality by being a cast of the apparent Kenyan Reality Show known as Nairobi Diaries. In the show,she used to cross paths with other cast members such as Pendo, which shortened the period of her stay in the show. At that time, the ever-twerking lass was dating musician Otile Brown but the 2 broke up long ago.
Vera Sidika Skin Bleaching
If you know Vera Sidika, then you know that she lightened her skin long before fame kicked in real good. The good thing is that unlike many public figures and celebrity, she does not deny the fact that she had her skin lightened. But again, how do you even lie to people who have screenshots and videos from your past showing your true colors? You stand no chance. Anyway, she says that she had her skin lightening procedure done in the United Kingdom where she parted with a whooping ksh.15 million. When asked why she spent such a huge sum of money for something as short-termed as beauty, the lass responded by saying that her body and image is her business and money-machine.
In 2019, she dropped a song dubbed Mimi after chasing clout by posting photos where she looked darker as she tried to fool her fans that she had reversed her skin lightening procedure. Social media users later found out that she was lying to them after they realized that she sprayed on a tan for clout, which was meant to make more people watch and listen to her then new song.
Vera Sidika Otile Brown
If you are an avid roamer of the streets of Social Media yet you have never come across the phrase Kaotile, then you are sleeping on the tea served hot. The two even shot a music video together where Vera was the video vixen and Otile the singer. After dating for several months in 2018, warming each other's bed in what they portrayed as the perfect relationship, Bad Man Shivo and Vera finally broke up. I am using the term "finally" because many people were literally waiting for it.
 READ:  Carol Radull Biography, Age, Career, House, Husband, Salary, Net Worth
They broke up in a childish manner where they exposed each other's screenshots with Vera calling Otile broke after she refused to lend him kshs. 500,000. In addition, a bitter Vera aired Kaotile's dirty laundry in public by saying that the lad has a very tiny manhood which could not satisfy her like the huge ones she was used to, especially after dating Nigerian men. This birthed the name kaotile, which means a tiny manhood. Otile moved on to her Ethiopian bae who is known as Nabayet (Nabbi) and he even dropped a song under her name.
Vera Sidika Jimmy Chansa
After a bitter and messy breakup with Otile, Vera moved on and found new love. The new bae was a handsome Tanzanian doctor by profession lad that goes by the name Jimmy Chansa. When asked, Vera said that her new man's manhood is big enough to satisfy her so she is happy since she will no longer need to keep on using sex toys since her new man does the good job. However, it seems like the 2 parted ways faster than expected since Vera no longer posts or talks about him.
Vera Sidika Song
Apparently, Vera is a singer. She let us in on this new-found talent of hers by posting 2 of her music videos on her YouTube channel. The songs are Nalia and Mimi.
A while ago, Jegede, who is a Kenyan musician that has had a crush on Vera for a long time now, dropped a song purely dedicated to the one and only Shikweks. The video was titled Vera Sidika. Jegede has time and again asked Vera's hand in marriage, which she denied.
Vera Sidika Business
Vera is the CEO of Vera Sidika Beauty Parlor (VSBP) which is located in Westlands, Nairobi, Kenya. In addition, she has a slimming tea company known as Veetox Herbal Detox.
Vera Sidika House and Cars
The round-assed beauty lives in an expensive mansion in the affluent estate of Kitsuru, Nairobi. She also owns land in the coastal region of Kenya. The lass drives a Range Rover which costs millions of monies.
Vera Sidika Net worth
As at the year 2020, the socialite is worth about kshs. 3.5 million. She has heavily invested in her businesses such as her beauty parlor and her slimming tea businesses. In addition, she is a brand on herself which means she is paid to mention, tag or talk about products and to make appearances in clubs and events. She is currently the richest socialite in Kenya.
Thanks for reading our article. Got comments or opinions about our journalism? Please send us a WhatsApp message on
+254 733 290 656