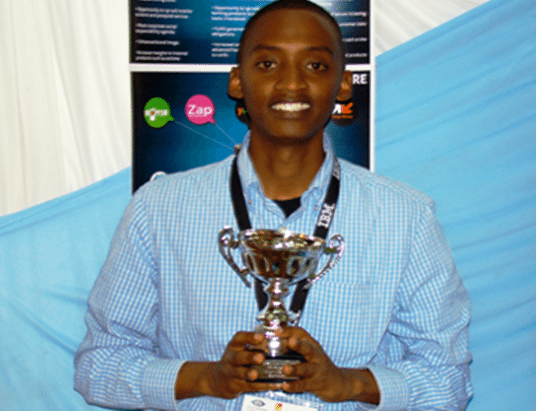 In Kenya, there are youth millionaires who are doing well in various specialized business ventures of their choice; they are  garnering millions of profits annually. Most of these youths have advanced in their studies and decided to take self employment direction.
The East African Feed is hereby pleasured to take you through some names of the Kenyan youths which will soon hit headlines of tycoon's list in our continent. These names may sound new to you but they are the names to watch out. Here we go:
1. Gloria Michele Otieno
In 2013, Gloria Michelle Otieno Muka, 32, founded Recours Four Kenya Consultants Limited (R4Kenya), a fast-growing professional HR services firm located in Nairobi, Kenya. She started the firm with $2,000 of her savings, and within the last 4 years, she has grown the company into a $400,000 (annual revenues) business with 19 employees.
Recours Four Kenya offers professional HR services in consultancy, recruitment, training, psychometric testing and staff outsourcing. The company's clients include the World Bank group, Kenya National Examination Council, USAID, GlaxoSmithKline and Sportpesa.
2. Rajiv Mehta
Rajiv Mehta, 33, is one of Kenya's most outstanding young entrepreneurs. He is the founder of Tangerine Investments, an outdoor advertising firm that uses public transit vehicles, litterbins and street poles to market leading consumer goods in Kenya.
Tangerine, which was founded in 2008, has clients such as Kenya Airways, Pizza Inn, Subway and Coca Cola HP among others. The company has annual revenues exceeding $1 million
3. Lorna Rutto
Lorna Rutto, 32 is the founder of EcoPost, a profitable social enterprise which manufactures aesthetic, durable and environmentally friendly fencing posts using plastic waste, a more environmentally friendly alternative to timber.
EcoPost collects this plastic waste (such as polypropylene and polyethylene) and manufactures fencing posts from it. Rutto has earned international acclaim for her efforts in providing an alternative waste management solution to Kenya's plastic menace.
4. Evans Wadongo
Wadongo, a 30 year-old Kenyan engineer designed a solar-powered LED lantern called MwangaBora (Swahili for "Good Light"), an invention which is fast replacing smoky kerosene lamps and firelight in rural Kenya.
Wadongo has been distributing thousands of these lanterns throughout rural Kenya where there is little or no electricity. His organization, Sustainable Development For All (SDFA) sponsors an empowerment initiative that teaches poor Kenyans how to reproduce these solar lanterns and sell for profit.
5. Eric Muthomi
The 30 year-old Kenyan entrepreneur is the founder of Stawi Foods and Fruits, an innovative start-up which procures bananas from smallholder farm.
6. Joel Mwale
Mwale who is 24 years old runs SkyDrop Enterprises, a rainwater filtration and bottling company which produces low-cost purified drinking water, milk and other dairy products in Kenya. Mwale founded Skydrop in December 2009 and the company now employs over 20 people.
7. Mark Kaigwa
Mark Kaigwa, 31 is a multi-talented creative director, filmmaker, digital marketer and entrepreneur. Kaigwa is a co-founder and partner at Afrinnovator, a venture which aims to put Africa on the map by publishing exploits across African innovation, technology and start-ups.
He is also Partner at African Digital Art – the web's leading resource for creative inspiration in animation, illustration, photography and design from Africa.
8. Kariuki Gathitu
Having been in the banking industry, Kariuki saw the difficulties that people have when it comes to payments and especially mobile payments. This led to the birth of MPAYER, his mobile money management system, has been widely acknowledged and received awards for innovation.
Read: How to Easily Obtain EACC Clearance certificate in Kenya
MPAYER recently won second position in a global competition held in South Africa called Dragons Den and was the best application in Africa and second in the world among 50 top startups globally.
MPAYER is having great impact in the SME space in Kenya, allowing small businesses to build strong scalable businesses. Kariuki is passionate about innovation, technology and business.
He is also involved in youth advocacy and from time to time travels around the continent speaking to young people about entrepreneurship. He has worked with the African union, the World Bank and even governments in this capacity
9. Nancy Amunga
Nancy Amunga, 32, is the founder and director of Dana Communications Limited, a communications and transport company, which majors mainly on courier services.
10. Ruth Mwanzia
Ruth Mawia Mwanzia is an entrepreneur and communications officer. Ms Mawia, 32, is the managing director and owner of Koola Waters, a water bottling company based in Nairobi, works as Corporate Communications Officer at Water Management Authority and studies for her Master's at Nazarene University.
This post was originally published on Bizna Kenya
Thanks for reading our article. Got comments or opinions about our journalism? Please send us a WhatsApp message on
+254 733 290 656