Are you interested in planning a trip this holiday season but not sure where to set off to? South Africa may be the perfect destination if you enjoy diverse cultures, adventure, friendly people, wildlife, and stunning natural landscapes. The country boasts a wealth of fun things to do and see, as well as one of the continent's best available climates.
Because there is much to explore in this majestic land, you'll want to make sure you choose an accommodation where you can rest, relax, and recharge for the exciting days ahead as you tour South Africa.
Lion Sands Game Reserve
The Lion Sands Game Reserve is the ideal option for those who want to have a quintessential South African experience, sleeping below the stars in one of several exciting locations. This 5-star hotel offers guests the opportunity to choose between either lodge or treehouse accommodation, with each featuring lovely and glamorous rooms and all the amenities one needs to have the perfect night's stay.
Although lions are often associated with game reserves in Kenya and Tanzania, Lions Sand is in the middle of the unrivaled Kruger National Park, so you're sure to spot the majestic animals. This unique resort is also equipped with a spa, swimming pool, private lounge, gym, and of course, several dining locales.
Sun City Resort
Next up is the internationally recognized luxury resort Sun City. Located just northwest of Johannesburg in the city of Rustenburg, this resort owns a massive amount of land which includes four different hotels: Cascades, Cabanas, Soho Hotel and, perhaps most famously, the Palace of the Lost City, which overlooks a top tier, luscious championship golf course.
One of the biggest amenities Sun City has to offer is its exclusive casino establishment located on-site at both Soho and Lost City. Here, guests can experience all the thrills and spills of classic casino table games like Blackjack, Baccarat, and Roulette just steps away from their room. Additionally, because slot games are generally the biggest revenue-creators for casinos and are favored by many players, there are over 300 machines to choose from out on the gaming floor.
Whether you choose to spend time golfing, gaming, dining, or relaxing at the spa, a stay at Sun City will be one of your most memorable hotel experiences to date.
One&Only Cape Town
Another supreme accommodation option can be found at One&Only Cape Town, located near the Victoria & Alfred Waterfront in the heart of Cape Town. This seaside retreat provides views of both the Atlantic Ocean and Table Mountain, an iconic and easily recognizable landmark in the city. In fact, millions of tourists flock to Cape Town just to get a view of the mountain, one of the most photographed sites in South Africa.
The One& Only boasts chic, stylish rooms and suites equipped with nicely sized baths, private balconies, and large flat-screen televisions, so you can sip your coffee in an elegant location while admiring the natural wonder of Table Mountain in all its glory. And even if you happen to find yourself vacationing in another country like the Maldives, Dubai, Australia, or Malaysia, not to worry because the resort chain also has locations in these popular destinations, and many more.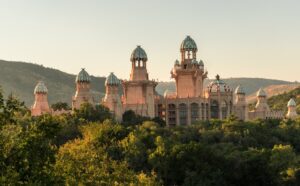 The Oyster Box
Last but not least, the 5-star Oyster Box resort is one of South Africa's most prized and cherished luxury accommodations, located on the stunning and picturesque Umhlanga beachfront. It houses 86 rooms with both suites and villas available, along with amenities that include an expansive spa, decadent restaurants, swimming pools, and an array of quality entertainment opportunities including on-site events and cinema viewings.
First opened to the public back in 1947, the Oyster Box is one of South Africa's most historic resorts, and has been serving both tourists and locales for decades. There's a reason why this site is a world leader in hospitality. It brings guests up close and personal to the magic of South Africa, making a compelling case to return in the future.