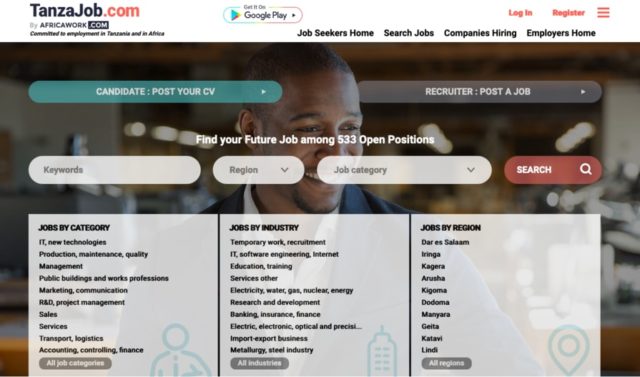 If you are looking for a job and you are based in Tanzania, it can be very frustrating because you do not know which website you should use. In this age and time, people no longer go round dropping their resumes. You do not even need to buy newspapers for you to keep abreast with job updates. Below are top 10 best job websites in Tanzania in 2022:
1. Brighter Monday

Brighter Monday is one of the best job websites in the entire East African community. If you need legit jobs, feel free to sign up for a chance to get daily job updates.
2. Ajira Recruitment Portal
Ajira Recruitment Portal is another reliable job website in Tanzania. You are able to access a number of jobs in different categories such as banking, telecom, agriculture, management and even sales and marketing.
3. Glassdoor
Glassdoor is currently one of the best job websites in Tanzania. Apart from advertising for jobs, Glassdoor gives job seekers a chance to learn important tips on how to navigate the job industry.
4. Tanza Job
Tanza Job is a Tanzanian job website that enables job seekers to find jobs they love. If you are currently struggling to find a suitable job, check out this site.
Read: A List of Top 10 Best Dating Sites in Tanzania 2022
5. Angazetu
This site gives a chance for Tanzanians to sieve through numerous jobs. This gives them a chance to get the jobs they like.
6. Jobweb Tanzania
Jobweb Tanzania is yet another amazing Tanzanian job website that has enabled most people to land wonderful jobs. If you have been hunting for a job to no avail, feel free to try using this website.
7. Jobs in Tanzania
According to the site, this is the number one job website in the entire East African region, and therefore finds its way to be among the best job websites in Tanzania 2020. The site gives you a chance to access legitimate job updates in Tanzania the moment they are available.
8. Linked In
Linked In is a site that enables professionals to have a social network where they get to interact. All you need to do is update your profile then you get a chance to apply for jobs anywhere in the world. The good thing about this site is that jobs that are advertised are legitimate.
9. Radar Recruitment
Radar is a site that is passionate about people finding jobs that they love as well as value adding service delivery as well as contributing to business growth. If you are looking for a job, this site will be suitable for you.
10. CVPeopleAfrica.com
CVPeopleAfrica.com is an African job website that enables most people in Africa to access job opportunities. The site also provides job hunters with helpful information such as how to behave during an interview and what to include in your resume.
Thanks for reading our article. Got comments or opinions about our journalism? Please send us a WhatsApp message on
+254 733 290 656