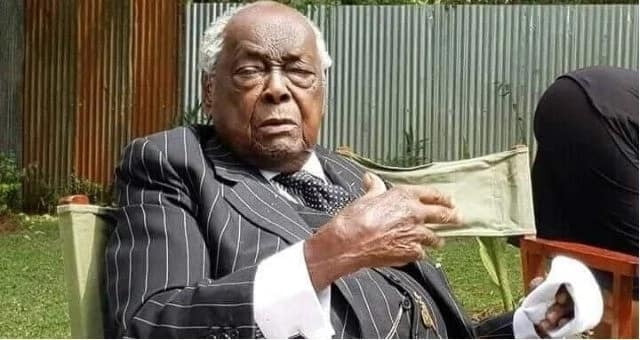 Charles Mugane Njonjo, the Duke of Kabeteshire, passed away at 5:00 am on 2nd January 2022 of Pneumonia. His death has left the nation in deep sadness with thousands of Kenyans celebrating him as a nobleman of character. The only surviving member of the Independence cabinet who was famous for his custom-tailored striped suits complete with a rose lapel was cremated on the same day at the Kariokor Hindu Crematorium in a private ceremony as per his wishes.
Charles Njonjo Age and Place of Birth
Njonjo was born in Kikuyu in Kiambu County on 23rd January 1920. His father Josiah Njonjo was a collaborator during the colonial times as a prominent chief. Njonjo was indeed set to take over the seat as the chief's son although this was not to be.
Charles Njonjo Education Background
He was a well-educated man being among the few Kenyans that accessed formal education during colonial times. Charles Njonjo attended Alliance High School in Kikuyu and King's College Budo in Uganda for his high school education. These were and remain to be exceptional schools in East Africa offering high-quality education. Afterward, he went to the University of Fort Hare, University of Exeter, and Gray's Inn where he pursued a Law degree. 
His pursuit of Law so as to be admitted to the bar was faced with challenges and resistance from the British who frustrated his journey who for instance cut off his stipend. 
Charles Njonjo Career Journey
Charles Njonjo however got support from Elwyn Jones, a Welshman who was a London solicitor. He got to work with him and got training from his chambers. After two years, he moved to Kenya beginning his career journey as Assistant Registrar General/ His journey saw him work as Deputy Official Receiver before he took the office of the Attorney General of Kenya in 1963. He served in the position for ten years until 1973.
Read: Khaby Lame Net Worth, Biography, Personal Life, Career Journey
Additionally, Charles Njonjo served as Minister of Justice between 1972 and 1982. The attempted coup in 1982 saw Moi reshuffle his government taking away those he thought and believed to be against his presidency. Njonjo was among those removed from office. At that time, he was also serving as the chairman of the East African Wildlife Society. He then came back to the public space in 1998 serving as Kenya Wildlife Service chairman after a hiatus.
Charles Njonjo Personal Life
Njonjo, aged fifty-two, got married in 1972 to thirty-four-year-old Margaret Bryson with whom they have three children named Wairimu Njonjo, Nimu Njonjo, Josiah Njonjo. There were rumors on Twitter that he had passed away on 9th October which he dismissed saying he was enjoying his weekend and celebrating Utamaduni Day. Charles Njonjo passed away of Pneumonia on Sunday morning on 2nd January 2022. Tributes streamed in online with Kenyans hailing Sir Charles Njonjo as a man of honour. 
| | |
| --- | --- |
| Real Names | Charles Mugane Njonjo  |
| Age | 101 (As of his death in 2021) |
| Nationality  | Kenyan |
| Education Level | University |
| Place of Birth | Kikuyu, Kiambu |
| Birth Sign | Aquarius |
| Year of Birth | 1920 |
| Spouse  | Margaret Bryson |
| Children  | Wairimu Njonjo, Nimu Njonjo, Josiah Njonjo |
| Net Worth | Kshs. 7.5 Billion |
Thanks for reading our article. Got comments or opinions about our journalism? Please send us a WhatsApp message on
+254 733 290 656