Diana Marua Biography
Diana Marua is a Kenyan Reality TV Star, video vixen as well as social media influencer. She also happens to be Kelvin Bahati's prayer partner then wife and together they are blessed with two beautiful kids.
Diana Marua Age, Birthday, Place of Birth, Tribe
She will be turning 32 years old this year. Diana Marua was born on 5th November, 1988 in Migori county, Kenya. She hails from the Luo community of Kenya in Migori County.
Diana Marua Education Background
Diana went to KCA University where she graduated with a Diploma in Information Technology (IT). She then went to St. Paul's University where she graduated with a Diploma in Marketing and Communication.
Diana Marua and Bahati
Diana first met Bahati when she was brought to be the video vixen in Bahati's hit song known as 'Mpenzi'. She was supposed to vixen alongside Bahati, where the two were meant to look cozy and seem as though they were in love. Diana Marua aced the role where she was dressed up as a bride in a white gown. She was introduced to Bahati by a DJ friend of theirs.  Diana confessed that when they met, she was dating someone else.
She actually admitted to breaking up with her then boyfriend on the same morning that she was going to shoot his video. This was the first time the two met and became friends for a while. The two even became 'prayer partners'. Little did we know that the prayer that was being mentioned here had nothing to do with the prayer we all know. The two then tied the knot in a private wedding.
Diana Marua Khaligraph Jones Bahati mtoto wa Diana
Last month, Khaligraph Jones released a song known as 'Hao' ft Masauti. In the song, she trolled the couple, stating, 'Bahati alikuwa mtoto wa mama, Sai Twitter mmegeuziwa ye ni mtoto wa Diana.' The couple was trolled all over social media for this, mainly because Bahati is six years younger than Diana.
Diana Marua Bahati Marriage
Bahati and Diana are officially husband and wife. They tied the knot in a private wedding that only had a few special people in attendance. Since then, people have been looking forward for their downfall. Bahati is 26 years old whereas Diana is 32 years old, making her six years younger than Bahati.
Read: Lulu Hassan Biography – Age, Career, Education, Husband, Net Worth
Many people cannot seem to understand how a relationship where the woman is older can work. Many people have gone ahead to troll the two, stating that the reason why they are still together is because Bahati is madly in love with Bahati who takes advantage of that and uses his money like never before. People have even claimed that Diana is a control freak and Bahati has to do whatever she says.
Diana Marua Bahati Children
Bahati and Diana are blessed with 2 beautiful children; Their daughter, Heaven Bahati and their son, Majesty Bahati. Heaven was born on 14th February, 2017, which was on Valentine's day. She is currently 3 years old as of 2020 whereas her brother is barely a year old.  Apart from their biological children, Diana and Bahati have 3 adopted kids. Those are Majesty Bahati, Rosa Bahati.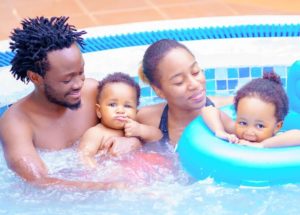 Diana Marua Family
Diana Marua comes from an eminent family. Her father, Joseph Omach is a prominent cancer advocate that help fight against stigma for cancer patients. Joseph Omach is the founder of Childhood Cancer Initiative. This is an NGO that was founded in 2009 to reduce the burden of childhood cancer in Kenya by providing patient care support for those who are needy.
Diana Marua Nick Mudimba
If you never had an idea, Nick Mudimba, the former KTN Sports Anchor and Diana once dated. As amatter of fact, Nick was Diana's longest boyfriend. The two dated from 2012 till 2015, where the relationship lasted for 4 good years. There was a time that they actually cohabited and people knew them as the couple that lived together. The two then ended their relationship and Diana dated many other people before finally settling on Bahati.
Diana Marua Ex- boyfriends Before Meeting Bahati
Bahati's beautiful queen has dated Nick Mudimba, Victor Wanyama, Kiptoo Kirwa and Silas Imbaga in the past.
Diana Marua Being Bahati Reality
Bahati has a reality TV show known as Being Bahati that airs on NTV.  Being Bahati's wife, it is quite obvious that the show is incomplete without Diana in it. She gets to appear on many episodes on the show. The problem with the show is that viewers claim that there is nothing real that goes on there since it is too scripted. People complained about this, something that made the show to be moved from 7.30pm till late in the night when barely anyone is watching.
Diana Marua Bahati wears her dress
Last week, Diana shocked the world by making Bahati to wear her red dress. This happened when the two were doing the switch challenge where the couple was supposed to switch outfits when the lights are switched off then off simultaneously. Diana went ahead and switched to Bahati's outfit as well. I must admit that they aced the challenge, only that Bahati looked like Diana's child.
Diana Marua and Bahati Break up
Towards the end of 2018, there were claims that Bahati and Diana had broken up. This was because the two had a bitter fall-out that made Diana to pack all her belongings and left their matrimonial home. They later made up and got back together. It is clear that the two staged this for clout.
Diana Marua Steals Designer Bags
Barely one month ago, a businesswoman by the name Jane Mwangi accused Diana of stealing her designer bags, something Diana has since denied. Jane even went ahead and pulled screenshots, trying to prove her allegations. However, Diana went ahead and said that Jane is a very broke lady who reached out to her via Whatsapp while she was in Nigeria, desperate for a ticket back home.
Read: Willis Raburu Biography- Age, Salary, Education, Wife, Net Worth
The lady was doing prostitution in Nigeria and it seems like the business was not going on well. Jane had even stated that she was contemplating suicide since she felt like she had failed her kids plus her family was treating her like an outcast. Being the good person here, backed by the fact that they actually attended the same high school, Diana paid for her flight back home.
Diana invited her to her place, where she came days later with a suitcase, which she dumped there. She later came back 2 weeks later, inspecting the suitcase and claiming that some designer bags were missing. The matter became a police case but it was later stated that Jane was lying and wanted to tarnish Diana's name.
Diana Marua Bahati's Baby Mama Yvette Obura fall-out
It is clear that Diana does not publicly acknowledge Mueni, Bahati's Baby mama as one of her kids. According to her, she is the one who opened Mueni's Instagram account but was attacked by Yvette Obura, Bahati's Baby Mama plus Yvette's sister. She never expected such kind of a reaction. The two are not in good terms and have never met up to date.
Diana Marua Net worth
Diana is one very hardworking woman. She has been able to do a number of brand deals such as Bountiful Safaris. She is currently worth about more than Kshs. 25 Million.
| | |
| --- | --- |
| Real Name | Diana Marua |
| Nickname | Diana Bahati |
| Age | 32 years as of 2021 |
| Nationality | Kenyan |
| Real Father | Joseph Omach |
| Mother | Unknown |
| Tribe | Luo |
| Education Level | Unknown |
| Place of Birth | Migori County |
| Birth Sign | Scorpio |
| Year of Birth | 5th November, 1988 |
| Religion | Christian |
| Spouse/Husband Name | Kelvin Bahati |
| Children | 2 biological children |
| Career/Profession | IT Technician |
| Net Worth | Kshs. 25 Million (approx) |
Thanks for reading our article. Got comments or opinions about our journalism? Please send us a WhatsApp message on
+254 733 290 656