Kelvin Bahati Biography
Kelvin Kioko Bahati, popularly known as Bahati is an award-winning Kenyan Gospel artist as well as a reality TV star. He rose to fame after singing his song 'Mama' where he was singing to his late mother that always seemed to be there for him.
He got orphaned pretty earlier and had to grow from grass to riches, living on the streets for some time. Bahati is married to Diana Marua and together they are blessed with 2 beautiful biological kids. Bahati has a reality TV show known as 'Being Bahati' that airs on NTV.
Kelvin Bahati Age, Birthday, Place of Birth, Tribe, Nationality
Kelvin Kioko Bahati was born in December 1993 in Makueni county, Kenya. He hails from the Kamba community of Kenya. Bahati is 27 years old as of the year 2020. He celebrates his Birthday on December, every year.
Kelvin Bahati Upbringing
After losing both parents at an early age, Bahati resorted to going to the streets for survival. This is how he ended up as a street child. He had been in an orphanage for some time. He later pursued music and this is how his life took a complete turn.
Kelvin Bahati Education Background
Bahati went to Nakeel Boys in Kajiado then to St. Theresa's Boys in Eastleigh for his secondary school. He attained a C+ in KCSE from St. Theresa's Boys in 2011.
Read: Willy Paul Biography – Education, Net Worth, Charges Per Show
Kelvin Bahati Music career
After completing high school, Bahati decided to pursue music. He linked up with J. Blessing and L.B films and they did their first song known as 'Siku ya Kwanza'. This became a hit that opened doors for him in the music industry. He has since released other hit songs such as Mama, Lover and Barua.
Kelvin Bahati Albums, Records and Songs
The record labels that he has been able to work in include EMB Entertainment, Make Music Matter Inc, Africha Entertainment (AEL YOUNG) Limited, Laanda Media and Aron Kelly. Bahati's albums are Umusa Wakhe, Mama, Lover, Barua Za Bahati and Kesho ni Siku Mpya. Bahati's songs include Mama, Barua, Itakuwa sawa, Lover, Lala Amka, Siku ya Kwanza, Story Yangu, Machozi, Mapenzi, Kuchu kuchu, Nakupa Moyo and Taniua.
Kelvin Bahati EMB Records Shut Down, Peter Blessing Drama
Bahati, the President of EMB (Eastland's Most Beloved) Records has shut down his label. He did this due to lack of support and hatred in the gospel industry. He has since terminated his contracts with artists such as Weezdom and Denno who had been signed under the label.
This came in barely months after Peter Blessing shocked the country when he spoke up about Bahati paying him peanuts when he is paid a lot of money under the record's name. Bahati denied these claims and even said that Peter Blessing was defrauding the label Kshs. 2 million. Bahati even went ahead and sued Blessing for obtaining Kshs. 2 million from him on false pretense.
According to Blessing, he terminated the 20-year contract since Bahati's label failed to pay him Kshs. 1 million, something that his lawyers could prove. Peter Munyalo was arraigned before the Milimani Chief Magistrate Martha Mutuku on 28th January, 2020. He was later released on a KshS. 200,000 bond where Blessing's lawyers gave Bahati an ultimatum to pay the ksh.1million within 2 weeks, failure to which they will countersue him.
Kelvin Bahati Baby Mama
Yvonne Obura is Bahati's ex-girlfriend. She also happens to be the mother of Mueni Bahati (5), Bahati's firstborn biological child. Yvonne came to the limelight around 2018 when he was 'exposing' Bahati for abandoning them and not taking responsibilities as a parent should.
Kelvin Bahati Diana Marua
Bahati and Diana Marua are married. They first met when Diana appeared as a video vixen for Bahati's hit song 'Mapenzi'. Diana played the lead character alongside the gospel artist. Diana is 6 years older than Bahati and this has been a topic of discussion since they became an item.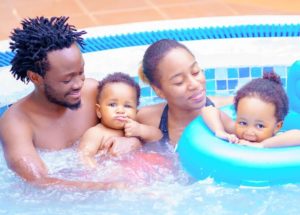 There are also claims that Diana has been with many men before. Bahati is 26 years old whereas Diana is 32 years old. They are blessed with 2 children; Heaven Bahati (2 years old daughter) and Majesty Bahati (barely one-year old son).
Kelvin Bahati Adopted children and Biological Children
Bahati has 3 biological children and 3 adopted children. The 3 biological children are Mueni Bahati(5), Heaven Bahati (2) and Majesty Bahati (barely 1). His adopted kids are Morgan Bahati (9), Purity Bahati(9) and rose Bahati (15).
Kelvin Bahati Boondocks Gang Taniua
In February 2020, Bahati shocked the world after he dropped a song known as 'Taniua' featuring Gengetone group Boondocks Gang. The irony here is that Bahati is known, or rather, portrays himself as a gospel artist whereas the Boondocks Gang is known for singing songs with dirty content. In the song, Bahati tried so much to make the song look Church- friendly. However, netizens were quick to state that the song has zero spiritual content and that he should stop lying to Kenyans that he still does gospel music.
Kelvin Bahati Controversy, Being Bahati Reality
Lately, Bahati has been the target for controversy. It seems like tables have turned and Willy Poze's controversy has since been surpassed by the one and only mtoto wa Mama. Netizens claim that drama in Bahati's life began when he started dating his older woman, Diana Marua.
The wedding in itself raised eyebrows, with Bahati stating that Diana was his 'prayer partner.' When it became pretty obvious that the two were an item, people started having a 'my prayer partner challenge' online where people posted their spouses, calling them their prayer partner. It then became evident the type of prayer that Bahati was talking about.
Shortly after, there were rumors that despite being a Gospel artist, Bahati abandoned his baby mama and his biological daughter Mueni. As a matter of fact, he never claimed them. Neither did he take responsibility despite him earning an envious amount from his music.
Netizens trolled him proper and that is when he decided to come out to speak on the issue, trying to clear his name. Remember, this was the same person that had painted a picture of himself being holier than thou and not having a girlfriend, leave alone kids.
Read: Top 10 Richest Musicians in East Africa and their Net Worth 2022
Even after getting married to Diana, it seems like Bahati enjoys him being the topic of discussion. People started saying that Diana is a control freak and Bahati is just a boy who is madly in love with an older woman and is ready to do anything that Diana tells her to do. They even did a 'switch' challenge where they switched clothes. Tell me that was not Diana's idea.
The icing on the cake is their so-called Reality Show known as 'Being Bahati' that airs on NTV. If you have never watched an episode of this show, just know that there is nothing real on this show. Everything is scripted and they are doing it for the views and for the money. The show is so untrue that people hardly watch it anymore. As a matter of fact, the views drastically went down that NTV moved the show to late hours when no one hardly watches TV.
Last week, Bahati posted a picture of Diana, stating that poor men should leave the beauty alone since she cannot fit in a bedsitter. Netizens laughed it off, stating that many men were sleeping with her in bedsitters when Bahati was still playing kalongolongo. Some even photoshopped the same picture of Diana but now in a bedsitter.
People even went to pull old pictures of Diana with her numerous old boyfriends such as Victor Wanyama. King Kaka went ahead and begged people to leave others' relationships alone. However, it is clear that Kenyans on social media remain undefeated.
Kelvin Bahati Crush
Bahati has, for the longest time, had such a huge crush on the Tanzanian actress Elizabeth Lulu Michael. He even went ahead and asked Millard Ayo, who is a Tanzanian Radio presenter to help deliver the message to his dream lady.
Kelvin Bahati Net worth
The flashy Kenyan gospel artiste is worth about Kshs. 22 million at the moment. He is a jack of all trades, juggling between doing his music, the reality show, brand endorsements and running his label.