DJ Brownskin, whose real name is Michael Macharia Njiri, is a Kenyan deejay and entertainer known for his professional mixes and captivating performances. In this biography, we will explore DJ Brownskin's life, career, personal story, family, and more
The Kenyan DJ Brownskin is under scrutiny after a video surfaced online, allegedly showing him filming his late wife taking an unknown substance that led to her death. In the video, which has angered many Kenyans, the woman is seen holding a cup and adding something to it before taking the mixture and saying she would die.
Brownskin, who was filming the moments while lying on a couch, asks one of their children to give the mother milk. The man recording the video is also heard saying in the background that she had consumed many drugs.
Kenyans on Twitter are reacting to the viral video and want the DJ investigated for allegedly not intervening in the situation. DJ Brownskin announced the death of his wife, Sharon Njeri, on July 30, 2022, after she reportedly took her own life.
Video of Sharon Njeri suicide on camera
A video of a Kenyan woman identified as Sharon Njeri alias Shadodo has gone viral on social media after she allegedly died from poisoning. The incident reportedly occurred on July 29, 2022, and the video shows Sharon taking an alleged poisonous substance as the man believed to be her husband, DJ Brownskin Fullu Fullu, psyches her on.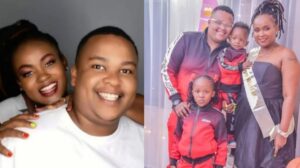 Sharon Njeri's  Last Words
The video, which has since been widely circulated on social media, shows Sharon throwing the empty bottle at the man before taking a walk as if she is leaving the room, only to return and lie on a seat. Sharon then takes a brief rest and later wakes up, sitting on the same seat facing the floor of the house.
"I'm done. Tell my kids and people I love them," DJ Brownskin's wife mumbles in the video.
The entire time, the man who is seemingly recording the video is comfortably seated and does nothing to save her life. At some point, he asks the house help to bring some milk but doesn't bother to help her. It is then that the alleged poisonous substance takes a toll on her and she ultimately succumbs to it.
DJ Brownskin's Response
The Star could not verify the identity of the man in the video, though he is believed to be DJ Brownskin. The DJ did not respond to a text message sent to him to confirm, verify, or deny the viral clip at the time of going to press. However, in August 2022, DJ Brownskin mourned his wife and said:
"A man is tested the most when he is on his knees. When he has questions without answers. When he has to put on a brave face and remind himself, 'be a man.' But what really does it mean to be a man?"
"On the 29th of July my life as I knew it completely changed. The events of the past week have shaken me to my core! They have put me to the test as a man, father, husband, friend, and entertainer. But I am comforted by the words of Isaiah 43:2.
"When you pass through the waters, I will be with you; and when you pass through the rivers, they will not sweep over you."
DJ Brownskin promised to keep at it, adding: "To my children, I promise to lean on you as you lean on me. I promise to not tire, I promise to keep giving direction as I walk the path of even discovering what 'direction' even means."
Celebrating Sharon's Birthday
On December 22, 2022, Brownskin took to his social media accounts to wish his late wife a happy birthday and celebrate her.
Read: Pastor Ezekiel Odero Biography, Age, Family, Net Worth
"Happy birthday love ????❤. You are my greatest treasure and I adore you with all I got. For this life I'm living, I'm gonna celebrate you day in and day out.
"All the memories we created, they'll be forever part of me and I'm gonna treasure every single moment forever❤.
"Our princess and prince are doing just fine and the only thing that's missing from their lives and mine is your pretty smile and beautiful face that we all loved and adored????.
"It was you, it's you and always will be you princess ????. From earth and beyond, happy birthday love????❤"
Seeking Help for Mental Health Issues
The tragic incident serves as a reminder to seek help for mental health issues. Counselors, medics, and psychologists advise that you can always reach out for support when experiencing any mental health issues. The Kenya Red Cross offers a toll-free hotline, 1199, for those seeking help.
In recent years, mental health awareness has gained more attention in Kenya. However, there is still a stigma surrounding mental health issues in many communities. People may be afraid to speak out about their struggles or seek help due to fears of being judged or ostracised.
This tragic incident highlights the importance of addressing mental health issues in a compassionate and supportive manner. It is essential to create safe spaces for people to talk about their experiences without fear of judgement or discrimination. Mental health professionals, community leaders, and organisations must work together to raise awareness, educate the public, and provide accessible support services for those in need.
Moreover, it is crucial to recognize the role of social media in spreading awareness about mental health issues. Social media platforms can provide a platform for people to share their stories, seek support, and connect with others who are going through similar struggles. However, it is also essential to use these platforms responsibly, avoiding the spread of harmful information or stigmatizing language.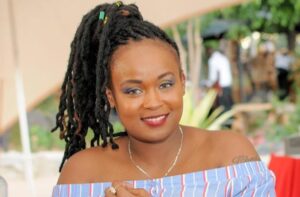 The tragic death of Sharon Njeri alias Shadodo, the wife of DJ Brownskin Fullu Fullu, serves as a sobering reminder of the importance of addressing mental health issues with compassion and support. It is essential to raise awareness, educate the public, and provide accessible support services for those in need. By working together, we can break down the stigma surrounding mental health and create a more compassionate and inclusive society.
DJ Brownskin's Early Life and Career
DJ Brownskin was born in Kenya. He developed a passion for music at a young age, and his interest in deejaying grew as he honed his skills. DJ Brownskin started his career as a deejay by performing at local events and entertainment joints in Kenya. Over time, he gained popularity for his unique style and his ability to get crowds moving.
Read: DJ Fatxo Biography; Facts, Age, Murder scandal, Family and Net Worth
DJ Brownskin's Rise to Fame
DJ Brownskin's popularity continued to grow, and he became one of the most sought-after deejays in Kenya. He has performed at some of the most prestigious events and entertainment joints in the country, entertaining audiences with his professional mixes and engaging personality. DJ Brownskin's rise to fame has also earned him international recognition, and he has performed in countries such as Dubai.
Notable Accomplishments   
After rising to fame for his professional mixes, DJ Brownskin has entertained audiences at various entertainment venues throughout Kenya, and has even gained international recognition, having performed in countries such as Dubai.
DJ Brownskin's Personal Life
DJ Brownskin was married to the late Sharon Njeri Mwangi, who tragically passed away in 2022. They had two children together. Before her death, Sharon was known on social media as @shaseskie. In 2022, a video of Sharon taking her own life went viral on social media, which led to backlash and criticism from some members of the public.
DJ Brownskin's Net Worth
DJ Brownskin's net worth is estimated to be around $500,000. He has amassed his wealth through his successful deejaying career and various brand endorsements.
DJ Brownskin in summary
DJ Brownskin has risen to become one of the most popular and respected deejays in Kenya, known for his professional mixes, captivating performances, and engaging personality. Although he has faced some personal challenges, he continues to be a role model and inspiration to many.
| | |
| --- | --- |
| Real Name | Michael Macharia Njiri |
| Nickname | DJ Brownskin |
| Age | In his 30s |
| Date of Birth | February 28, 19′ |
| Nationality | Kenyan |
| Profession | DJ, Entertainer |
| Notable Accomplishments | Professional mixes, International performances |
| Wife | Sharon Njeri Mwangi (deceased) |
| Children | 2 |
| Net worth | Unknown |