Farhana Oberson Biography
Farhana Oberson is a Kenyan award-winning Hijabi Wanderlust queen that has quickly become one of Kenya's top vloggers. She is a travel vlogger that uses her YouTube channel as a platform that showcases her travel escapades in a way that informs and entertains her Rafiki squad. The vlogger also happens to be the owner of her clothing line known as Farhana Oberson Clothing.
Farhana Oberson Age, Birthday, Place of Birth, Tribe, Nationality
Farhana is a 25-year-old Award-winning travel vlogger that was born and bred in the coastal towns of Kenya. She was born in Lamu, Shela, but her family moved to Mombasa when she was about 11. She is a Kenyan Muslim travel vlogger.
Farhana Oberson Education Background
She attended Mombasa Academy for her primary and secondary school education. In 2014, she moved to Malaysia where she pursued a Bachelor's Degree in Business Administration.
Farhana Oberson Career
Farhana's career is what most would call a dream job. Imagine being paid to travel and do fun activities while at it? That is exactly what the gorgeous tiny lady does for a living. She started this journey in 2015 when she was in university in Malaysia. She was going through a difficult time and sought solace in taking and sharing YouTube videos of places and activities in Malaysia.
Viewers loved what she was doing and they kept asking for more. She graduated in 2016, came back to Kenya in 2017 and decided to venture in professional travel vlogging. Barely 5 years later, has Farhana become one of Kenya's most sought-after travel vloggers.
 READ:  Xtian Dela Biography – Age, Education, Career, Girlfriend and Net Worth
Farhana Oberson YouTube
She simply turned a hobby into a money-making machine that gives her so much experience at the same time. Farhana travels in different parts of the world, getting a taste of different cultures. Her videography and the quality of her videos and photos are quite unprecedented, at least here in Kenya. She records her travel adventures and posts them consistently on her YouTube channel, which currently has 102k subscribers and 160 videos.
In her YouTube, she has shown a number of street foods that can be found in different towns across the world. She started her YouTube channel in 2015 and has grown so much since then. Farhana has been to over 14 different countries including South Africa, Zambia, Singapore, Malaysia, United Kingdom, Turkey and Tanzania, with Zambia being her favorite travel destination so far, thanks to the Victoria Falls.
A while ago, the Tourism Board of India chose her to go to India for 2 weeks for the Kerala Blog Express Trip. Last year, Farhana together with other creatives went on a 24-day road trip to South Africa. The top 3 countries on her bucket list are Greece, Morocco and Japan.
Farhana Oberson Instagram
She has a verified account on Instagram. Her Instagram account is @farhana_oberson that has 70.4k followers, 413 following and 882 posts.
View this post on Instagram
Farhana Oberson Rafiki Squad
Farhana has a name for her viewers and subscribers, which is 'Rafikis'. Every time she starts a video, she will say 'Hey Rafikis' or 'Good morning Rafikis'. I find that really dope since 'Rafiki' is Swahili for 'friend'. Having grown up in the coastal town of Mombasa where Swahili is the common language, she is clearly using her platform to appreciate her roots. She calls the entire squad 'the Rafiki Squad'.
Farhana Oberson Business
Her enviable love for fashion saw her bringing forth her cloth line dubbed Farhana Oberson Clothing. The company deals in quality modest clothing pieces, with most of them for the modern modest yet stylish woman. Some of the pieces include scarves and dresses. Her Instagram shop account is @farhanaobersonclothing.
Farhana Oberson Engagement and Husband Photos
In 2019, Farhana got engaged to the love of her life. She got to announce about it in her YouTube channel.
 READ:  Edgar Obare Biography – Age, Career, Education, Girlfriend, Net Worth
Farhana Oberson Wedding
Farhana got married to the love of her life in December, 2019. The wedding ceremony was kept private, which was an invites-only ceremony. Creatives like Wanjiru Njiru and Ben Cyco were invited and they attended the beautiful event. Two days ago, she posted a YouTube video of how the wedding went.
Farhana Oberson Husband
Despite being wedded, Farhana has kept her private life under wraps. She has concealed her husband's face from the public eye and I respect her for that.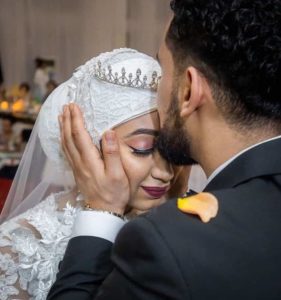 Farhana Oberson Religion
Farhana is a Muslim travel vlogger. When asked, she says that her religion does not affect her work since a hijab around your head should not dictate how you want to live your life.
Farhana Oberson Current Location
Oberson currently lives in London, United Kingdom together with her husband.
Farhana Oberson Net worth
She is a very hardworking woman who enjoys traveling to new places and experiencing different cultures. She gets sponsorships in her travel escapades and earns through Google AdSense. Her current net worth is not yet known but she has earned over $20,000 in form of Google AdSense.