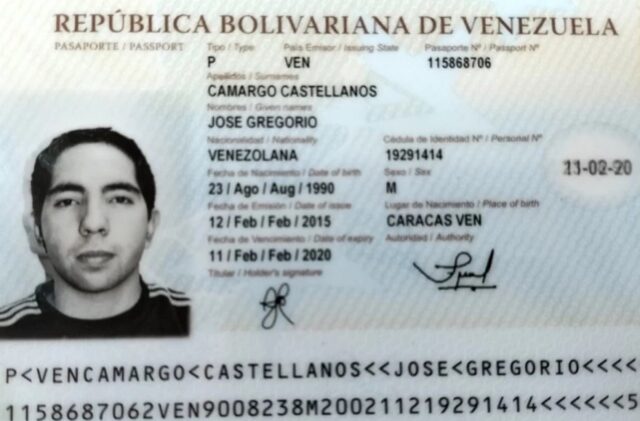 Jose Camargo Castellanos is a Venezuelan IT guru and software engineer. He works with Smartmatic International B.V. Jose was arrested together with Joel Gustavo Rodríguez García and Salvador Javier Suarez on July 21 at JKIA with election materials leading to a standoff between IEBC and the police.
There were claims that the three were part of the team from Smartmatic International B.V., the company contracted by IEBC to provide technological support for the election.
Jose Camargo Nationality
On their arrest, Jose's National Identity Card showed that he is a Venezuelan by nationality.
Jose Camargo Age and Place of Birth
He was born on 23rd August 1990, making him 32 years old of the year 2022. Jose celebrates his birthday on 23rd of August every year. Details on his place of birth are not yet inn the public domain.
Jose Camargo on Presidential Elect Petition Hearing
On 2nd September 2022 at the Supreme court of kenya presidential hearings, Lawyers Paul Mwangi and Julie Soweto who are representing the Azimio la Umoja presidential candidate Raila Odinga and his running mate Martha Karua have shown evidence suggesting that the August 9 general election had been tampered with.
"If we sum up the votes, we get 316. The total votes cast according to this particular form are 321 different from what we have just seen. The rejected votes are four which means already by calculation there is a problem," Julie Soweto said.
"This is the same KIEMS kit transmitting or sending results one from Mt Elgon 1,000 kilometres from Nyeri town two hours later, how is that possible? When each polling station had its own unique Kiems kit which was supposed to transmit its own unique IP address," she added.
She then raised the issue of Kiems kit where she managed to download two forms 34A from Mt. Elgon and Nyeri stations that had the same serial number, F230450M00204133.
"This is the same KIEMS kit one from Mt Elgon 1000 kilometres from Nyeri town two hours later, how is that possible?" she posed.
"Each polling station had its own unique Kiems kit which was supposed to transmit its own unique address…"
Thanks for reading our article. Got comments or opinions about our journalism? Please send us a WhatsApp message on
+254 733 290 656