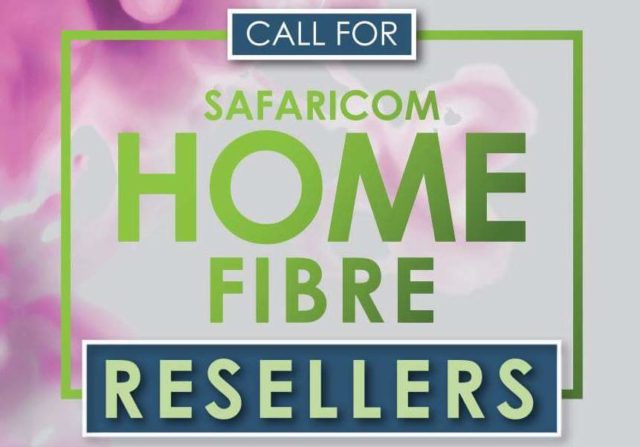 Safaricom is a household name in Kenya, with the widest coverage and arguably the strongest network in our country. Since its foundation in 1993, the company has undergone immense growth and gathered up a firm foothold in the communications industry in Kenya. By providing services suited for the customer at the very grass-roots, Safaricom is indeed a giant in the game. The enormous elephant in the room. Known by its slogan of, "Simple, Transparent and Honest, Safaricom is for You", the company has continued in offering just that. Products suitable for You.
Safaricom Home Fibre is a one such product. This is a WiFi solution that the company has made available to the general Kenyan public. It is revolutionary in that it is changing the internet access story in the country. It is structured in a manner that allows for varied options to be selected based on need of the consumer. It is a means used to achieve customer satisfaction and indeed even in propelling the country to attaining a few of the Sustainable Development Goals we so intently run towards.
It is available across the country with many areas being Safaricom Home Fibre Zones. However, some regions are yet to be connected and for one to have this service at their homes, they will first have to ascertain that their region is covered. This is done in a quick USSD process by dialing *400# and choosing the 'Are you in my area' option.
Another path one may take in determining the accessibility of the service, you can log in to the Safaricom website and there find immediate access to a geographical search that informs you whether your area is a Home Fibre Zone.
Safaricom Home Fibre is a local product that is providing the much-needed internet access for the country. With the novel times we currently live in, this is the time to jump into the Home Fibre bandwagon. The Coronavirus has been determined by experts as being a situation that we are yet to have among us for some time to come.
 READ:  Updated Safaricom Mpesa Charges 2020: Sending and Withdrawal Rates
Life therefore must go on and adapting to these situations is the best move on the chess table. One key way to keep the gears of our lives moving is by having a stable and strong internet connection within the safety of our homes. We must adhere to government regulations of social distancing and staying at home for us to win this fight. Safaricom Home Fibre comes in the picture to fill this gap for us.
It is a reliable service that undergoes regular maintenance keeping it up to date and is designed to be suitable for all internet needs. This comes in very handy in these times when life happens indoors. Unlimited access to favorite films and shows, gaming such as X-Box games, access to online class streaming and boosting of security systems at homes are some of the benefits that come with Safaricom Home Fibre.
It comes in four different categories all differing in price and the internet speed. These are illustrated as follows:
SAFARICOM HOME FIBRE PACKAGES

BRONZE
SILVER
GOLD
DIAMOND
5MBPS
10MBPS
20MBPS
40MBPS
Kshs. 2900 for 30 days
Kshs. 3999 for 30 days
Kshs. 5699 for 30 days
Kshs. 11,499 for 30 days
Bronze Package

This category has the following features:
Quick browsing
Provides Secure Digital Card (SD) capacity streaming.
Provides Secure Digital Card (SD) capacity Television programming.
Bronze category is suitable for simple home internet needs from kids and teens shows, educational services and internet access for social media, research and cloud works. It is also a great option for individual internet needs.
Silver Package

In addition to Bronze features, the Silver category has additional advantages :
High Definition TV
Allows for more than one device to be connected to the internet.
It is capable of connecting CCTV devices to ensure consistent security monitoring.
The Silver category is a great selection for a home with multiple internet needs. For the children catching up on school activities, parents working from home and general entertainment, the Silver is a good choice for a price of Ksh3999 per month.
Gold Package

As a buildup on Silver features, the Gold provides:
Ultra-High-Density film and music streaming.
Ultra-High-Density Television programming.
The Gold category provides very sharp image quality attractive to various sections of the market such as entertainment joints which stream live sport action for their customers. This is a great option for such business and in addition to these, they get all the advantages brought in the Bronze and Silver categories.
Diamond Package

This being the highest and most priced category of Safaricom Home Fibre packages, it provides all features of the bronze, silver and gold and in addition is characterized by hyper-fast downloads. It is suitable for companies running multiple online operations that require real time turnovers and even schools can take up this product for their internet needs.
How to Install Safaricom Home Fibre

Setting up of the WiFi network at your home is carried out by Safaricom sales and customer care agents as an after-sales service, meaning that it is absolutely free. After determining that your region is a Home Fibre Zone, you proceed to make payment for your preferred choice of category and as Safaricom insists on simplicity, payment methods are just as straightforward.
Payment is done by dialing *400# then following the prompts, or via Mpesa to Safaricom Home PayBill Number: 150501 or making the payment directly at any Safaricom shop outlet. Once paid, the customer is then connected to the service within 48 hours.
Once the payment step is complete, the agents come to your home with the WiFi router and do the installation. The WiFi network is a Local Area Network meaning that it works within only your home area. The distance covered by the service is limited but this does not pose a threat in that it keeps us in our homes, analogically like a leash keeping us indoors. This service is then configured and its security kept in check by prompting for a username and password. This limits the WiFi's access to unwelcome individuals.
The WiFi is then good to go allowing the user to be connected to the internet and be able to continue with work, studies and enjoyment at the safety of their homes. Renewal payment is done very 30 days following the same procedure and also changing one's package choice can be done from the Safaricom website. This is indeed a wonderful and timely solution for all Kenyans.
Thanks for reading our article. Got comments or opinions about our journalism? Please send us a WhatsApp message on
+254 733 290 656