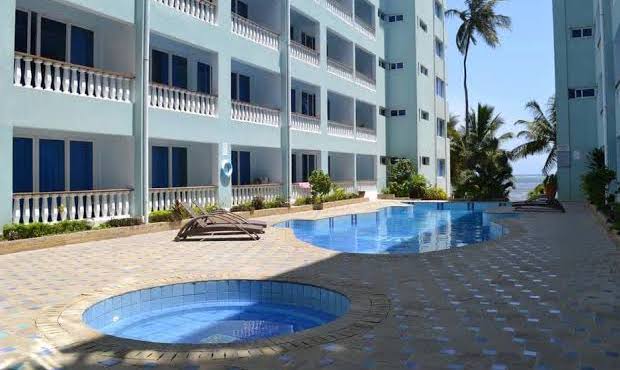 Since time in memorial, Mombasa has highly flourished amongst the best tourist sites globally. The beach has been the focal point of tourists' attraction in the city. Amongst the best luxurious hotels comprise the following;
1. Hotel EnglishPoint
EnglishPoint resides within the pioneering development of EnglishPoint Marina. It is modern, new, and easily the highest quality development in East Africa. The suites have sea or views, all are air-conditioned all are designed for your comfort. With a third-floor boutique restaurant, an ultra-modern Spa, and a full services marina which stands out as the pre-eminent development between Durban and Cairo.
Geared for service and comfort there is no better place to stay. With 26 luxury bedrooms and 26 Luxury suites not to mention the Executive suites and penthouses to stay in it is the height of decadent living. Accommodation cost is US$ 8.5
2. Cowrie Shell Beach Apartment
Cowrie Shell Beach is a high-class property of fully furnished and serviced hotel apartments. With its phenomenal location right on Mombasa's most popular Bamburi Beach, it is the newest, most modern place to book yourself for a holiday. Enjoy fantastic ocean views, sandy beaches, water sports, luxurious swimming pools, gym, and our very own gourmet, beach front, restaurant and bar.
Rooms are beautifully designed with African artworks, Air-conditioners, flat screen TVs, state of the art Kitchens and bathrooms and solid wood furniture. The cost for accommodation is US$ 6.4.
3. Kenya Bay Beach Hotel
A beautiful setting among Frangipani and Bougainville with the most breathtaking views of the Indian Ocean, welcomes you to the Kenya Bay Beach Hotel, Mombasa. This exclusive hotel built in a subtle blend of African and modern architecture offers a marvelous ambiance for a truly wonderful and relaxing beach vacation.
Read: Top Six Best Airlines of Tanzania to consider booking Flights
Located on Bamburi Beach, it is no wonder that year after year, families have anchored at this hotel for a relaxing and memorable holiday.
The cost for accommodation is US$ 6.4
4. Ziwa Beach Resort
Located directly on Bamburi Beach, Ziwa Beach is 12km from downtown Mombasa and 24km from Moi International Airport. It has 7 beach cottages each with two, 2 bedroomed self-catering apartments and 1 beach cottage with 6 hotel rooms overlooking the Indian Ocean and the beach.
All rooms are air-conditioned, equipped with large hard wood double beds or twin beds, shower/toilets, kitchen, dining room, a private sitting area where guests can drink and watch the sun go down in total privacy.
The cost for accommodation is US$ 4.3.
5. Mombasa Beach Hotel
Safari Lodges & Hotels is located in Mombasa Beach Hotel, under the flagship of Kenya in the North Coast. It resides 10 km from Mombasa Town and 18 km from the Moi international Airport Mombasa. It is a prime destination for conferencing and leisure in its many conference outlets.
Various kinds of water-sports are available, in addition to excursions to Marine Park, nature trails, Old Mombasa Town and cultural villages. Despite the Hotel's proximity to Mombasa itself, it exudes an air of tranquility with huge and well-maintained tropical gardens that provide welcome shade in the heat of the day.
Overlooking the Indian Ocean are its white sand beach suitable for sand bathing, wedding and public functions at the Cavern Beach Bistro. All the 152 rooms have SPACIOUS SEA FACING BALCONIES. The hotel has 145 Standard rooms and 6 Executive Suites.
All the rooms are equipped with guest amenities with a recent addition of satellite TV/DSTV, wireless internet connections and split unit air conditioning systems. The hotel has four bars namely: -Kaskazi Bar, Deck Bar, Pool bar, Sports Centre Bar.
The cost for accommodation is US$ 9.4.
6. Reef Hotel Mombasa
The Beach Hotel is a friendly, relaxed Hotel, professionally managed for 40 years by the same family to serve a mix of international and resident guests. The hotel offers a combination of resort facilities for beach holidays, as well as business services including conference rooms and corporate business facilities.
The Reef Hotel Mombasa is conveniently situated on the white sandy beaches of Nyali overlooking the beautiful Indian Ocean. It is adjacent to the very best shopping areas, clubs, restaurants and golf courts and only 7 kilometers north of Mombasa city Centre.
 The original Reef Hotel Mombasa was built in 1972. The hotel just had a significant renovation and has re-opened with new designed rooms and public areas. Reef Hotel rooms are air-conditioned, each with its own bathroom, balcony, telephone extension and TV.
Buffets are the traditional way we serve meals with an international mix of cuisine. Enjoy our romantic candle-lit dinners on theme nights (African, Chinese, Lebanese, Indian and International) and regular barbeques.
A choice of 3 restaurants and 4 bars, and water sports directly on the beach assure you that the Reef Hotel Mombasa is ready for your holiday. With regular entertainment by our resident live band and disco, 3 fantastic swimming pools, Jacuzzi, tennis courts, relaxed sun-bathing and elegant evenings; yours will be a very special holiday in Reef Hotel Mombasa.
The cost for accommodation is US$ 9.4.
7. Neptune Beach Resort
Located on the silver sands of the Bamburi Beach, 14 km to the north of Mombasa City and approximately 24km from Moi International Airport, the resort offers all the comforts of home and maintains an open air feel due to its large reception and hallways. This resort is very popular with regular guests, offering very good service and a family atmosphere.
Special highlight is the lush garden area and the new terrace with a view of the Indian Ocean. There are many quiet areas throughout the resort including the newly created "coffee shop" to offer you calm and relaxation. The generous lobby and the impressive halls create an open-air feeling leaving you with plenty of room for your very individual holiday experience.
The cost for accommodation is US$ 13.6.
8. Prideinn Flamingo Beach Resort and Spa
Flamingo Beach Resort & Spa is a cozy boutique hotel featuring 137 spacious rooms, Olympic capacity free form swimming pool, unique beach cave bar, and entertainment facilities.
All rooms are fully air-conditioned and are housed in six separate four story buildings surrounding large lagoon shaped swimming pool and gardens. All rooms have private shower and cubicles, spacious balconies with a table and chairs. There are 85 standard rooms 36 superior rooms and 16 suites.
Accommodation cost is US$ 13 per night.
9. Bamburi Beach Hotel
The warm and friendly hotel welcomes guests with a distinctly African vibe and a fantastic view of the Indian Ocean! The spacious and comfortable vibrant deluxe rooms have a TV, Coffee and Tea making facilities, safe (chargeable) and mini fridge to ensure you can relax and enjoy, in air-conditioned comfort with quiet, split unit air conditioners or on the terrace with a spectacular view and a cool Indian Ocean breeze.
The ocean deck edges onto the ocean and offers a relaxing atmosphere during the day enjoying a sunbath with a terrific view of the ocean! Whether you come to the Bamburi Beach Hotel to relax or to use it as a starting point for your game drives, we do everything we can to ensure your comfort.
The cost for accommodation is US$ 7.5.
10. Sarova Whitesand Beach Resort & Spa[Z1] 
East Africa's finest resort, Sarova Whitesands Beach Resort & Spa is conveniently located on one of the longest magnificent beach fronts on the Kenyan coast. We take pride in ensuring our guests enjoy the most relaxing and comfortable stay in tastefully furnished rooms and suites offering spectacular ocean, pool and garden views.
For dining and entertainment, guests can choose from three themed superb restaurants, two great bars, and the exclusive Cocos Beach Bar, overlooking the beautiful Mombasa Ocean.
There are four outdoor swimming pools with water slides, spring board, diving boards and four floodlit tennis courts that also serve as a landing ground for helicopters. A fully equipped wellness and fitness club with state-of-the-art fitness equipment, a PADI diving Centre and a host of water sports, like snorkeling and jet skiing are also available.
Be it a family holiday with children, beach wedding, honeymoon, business meetings with a difference or special interests like deep sea diving or fishing, Sarova Whitesands Beach Resort & Spa has something special for everyone.
The cost for accommodation is US$ 13.5
In conclusion, Mombasa hotels to date caters for the tourists who are in need for the beach hotels upon landing in the town. Book your hotel now when accommodation sis still available.
Thanks for reading our article. Got comments or opinions about our journalism? Please send us a WhatsApp message on
+254 733 290 656