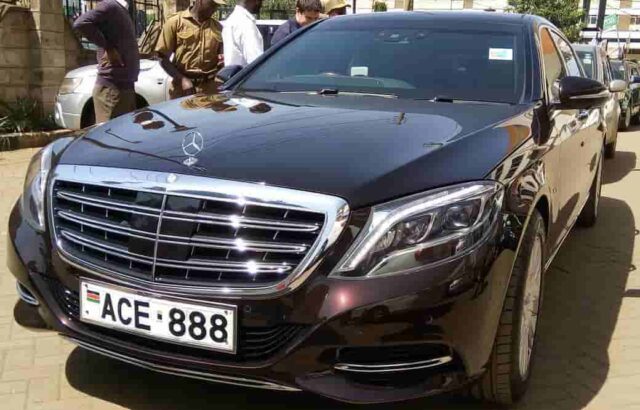 Owning an expensive car is a sign of wealth and luxury in all parts of the world. Kenyan millionaires and billionaires have been spotted with various cars worth millions. However, it might be hard to see to spot these vehicles on many roads due to the condition of the roads in the country. Here is a list of the most expensive cars in Kenya and their owners in 2022:
1. Bugatti Veyron Grand Sport Vitesse
The Bugatti Veyron Grand Sport Vitesse is definitely the first on the list.  Its luxurious interior and exterior will catch your attention. The car can accelerate from zero to 100 km/h in 2.6 seconds. In addition, it can reach a maximum of 410 km/h.
It is worth 233 million Kenyan shillings. Same price as a chopper in the country. There are no details about the owner of this car, as they prefer to keep their identity private.
2. Presidential Mercedes- Benz Pullman S600
The Mercedes Benz Pullman S600 is a hundred percent bullet proof car used by Kenyan presidents. The impressive car can run at a high speed even with a flat tire. It is worth 169 million Kenyan Shillings.
3. Rolls Royce Phantom
The former Nairobi governor Evans Kidero is the owner of this car. It is worth 46.2 million Kenyan shillings. One of the most impressive things about the car is that it has a night theme where it looks like you are driving in space if switched on. Also, Samia Barry owns the same car.
4. Lamborghini Murcielago
The Lamborgini Murcielago is a sports car with an angular design and low hung body. It has a 6.5 litre V12, and can reach a top speed of 342km/h. The car, which was spotted outside KICC building in CBD costs 45 million Kenyan shillings. It is owned by a Kenyan-based Rwandese by the name Samia Berry.
Read: 1xbet Owners, Shareholders, Maximum Stake and Winnings
5. Rolls Royce Ghost
With a 45 million price, the Rolls Royce Ghost is among the most expensive cars in the country right now. It has an excellent V12 engine that can accelerate from 0- 100km/h in 4.9 seconds. Billionaire Jimmy Wanjigi is the owner of a Rolls Royce Ghost in Kenya.
6. Ferrari 612 Sessanta
With a price of around 37.2 million shillings, the Ferrari 612 Sessanta stands as one of the most luxurious cars in the country. It has an excellent V12 engine. The owner of the car is not known by the public yet.
7. Ferrari 458 Italia Convertible
The Ferrari 458 Italia Convertible is an impressive car that can go up to 325km/h. It costs 26 million and is owned by the Mombasa governor Hassan Joho.
8. Mercedes- Maybach S – Class 600
The Ksh. 20.3 million car is a luxurious car owned by Ben Kangangi. The car has an impressive engine that can accelerate from zero to 100km/h in 4.6 seconds. It can also go up to a top speed of 250km/h.
9. Range Rover Limousine Hearse
This vehicle is owned by Delight Funeral Directors. With a price of 20 million, the car is elegant, luxurious, and bossy.
10. Bentley Bentaiga
The Bentley Bentaiga is the 10th most expensive car in Kenya. It is worth 19 million Kenyan shillings and is owned by the Kenyan Billionaire Chris Kirubi.
Thanks for reading our article. Got comments or opinions about our journalism? Please send us a WhatsApp message on
+254 733 290 656