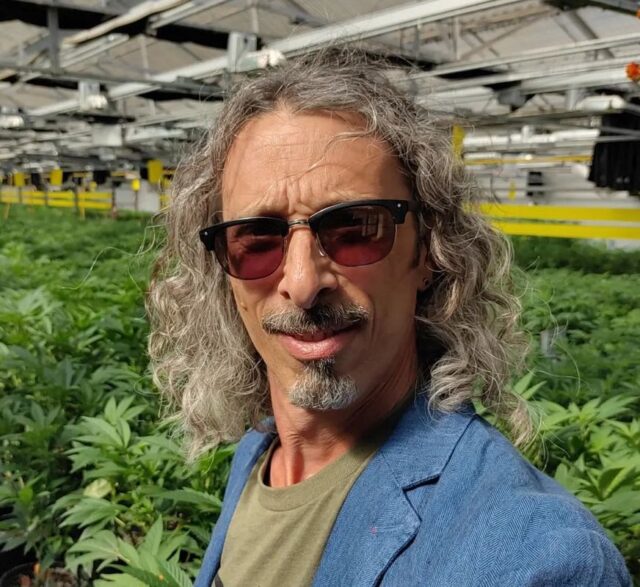 Kyle Kushman, pen name for Adam Orenstein, is a master cultivator from New York City. He's created several strains and earned numerous High Times Cannabis Cup awards.
Vegamatrix, his vegan nutrient range derived from non-GMO plants, is a first for the marijuana industry.
The expert grower began his career as a writer and cannabis master at High Times magazine in 1994. Kushman is now a spearhead in the marijuana world, living up to his well-earned weedlebrity title.
In a bid to share his passion for pure cultivating, the educator shares his tips and tricks through numerous online videos. Kushman has pioneered a technique for everything from germinating wholesale cannabis seeds to harvesting and bud curing.
Read on to discover more about this accomplished breeder and prominent marijuana advocate.
Early Life
Adam Orenstein was born in 1966 and grew up in a middle-class family in Long Island.
His cannabis journey began with a closet grow, producing soda can-sized buds with outstanding aromatics. He quickly realized his talent stretched far beyond that of a hobby cultivator and began forging his path in the marijuana field.
After selling Purple Kush to High Times staff at their Manhattan office, editors were impressed by his grow. They offered him a freelance opportunity to pen a monthly growing column.
The magazine offered him a staff writer position a few years into his work. His persona was born after reminiscing about the buds he used to provide.
During his 30-year journey, Kushman has written for numerous publications, collaborated with cannabis giants, and taught at prestigious educational institutions.
The Kyle Kushman brand has taken the marijuana industry by storm with its innovative movements in veganic cultivation.
Career
Kushman's career as a writer began at High Times magazine. Leading the QA section for several years, the publication later employed him as a full-time journalist and cultivation expert. He wrote for them for the next 20 years, leaving in 2004.
In 2009, he began teaching advanced horticulture courses at Oaksterdam University (OU) in Oakland, California.
Kushman later taught Earth-Friendly Cannaculture classes at the OU North Bay campus, Peace in Medicine at Sebastopol, and Ann Arbor, Michigan.
His passion for environmentally friendly, veganic cultivation reached thousands of students, instilling a love for pure cannabis growing.
As Justina Wangui Wamae plans to do in Nigeria, California legalized weed for recreational and medical use in 2016. Desperate to grow freely, the expert migrated to The Golden State to reconnect with his love for organic cultivating.
Kushman is now a pioneer in the industry. His dedication to clean, pure growing has earned him an impressive 13 Cannabis Cups, three for best flower.
Family
The cultivator married Susie Ambrose in 2011 at the High Times Rasta Roots Fest in Jamaica. Ambrose is the vice president of the Vegamatrix and Kushman brands, managing all company operations.
They met in 2011 while Ambrose was working at Oaksterdam University. Aware of Kushman's waves in the cannabis industry, she attended his course on organic cultivation. The pair were married later that same year.
Strains
Kushman has developed various cultivars, including Strawberry Cough, Cherry Lopez, and Joey's Strain.
In 2006, he met Mieko Hester-Perez, founder of the Unconventional Foundation for Autism.
After learning of Hester-Perez's son Joey's autism diagnosis, Kushman gave the family one of his strains to try as a treatment. They claim the cultivar improved the boy's communication and social abilities. Joey's Strain was born.
In 2006, Kushman launched Karma Consulting, advising Proposition 215 medicinal cannabis gardens.
Raila Odinga Junior's confidence in the medical benefits of marijuana is much like Kushman's.
Vegamatrix
The cultivator developed his range of vegan nutrients, Vegamatrix, in 2014 after spending ten years searching for the purest marijuana supplements. Kushman grew his Cannabis Cup-worthy strains using this system.
In 2014, Vegamatrix won a STASH award for the best nutrient on the market from High Times magazine.
Net Worth
Estimates place Kyle Kushman's net worth at around five million dollars. His YouTube podcast, The Grow Show, blogging, activism, and leading role in the cannabis industry contribute to his earnings.
| | |
| --- | --- |
| Real name | Adam Orenstein |
| Age | 56 years old |
| Nationality | American |
| Place of birth | United States of America |
| Partner | Susie Ambrose |
| Net worth | $1–5 million |
Thanks for reading our article. Got comments or opinions about our journalism? Please send us a WhatsApp message on
+254 733 290 656