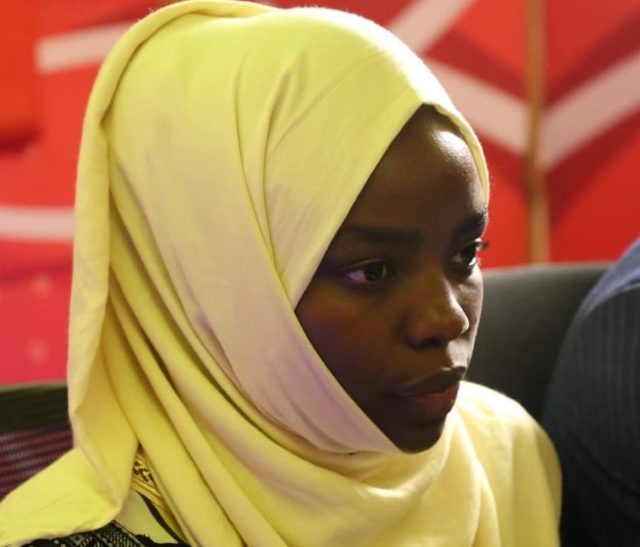 Yasmin Said (Maria) Biography
Yasmin Said, acting as Maria on Citizen TV's Maria drama is the lead character in the series who fell in love with posh family's last born son – Brian Ogana, acting as Luwi Hausa.
Maria has been loved by many fans who follow the series because of empathy due to the way she is treated by some members of the family including one of the maids and Sophia, the wife to Luwi.
Yasmin Said Biography, Education, Career and Journey to Maria Series
The idea behind Citizen Maria TV's Series was initiated by Citizen Tv's news anchors Rashid Abdalla and Lulu Hassan. Yasmin Said is just fresh from high school. She has a dream of pursuing Film and TV or her favorite career of being a lawyer/journalist.
She sat for her KCSE recently from Ribe Girls' High School, Kilifi County and she is hoping to join campus in the year 2020.
 READ:  Citizen TV's Maria Full Cast, Characters and Their Real Names
While still a high scholar, she decided to try her luck and attended the auditions that were hosted by Lulu Hassan and Rashid Abdalla where she got the role as a ghetto tomboy.
Maria has never lived the life of slums, what is seen on tv is just top-level artistry, mimic and creativity. Even back at Ribe High School, she has never participated in the drama club.
Yasmin Said's Age, Boyfriend, Net worth
As mentioned above, Maria is just fresh from high school and this therefore implies that she is still young. The lead actor is 20 years old as of the year 2020. She was born in the year 2000 in Kilifi County in a family that is in a staunch Muslim doctrine.
At the moment, she is not dating until the right time because she values Muslim's doctrines. Yasmin was brought up in a normal, middle class family even though many people view her as a celebrity.
 READ:  Citizen Tv's Brian Ogana – Luwi Biography, Age, Girlfriend, Net worth
As an upcoming actor who has started the career on the highest notch, she sees herself even further in the next couple of years. Maria loves pets. No wonder she is seen on screens playing around with pets such as parrots and rabbits. She has also kept a good number of animals in her home.
Currently, Maria's estimated net worth is more than Kshs. 5 Million due to the deal that she has signed with the Royal Media Services (RMS). She is also in a process of signing deals with brands for endorsements and promotes merchandise on her social media handles.
Yasmin Said (Maria) Instagram, Facebook, Twitter and Contacts
Yasmin loves social media and is ready to reply to any message promptly. She can be contacted on her social media handles @yasmeen_saieedd