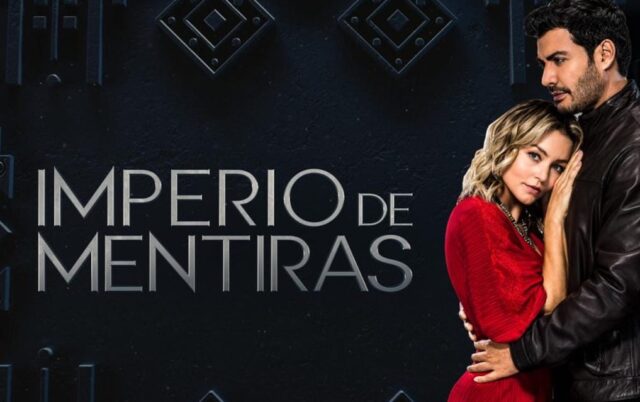 Empire of Lies (Imperio De Mentiras) Citizen TV Episodes summary
Empire of Lies, translated as Imperio de Mentiras, is a soap opera that premiered on Royal Media Services' Citizen TV on 19th April, 2021 at 8:30 pm following much anticipation from Kenyan viewers. The plot of the story runs a deeply enthralling story that is an eye-hooker.
The story is run by lead characters Elisa and Leornado Velasco, a police officer, whose fiancé, Julia, is found dead alongside Elisa's father Augusto Cantu. This tragic incident happens shortly Elisa's trip to her home in Mexico leaving so many people shocked as to the nature of the death of the two in different fields.
Elisa and Leornardo are now heartbroken, grief-stricken and filled with uncertainty surrounding the death of their loved ones. At her father's funeral, Elisa is astonished and shocked when an art dealer named Dario threatens her armed telling her to surrender the archeological pieces that her late father is said to have stolen.
Dario is after the Cantu family, kidnapping Elisa's sister to recruit her and threaten Elisa. She now has to find a means to secure her family without involving the authorities who will harm her and her family. In a meeting with Leornado, a police officer, she is forced to kiss him to divert the attention of Dario's men watching her every step.
The two engage in a fictitious relationship to cover their steps in searching for answers while Elisa keeps information on Dario and his men confidential and away from Leornado who would take the law to address the matter and consequently come after her and her family. She thus lives in an empire of lies hiding the truth from her now-lover Leornado.
Read: Crime and Justice All Episodes, Cast, Characters and their Real Names
Empire of Lies (Imperio De Mentiras) Citizen TV Episodes
Episode 1:
The first episode shows a glimpse into Leonard's work as a police officer when he goes into a meeting with one of the bad guys. This was a police trap that ended up successful winning Leornado an award. He later proposes to his fiancé, Julia, who is expectant with their first child and Leornado is elated. The Cantu family is introduced showing Augusto's favour for Elisa and is stern with the eldest daughter, Renata.
Victoria, Elisa's mother is unpleased with her husband's late arrival at the dinner and has her suspicions concerning infidelity. At her father's funeral, Elisa is threatened by a man who claims that her father stole something worth millions and that she had to return it or her family would face the consequences.
Episode 2
Dario and his men kidnap Elisa's younger sister Maria and keep a close eye on everything Elisa does pressuring her to get them their artifacts. Elisa has to keep this a secret from her worried and sad mother.
The Cantu family must now decide how to move forward and Vicki says that Elisa takes over the family business. This bewilders Ren, who suffers from an undisclosed mental illness that prevents her from bearing children.
Leornado on the other hand is heartbroken and thirsty for the truth. He visits the crime scene and undertakes his own investigation, a move Jose disapproves of on grounds of obstruction. He however discovers that the incident was staged, as he found one of her earrings away from the car.
Leo and Elisa meet in this episode having unfriendly encounters at her home and in her late father's office. Leo tries to make her comfortable and trust him to help her. Later on, the two meet in a restaurant talking about their loved ones and get to know each other better.
Episode 3
The third episode shows Renata and her husband storm into the offices demanding that she be given the lead seat as the eldest daughter. The couple is left after Dario calls Elisa letting her hear her younger sister scream for help. We are also shown the affection Dario is developing for Maria, and concern over her health.
Renata speaks of her frustrations wanting a child and unfairness. She orders Fernanda to alert all employees that she would be the new CEO, an order she declines and is immediately fired. Elisa fast-paces the search for answers and shows up as Julia's colleague in search of documents in the deceased's room. Leo comes to visit Julia's mother at the same time and is shocked to find Elisa who had already hidden Julia's diary in her bag.
Episode 4
Leo chases Elisa out and wants her to record an official police statement. She is forced to reveal what she knows and counteracts saying she would sue Leo for entry to her house without a warrant and allegations that would threaten his job security. Vicki comes to the office to find Renata and her husband planning to take over the company. She tells Ren that she is not able to undertake such a role. Ren backs revealing to Vicki that Elisa had sold 30% share holdings in the company to Augusto's best friend – Euginio.
Vicki is treated as a suspect as the police determine that her car was seen following Augusto's on the fateful day. She was however not with such intent and Euginio saved her from the interviews and questioning. Dario and his men need Elisa to use her art curator capacity to smuggle in some fake artifacts for sale. Elisa is set to go to NYC and promises to come back with Maria.
Marcelo and Sonia want to take Euginio's money and are plotting an act to accomplish that. The Cantu and Julia's families are questioned once more with new Intel on Julia's night time visits out of the house had happened a few times before. Vicki opens Augusto's safety deposit box as Fernanda secretly observes.
Empire of Lies (Imperio De Mentiras) Citizen TV Full Cast and Real Names
| | | |
| --- | --- | --- |
| Character Name | Real Name | Role |
| Elisa Cantu | Angelique Boyer | Lead actress, art curator |
| Leornado Velasco | Andres Palacios | Lead actor, police officer |
| Victoria | Leticia Calderon | Elisa's mother |
| Mario | Ricardo Reynaud | Leornado's friend |
| Julia | Jessica Decote | Leornado's fiancé |
| Adriana | Luz Ramos | Leornado's friend |
| Jose Luis | Hernan Mendoza | Leornado's older brother |
| Augusto Cantú | Enrique Singer | Elisa's millionaire brother |
| Dario Ramirez | Ivan Arana | Art dealer |
| Maria Jose | Alejandra Robles Gil | Elisa's younger sister |
| Eugenio Serrano | Alejandro Camacho | Augusto's best friend |
| Renata Cantu | Susana Gonzalez | Elisa's elder sister |
| Marcelo | Juan Martin | Renata's husband |
| Fernanda | Michelle Gonzalez | Elisa's best friend |
| Fabricio Serrano | Javier Jattin | Fernanda accomplice |
| Clara | Alicia Jaziz | Supporting actress |
| Cristina | Iliana Fox | Supporting actress |
| Andrea | Luz Ramos | Supporting actress |
| Sonia | Sandra Kai | Supporting actress |
| Teresa | Pilar Mata | Supporting actress |
| Sara Rodriguez | Patricia Reyes | Supporting actress |
| Leslie | Assira Abbate | Supporting actress |
Thanks for reading our article. Got comments or opinions about our journalism? Please send us a WhatsApp message on
+254 733 290 656