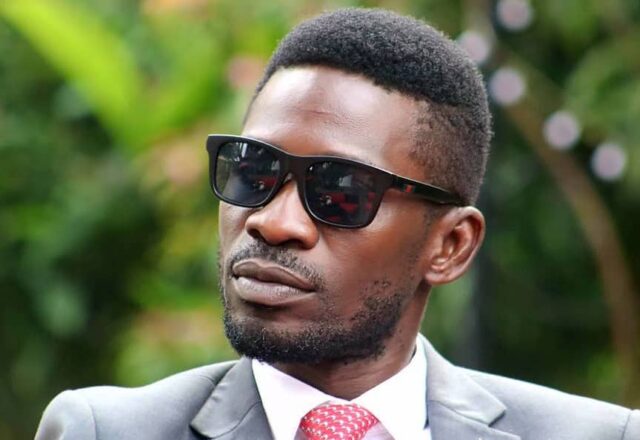 Robert Kyagulanyi Ssentamu popularly known as Bobi Wine is one of the eleven candidates going for the presidential seat against Yoweri Museveni. Yoweri Museveni has been in power for thirty-five years, running a regime broadly determined as dictatorial. Bobi Wine has been on the spotlight in the media in Uganda and beyond for his vocal nature and unwavering criticism of government flaws.
This has inevitably landed him on the wrong side of the authority marked by several detentions, arrests, and assault. He has garnered a huge share of Ugandan support, especially from the youth and the people hailing from the 'ghetto'. He is often addressed by his supporters as the 'ghetto president' because of his roots and his keen concern for the needs of the average citizen. This article looks into the biography of the man who might be set to make history if he takes over the country's leadership.
Bobi Wine Real Name, Age and Place of Birth
His real name is Robert Kyagulanyi Ssentamu. Bobi Wine hails from a Ugandan slum called Kamwookya to his late father, Jackson Wellington Ssentamu, and his mother who took care of him alongside his siblings in the harsh shanty conditions. He was born on the twelfth of February in 1982.
Bobi Wine became his adopted performance name since his early years in his musical career. His real name is Robert Kyagulanyi Ssentamu. His late father succumbed to diabetes leaving him behind with his brothers Eddy Yawe and Mikie Wine in 2015.
Bobi Wine Education Background
Robert Kyagulanyi is a well-read and studies individual carrying academic qualifications from various schools and institutions. He began schooling at Kitante Hill School, proceeded to Kololo Secondary School and then to Makerere University. There he pursued the arts-music, dance and drama. He afterwards took up a course in law at the International University of East Africa.
Bobi Wine Career Journey, Songs

On completing school, Robert went into music and adopted the name Bobi Wine. His career was successful using the arts to spread critical societal messages and raise concerns in the country. He produced music independently, and in music groups he led. Among his most popular songs are 'Sunda', 'Ghetto' and 'Funtula'. Moreover, his track Kiwani was featured in Queen of Katwe produced by Disney.
READ: Eddy Kenzo Biography, Age, Real Name, Career, Wife, Songs, Net Worth
He then ventures into film as an actor playing characters in local shows and other productions. He has been featured in 'Divizionz', 'Situka' and 'Yogera'. He uses the arts in putting out critical messages such as questioning government's abuse of power and infringement of human rights.
Always being a politically and societal conscious person, Bobi Wine finally ventured into politics bringing a fresh voice to the arena. He came to the political scene in 2017 in seeking a parliamentary seat in Kyadondo County East Constituency. His bid was against well-established politicians Sebalue and Kantante who belonged to prominent political parties in the country. Bobi Wine adopted a novel means to win over the electorate and personally visited homes sharing his agenda and campaigning in the race for the seat.
He emerged victorious defeating his opponents and further retaining his seat in the next elections. His political career then began taking shape as he now used his added platform to raise his issues more publicly. Bobi Wine is a critic of Yoweri Museveni's regime and manner of oppressive leadership which he uses in ruling over Uganda.
His support for the opposition has not gone unnoticed by the president who terms him as an 'undisciplined grandson'. Following his bold engagements with the opposition party and supporting individual candidates, the government has been seen to use the law in frustrating his efforts and what can be termed as efforts to make him retaliate and fall subservient to authority. He has been arrested on account of 'disobedience of statutory duty', 'intent to alarm, annoy or ridicule' the president and flouting of Covid-19 guidelines.
His arrests have been marked with bodily harm and injuries, sometimes necessitating further medical attention abroad. All these have not bowed his will as he continues to be the country's whistle-blower and watchdog. In 2018, he led fellow County men in protesting against the government's introduction of a social media tax. The national government of Uganda uses social media shut downs from time to time such as during the 2016 general elections which has been globally condemned as an infringement on the human freedom of speech. Most recently, Bobi Wine is a top contestant for the presidential seat in 2021.
As at the time of this article's publication, the cast votes were being counted with the 'ghetto president' on the lead as more votes were streaming in after eighteen million voters registered in large numbers for the process. His presidential campaign has been ridden with challenges and difficulties that would have broken a faint-hearted individual.
He has revealed in interviews that he has survived two assassination attempts where the military and police shot live rounds to his vehicle and over the campaigns lost some of his crew members including his driver, and bodyguard in the trail. In November 2020, more than fifty Ugandans were killed, many injured and scores arrested in a campaign event for Bobi Wine's contest.
Bobi Wine Personal Life, wife, children, wedding
Bobi Wine is married to Barbara Itungo Kyagulanyi, with whom they have four children all raised in Magere village where their parents focus on offering them a normal upbringing. His children are Suubi Nakaayi, Shalom Namagembe, Solomon Kampala and Shadraq Mbogo. He is also a staunch Buganda Kingdom devotee, and deeply respects the traditional institution.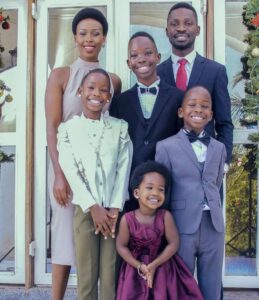 Moreover, he is a key humanitarian figure in Africa dedicating his resources and influence to efforts in improving the conditions of the people living in the slums, mothers and children. He has spearheaded campaigns rallying for better sanitation, disease prevention, improved health care and living conditions. He has worked alongside UNHCR, Save the Children and Red Cross organizations in contributing to changing the lives of many vulnerable groups in the world.
Bobi Wine Awards and Honors
Bobi Wine's musical career spanning over a decade has won several accolades including Tanzania music awards, Kisima Music Awards, and MTV Africa Music Awards for exemplary work in his songs, videos and albums. He has furthermore been named Africa's Personality of the Year in 2018 and an honour in 2019 by Foreign Policy Global Thinkers.
Bobi wine Net Worth
Bobi's net worth is thought to be over $7.3 Million as of the year 2021. The musician owns a fleet of luxurious cars and house costing millions of Ugandan Shillings. He has been an ambassador for various NGO's and 'Save the children Every One Campaign' since the year 2012, which has pocketed him good cash.
Bobi Wine Contacts and Instagram

View this post on Instagram
Bobi Wine Wedding Photos
The controversial Wine celebrated ten years of love alongside his lovely wife Barbara Itungo Kyagulanyi in a colorful union ceremony that took place in the year 2011.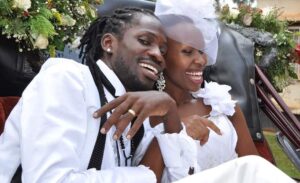 The event took place at Rubaga Cathedral in Kampala and saw attendance of the Queen consort of the Kingdom of Buganda, Sylvia Nagginda and Prince David Wassajja. The lovebirds met back in the year 2000 at Uganda's National Theatre where they were both acting in a play.
| | |
| --- | --- |
| Real Name | Robert Kyagulanyi Ssentamu |
| Nationality | Ugandan |
| Place of Birth | Kamwookya, Uganda |
| Age | 39 years old |
| Wife/Spouse | Barbara Itungo Kyagulanyi |
| Profession | Singer/Politician/Activist |
| Net Worth | $7.3 Million |
| Children | 4 Children |
Thanks for reading our article. Got comments or opinions about our journalism? Please send us a WhatsApp message on
+254 733 290 656