Hamisa Mobetto Biography
Hamisa Mobetto is a jaw-dropping Tanzanian video vixen, model, pop artist, entrepreneur, online influencer and brand strategist. She is the CEO and designer at her company known as Mobetto Styles. She also happens to be Diamond Platnumz' ex- girlfriend and baby mama.
Hamisa Mobetto Age, Birthday, Place of Birth, Nationality
Hamisa Mobetto was born on 10th December, 1994 in Mwanza, Tanzania. She is currently 25 years old. Hamisa is Tanzanian and she celebrates her birthday on 10th December every year.
Hamisa Mobetto Education Background
She went to Mabatini Primary School for her primary education. She then proceeded to St. Kayumba Secondary school for her secondary education.
Hamisa Mobetto Model
Hamisa is a celebrated Tanzanian model. She has a very sexy physique, making lots of brands to be willing to work with her. She also has a huge following on her social media accounts, making her convert her followers to buyers due to her influence.
Hamisa Mobetto Video Vixen
She rose to fame after being a video vixen in Diamond Platnumz' song 'Salome'. She recently appeared in Alikiba's new song called 'Dodo'.
Hamisa Mobetto Music, Songs
Her songs include Sensema, Tunaendana, Madam Hero, My Love and Sawa.
Hamisa Mobetto Diamond Platnumz
Hamisa was in a secret affair with Diamond Platnumz when he was still dating Zari. This happened when she was his video vixen in 'Salome'. However, despite having a son together, Diamond has never claimed her.
Read: Zuchu Bio – Age, Career, Education, Songs, WCB, Boyfriend, Net Worth
After releasing his new hit song Jeje, Diamond posted on his instagram account a video of Hamisa jamming to the song. Netizens were quick to quench their speculation on whether the two are getting back together. She has since addressed such claims, stating that Diamond and her are not getting back together any time soon.
Hamisa Mobetto Son
Mobetto gave birth to Deedaylan Abdul Naseeb on 7th August, 2017. Daylan is Diamond Platnumz' son, who he first denied before he accepted weeks later. At the time when Daylan was conceived and born, Diamond was dating her Ugandan ex- girlfriend and baby mama, Zari Hassan. Zari broke up with Diamond due to this and months later, Diamond moved on to the Kenyan- Italian beauty; Tanasha Donna Oketch whom she impregnated.
Tanasha has since dumped Diamond on matters narcissism.  On 2nd October, 2019, Tanasha gave birth to Naseeb Junior. This brings the total number of Diamond's known children to 4, that is; Tiffa (5) and Nillan (3) by Zari, Daylan (2) by Hamisa and Naseeb Junior (6 months old) by Tanasha.
Hamisa Mobetto Zari Hassan Witchcraft
After Hamisa Mobetto announced that the baby she gave birth to was Diamond Platnumz' son, Diamond was not happy with the statement. He even went ahead and called Hamisa a home wrecker since he was still dating Zari Hassan at this time. He later accepted the fact that the baby was actually his.
However, Diamond stated that Hamisa is into witch craft claiming that in 2018, Hamisa visited a witch doctor to make him marry her. Zari went ahead and adviced Hamisa to stop being used as an option. Zari told her, 'if someone cannot settle down with you, just walk away and never look back.'
Hamisa Mobetto New Car
Last year 2020, Hamisa made headlines when she acquired a Land Rover Discovery for herself, during her lavish birthday party. She made the announcement on her Instagram page in a video, sparking many reactions from her fans. Some fans had a feeling that it was just a public stunt. This is how the caption read:
"Thank you, God, for blessing me much more than I deserve. It was a double birthday celebration for my darling mum and I, surrounded by family and friends with so much love. Cheers to many more blessed and successful years ahead to the both of us."
Hamisa Mobetto Children
Hamisa is blessed with two children; a daughter and a son, that is Fantasy Majizzo aged 6 and Deedaylan Abdul Naseeb aged 3. Fantasy is the daughter to Tanzania's Dj Majizzo whereas Daylan is the son to East Africa's Father Abram, that is Naseeb Chibu Dangote aka Diamond Platnumz.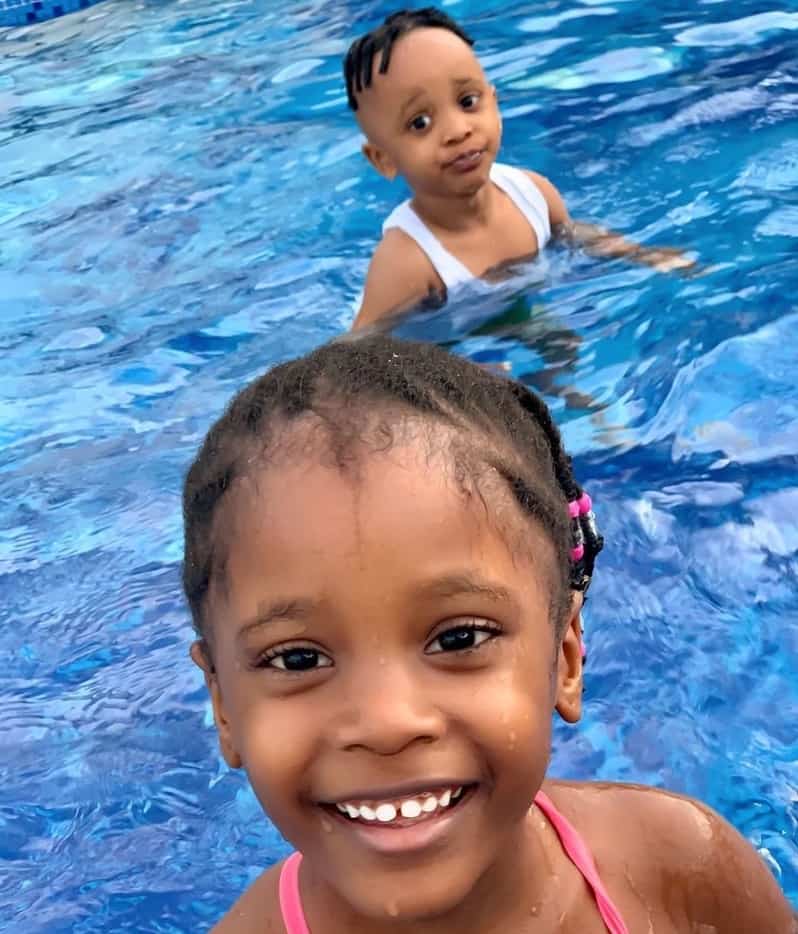 Hamisa Mobetto Step- dad
She was brought up by her step- dad. According to her, her step- dad was kind,loving and never discriminated her despite her being the step- daughter. Hamisa has since opened up about the fact that her type of man is one like her step- father.
Hamisa Mobetto Biological dad
The vixen first met her biological father in 2007. They had gone Christmas shopping where she was shopping for a dress. She was in the company of her mother when someone called her mum. On turning back, she came face-to- face with her dad. She was disappointed since in her mind, she wanted their first encounter to be movie-like.
She however knelt down to greet him as instructed and that is when she discovered that her biological father looked exactly like her. They tried mending their relationship but sadly, he passed on 2 years later in 2009.
Read: Tanasha Donna Biography – Age, Net worth, Career and Education
Hamisa Mobetto Fantasy birthday
Two weeks ago in April 2020, Fantasy turned 5 years old. There is an ongoing global Covid- 19 pandemic. This meant that the party could not be as glamorous and out- of- the- ordinary as Hamisa would want it to be. However, this did not stop the mother of 2 from putting together an expensive party that had a handful of attendees. The cherry on the cake was her matching outfits with her daughter Fantasy, images that have since gone viral on social media.
Hamisa Mobetto Fake designer bag
Early this year, Hamisa was trolled for posing and walking around with a fake designer back that read 'Doir' instead of 'Dior'. This clearly showed that the bag was not only fake, but also misnamed. This shocked her fans and haters since she is known for putting herself on a pedestal, where poverty is but a rumor to her. This shows that most celebrities are actually not as rich as they try to show the public.
Hamisa Mobetto House
Hamisa recently left many tongue- tied after she gifted herself a new mansion worth TZ 600 million (Kshs. 27 million). This came in after her haters started saying that she is a miserable and poor woman who had nothing on her name after Diamond Platnumz kicked her out of her home when they parted ways. According to Hamisa, she is an independent woman who had been saving for a while for the house she purchased.
Hamisa Mobetto New Boyfriend
Hamisa Mobetto has been dating her American boyfriend known as Joshua (Josh) Adeyeye. The two met when Hamisa traveled to the US for business. Josh is a 28-year-old former professional basketball player, certified trainer and a freelance model. Hamisa featured Josh in her love song known as 'Tunaendana'. It is rumored that the two have since broken up.
She has since moved on and dated a guy by the name Alex. However, a girl named Tahiya has since come out to accuse Hamisa of being a husband and boyfriend snatcher. Tahiya and Alex have a child together. Alex and Hamisa broke up and Hamisa announced that she is currently single. It has also been rumoured that Hamisa and Tanzania's business mogul Fred Vunjabei are a thing. The two have however not yet revealed more information about the affair. Recently during an interview on a local daily, Hamisa stated that she is single and busy for now and therefore not ready to engage in any kind of entanglement.
"Niko single, I'm not in any relationship and I'm not ready for now. I'm very busy to the point sidhani kwamba mimi ninaweza kumpa attention kama ipasavyo, kwa hiyo kuna vitu ambavyo navifanyia kazi, focused on my work namuda ambao unabaki nautumia na watoto wangu." says Hamisa.

"But that doesn't mean that I will be single forever. Kuna hatua nataka nifike basi nikishafika pale ndo nitafikiria kuwa na mahusiono tena," she added.
Hamisa Mobetto Net worth
Hamisa Mobetto's current net worth is about $3 million. She pockets an envious amount from video vixening, modelling, brand endorsements and being a business mogul.
| | |
| --- | --- |
| Real Name | Hamisa Said Mobetto |
| Age | 26 years as of 2021 |
| Nationality | Tanzanian |
| Tribe | Unknown |
| Education Level | Unknown |
| Place of Birth | Mwanza, Tanzania |
| Birth Sign | Sagittarius |
| Year of Birth | 10th December, 1994 |
| Religion | Muslim |
| Spouse/Boyfriend | Unknown |
| Children | Fantasy and Naseeb |
| Career/Profession | Video Vixen/Model |
| Net Worth | $3 million |