Juliana Kanyomozi Biography
Juliana Kanyomozi, is a Ugandan award-winning singer, actress, and entertainer. From 2009 to 2013, she got a chance to judge at the then popular Tusker Project Fame (TPF) talent search show. She did this in 2010 alongside judges Ian Mbugua from Kenya and Tanzania's Hermes Joachim. Gaetano Kagwa alongside other personalities got chances to be the hosts of the show.
Juliana Kanyomozi Age and Place of Birth
Juliana Kanyomozi is 38 years old as of the year 2020. She was born on November 27, 1982 in Uganda. She is the first cousin of King Rudiki of Toro. Juliana's father was a Ugandan renowned drummer and her grandmother was a vocalist.
Juliana Kanyomozi Education and Career Background
Juliana schooled at Namasagali College in Kamuli District for her high school education. More information about her education background is yet to be revealed.  In the year 2008, she was featured in the movie titled Kiwani: The Movie where she played the role of Pam's (Flavia Tumusiime) Auntie, Cooperate lonely & victim of online dating scam.
Juliana Kanyomozi Songs
Some of Juliana's songs which became hits include; I'm Still Here, Usiende Mbali, Mpita Njia, Omutima Guluma, Nakazadde, Ndibulungi, Yegwe, Nabikoowa, Kalibatanya, Sanyu Lyange, Diana, Taata W'Abaana Yaani and Love You Better.
Throughout her filming career and music journey, she was not only nominated but also won several awards. Her recent few won awards include:
| | | | |
| --- | --- | --- | --- |
| Year | Award | Title | Song |
| 2010 | Tanzania Music Awards | Best East African Song | "Haturudi Nyuma" ft Kidum Kibido |
| 2010 | Diva Awards Uganda | Best RnB Artist | "Kantambule Naawe" |
| 2011 | East African Music Awards | Best Female Artist | "Alive Again" |
| 2011 | Diva Music Awards Uganda | Afrobeat Diva | "Sanyu Lyange" |
| 2016 | Most Inspirational Song | Zzina Awards | "Woman" |
Her Nominations
Here are just but a few spectacular awards and recognition Juliana has been nominated for both locally and internationally:
| | | | |
| --- | --- | --- | --- |
| Year | Nomination | Title | Work |
| 2010 | Africa Music Awards | Pan African Artist | "Haturudi Nyuma" |
| 2010 | Pearl of Africa Music Awards | Female Artist | "Kantambule Naawe" |
| 2011 | East African Music Awards | Best East African Collaboration | "Haturudi Nyuma" |
| 2011 | Nigeria Entertainment Awards | Pan African Artists |  "Alive Again" |
| 2011 | Museke Online African Music Awards New York | Best Female Artist, Best Soul/RnB Artist & Best East African Act | – |
| 2011 | Kisima Awards | Best East African /Song of The Year | "Haturudi Nyuma" |
| 2011 | Diva Awards Uganda | Super Diva, Exceptional Video, Exceptional Song, RnB Diva | "Alive Again, Sanyu Lyange, Omutima and Libe'esanyu" |
Juliana Kanyomozi Husband, Family and Children
Keron Raphael Kabugo was Juliana's first-born son who unfortunately succumbed for Asthma back in the year 2014. Kanyomozi was alleged to be dating United States-based Ugandan boxer Kassim Ouma from the year 2006.
 READ:  Top 10 Richest Musicians in East Africa and their Current Net Worth 2020
Juliana first met Roger Mugisha in the year 1997. Roger linked her to Amon Lukwago, who was just returning from Kyeyo in the United Kingdom. Amon and Juliana had been lovebirds for sometime. However, their relationship was not a bed of roses; it suffered challenges after the birth of Keron.
Amon later parted ways with Juliana making her take full responsibility of the Baby boy. During the burial of Keron, the two reunited after Amon knelt before the songbird to ask for forgiveness for whatever wrong doings to Juliana.
Juliana Kanyomozi Net Worth
Her estimated net worth as of the year 2020 is close to $5 Million. She gets most of her income from brand endorsements and music career.
Juliana Kanyomozi Baby Taj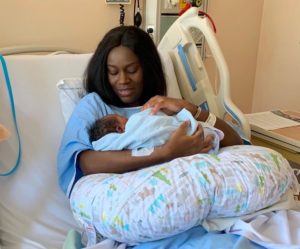 On 14th May 2020, East Africa woke up to good and joyous news about Juliana Kanyomozi's bouncy Baby boy's birth. The news took the internet by storm after Juliana posted about the baby whereabouts on her social media handles. The baby's name is Taj and he was conceived on Tuesday 12th May 2020.
"IT'S A BOY!!!! Say hello to Taj 12-05-2020. We are thrilled! To God be the glory," she posted.