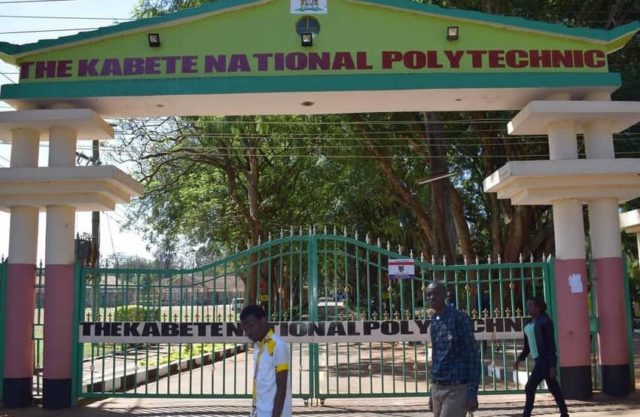 The Kabete National Polytechnic is a national center for the provision of higher education learning and technical training in Kenya. It was founded 96 years ago and has grown to become one of the best polytechnics in the country.
It is located in Nairobi County, along Waiyaki way and has gained accreditation by The Technical and Vocational Education and Training (TVET). Notably, one of its recent accomplishments, the institution has been able to export mechanical spare parts locally produced in the institution to China.
The institution provides higher education and technical training in ten different departments listed as follows:
Department of Maths
Committed to Mathematical study and research, the Department of Math offers a vibrant and comprehensive study option to Math enthusiasts such as Statisticians. Courses offered are Math based and offer future opportunities in fields such as Research, Data Management and in Education.
Department of Environment
This department consists of courses available for the studies related to the entire ecosystem. A great example is Environmental Science that equips learners with the knowledge on matters that riddle the environment such as pollution and the destruction of the ozone layer.
Department of Computer Studies
Offering courses that provide basic to complex computeral skills, this department is an excellent choice for beginner students and also for experts who would like further certification and improvement in their computer skills.
Department of Information, Communication and Technology
This department is committed to providing education and training in the adoption of modern computing, integrating digital technology in various fields in a bid to ensure better quality of products and services. Students should see this as a wonderful opportunity to gain the very much demanded technological skills offered in the ICT departments. The following are the current fees charged for the respective courses:
| | |
| --- | --- |
| PROGRAM | CHARGE |
| Diploma-Information, Communication and Technology | Ksh 94,680 per annum |
| Certificate-Information, Communication and Technology | Ksh 63,120 per annum |
Department of Business Studies
Entrepreneurship is now the way to go given the escalating rate of unemployment countrywide. The department provides programs that equip learners with essential business skills and training on carrying out a successful business.
Department of Mechanical Engineering
This is the Engineering branch focused on bringing together Mathematical and Physics knowledge in innovation, improvement and sustaining machinery.
Read: Kabete National Polytechnic Student Portal Login and Courses Offered
Fees required for Certificate and Diploma courses cost 15,780 (KSH) for each term Certificate courses such as arc welding grade iii are offered at Ksh 5,000 per month.
Kabete National Polytechnic Department of Applied Sciences
This involves the application of proven Scientific principles to real life situations and problems in various sectors such as the medical field so as to come up with new ideas that make the processes more efficient and effective.
The institution provides programs assessed by both the Kenya National Examination Council and by the Polytechnic.
| | |
| --- | --- |
| Program | Charge (Tuition and Examination) |
| Diploma in Analytical Chemistry | Ksh 45,210 |
| Diploma in Archeology Geophysics and Environmental Geophysics | Ksh 240,000 each |
| Postgraduate diploma courses | Ksh 180,000 each |
| Higher diploma courses | Ksh 180,000 each |
| Short courses | Ksh 75,000 each |
Department of Electrical Engineering and Electronics
This department provides knowledge accompanied with training to students on the design followed by creation of electrical projects that make work easier.
Department of Building and Civil Engineering
This department encompasses the main players in the built environment such as Quantity Surveying, Real Estate, Construction Management and Architecture. Learners delve into the processes that occur on construction sites and the development of properties.
The institution provides Diploma, Certificate courses and Higher National Diploma Courses in this department. The respective fee charges are highlighted below:
| | |
| --- | --- |
| Program | Fee |
| Certificate in Carpentry and Building Technology | Ksh 20,000 (1 yr) |
| Certificate in Draftsmanship | Ksh 40,000 |
| Diploma in Quantity Surveying, Civil Engineering and Architecture | Ksh 60,000 |
| Higher National Diploma in Building and Civil Engineering | Ksh 30,000 |
Kabete National Polytechnic Student Portal
The Kabete National Polytechnic students portal can be accessed  via the following link. Students can use the portal to check for their exam results, check fee balances, register for examinations etc.
Thanks for reading our article. Got comments or opinions about our journalism? Please send us a WhatsApp message on
+254 733 290 656