Ekerubo Gietai Technical Training Institute (EGTTI) is among the 13 newly established technical training institutes in Kenya that is set to broaden the reach of trainings and expert tutoring in technical subjects.
The institution was officially opened in a ceremony presided President Uhuru Kenyatta who confirmed the institution's TVET registration and its licensing to offer learning to Kenyans up to the Diploma level. The institution is well equipped and has a well-trained staff that will ensure the students receive the best training.
Courses Offered at Ekerubo Gietai Technical Training Institute
The EGTTI has thus far established five departments or schools in the college that constitute several courses that one can select from. Below are the departments in the school that are fully catered for and ready for learning:
Computer Studies
Business Studies
Building and Civil Engineering
Agriculture and Environmental Sciences
Electrical Electronics Engineering
Students have the above broad choices; from which they can select specialty courses to undertake at the institution. Additionally, the school has non-academic departments that work together in ensuring that enrolled students experience a rich culture and environment during their course of study. The following are the non-academic departments that are present at EGTTI:
Registry
Procurement and Stores
Finance
Human Resource
Guidance and Counselling
Research
The above are available to all students giving their services to support learners.
Fee Structure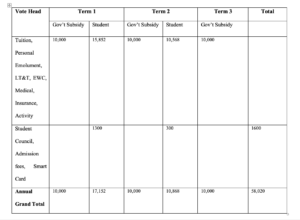 Smart Card and Admission Fees
Students are reminded that smart card and admission fees are only paid once and when fees are paid, they are non-refundable. All payments are further to be paid to the college account, whose details are as follows:
Read: KUCCPS Student Portal Login, Create Account and Application of Courses
A/C Name: Ekerubo Gietai Technical Training Institute
A/C Number: 1167884027
Bank: KCB
Branch: NYAMIRA.
Student's Portal
the EGTTI student portal allows students to access course materials, news and important details concerning their time while at the institution. This includes materials such as study books and past lectures. Students can also access their fee details from the portal and examination results. Transcripts are also available on the portal. For students to log in, they should use their registration numbers and passwords to log in.